Pioneer DJ is at it again! Today the leading DJ gear company has introduced the DDJ-FLX6, a 4-channel DJ controller for rekordbox and Serato DJ Pro. With lots of new features, this controller makes it easy to hype up your audience, mix tracks from different musical genres, and spice up your sets with pro-sounding scratch effects. Keep reading for more.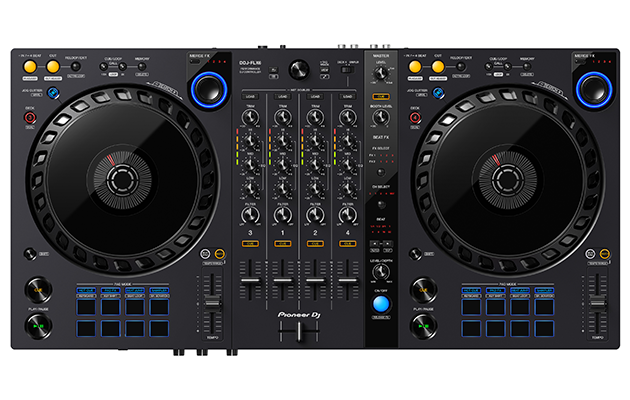 The DDJ-FLX6 inherits the familiar layout found on the club-standard CDJ and DJM setup but stands out as Pioneer DJ's first controller with a new dark gray matte finish. Plus, this controller unlocks DJ Performance modes in rekordbox and Serato DJ Pro, allowing you to choose either software application to run for free.
Check out all of the new features below:
Merge FX
With Merge FX, you can dynamically switch from one track to the next with a single action. There are eight Merge FX pattern presets to choose from when using rekordbox, and four when using Serato DJ Pro. When DJing with rekordbox, choose from 41 types of effects within the four categories (Build FX, Build Sample, Release FX, and Drop Sample) making up one Merge FX and combine them to create more than 9,000 different patterns. You can also save eight of your own patterns and use the FX Select button on the unit to cue and perform a unique mix.
Jog Cutter
Turn on Jog Cutter and move the jog wheel to apply a professional scratch effect to the last Hot Cue or playback position used on the deck. You can choose from ten different scratch patterns, and quickly shift from one pattern to another by adjusting the playhead position shown on the jog wheel display.
Full-size Jog Wheels with Track Position Display
The DDJ-FLX6 delivers natural-feeling pitch bending and scratching with full-size jog wheels, same size as those on the CDJ-3000 multi player. Each jog wheel features an On Jog Display allowing you to keep an eye on the playhead position.
Sample Scratch
Sample Scratch is a brand new pad mode in rekordbox enabling you to choose sounds assigned to the sampler and load them onto the decks. In Serato DJ Pro, you can use Scratch Bank to trigger samples by hitting the Performance Pads.
Plug and Play Compatibility with rekordbox and Serato DJ Pro
With a built-in sound card and support for the DJ Performance functions in rekordbox and Serato DJ Pro, the DDJ-FLX6 eliminates the need for a paid subscription. Simply connect the DDJ-FLX6 via USB cable to a laptop running either software application to begin DJing. The new controller also includes license keys for the Serato DJ Pro FX Pack and Pitch 'n Time DJ Expansion Packs.
The DDJ-FLX6 is available now for $599. To learn more, watch the official introduction video above or visit Pioneer DJ's website.
---