The bar has been raised with the latest release from Pioneer DJ, the 4-channel DJM-A9 professional DJ mixer, the successor to the DJM-900NXS2. This new mixer features multiple advancements and produces a higher level of natural-sounding audio than ever before. Keep reading for more.
The Pioneer DJ DJM-A9 delivers stunningly clear sound quality, enhanced playability and connectivity, and new features to take DJ performances to the next level. By incorporating ESS Technology 32-bit high-quality analog-to-digital (A/D) and digital-to-analog (D/A) converters into the channel input section and the master and booth output sections, the DJM-A9 distributes clear sound to the booth and dance floor.
Soon to be making its way into clubs and festivals, the DJM-A9's new layout design makes it more intuitive and comfortable to play. For example, spacing was added around the EQ knobs, and the channel faders and the MAGVEL FADER crossfader are slicker than those on the DJM-900NXS2 to enable performers to mix and scratch more efficiently. Check out a walkthrough video by Pioneer DJ for more.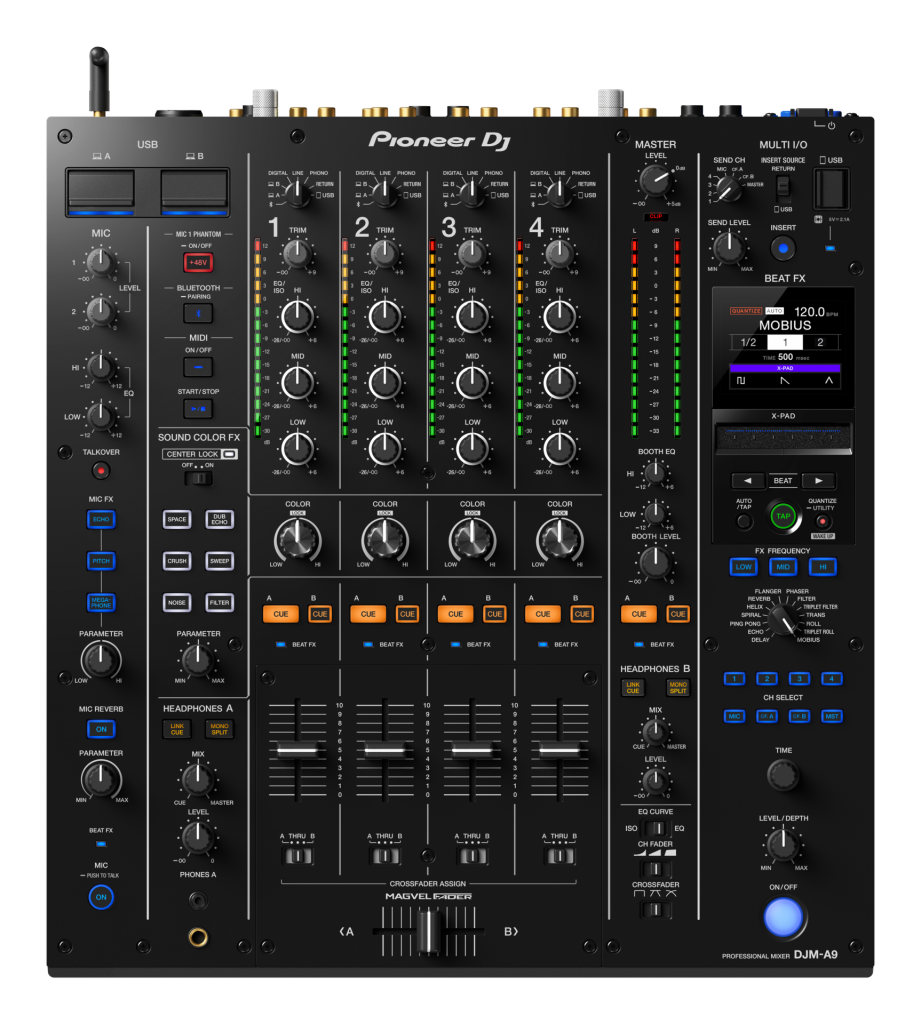 Key features of the Pioneer DJ DJM-A9 Professional DJ Mixer
Clear Sound Quality
Stunning sound quality from significant upgrades over DJM-900NXS2.
Sound Color FX
Sound Color FX with world's first Center Lock feature (stops turning at the center position so you don't cross over to the opposite parameter).
Evolved playability
With higher-quality, and slicker channel faders than the DJM-900NXS2, plus the third-generation MAGVEL FADER crossfader, artists can produce silky-smooth mixing and rapid, stable scratching. The DJM-A9 also adds increased spacing around the EQ knobs and bright LEDs in the channel section for an easier visual grasp on sound levels.
Advanced Beat FX
A new color display helps DJs to quickly and accurately understand the status of the selected effect. It features lighting that corresponds with the X-Pad's horizontal arrangement, enabling more intuitive control with a simple finger slide. You can use the X-Pad to change the Echo and Ping Pong effects to create a unique analog tape-style sound. And, within the 14 total Beat FX, there are 3 new ones: Mobius, Triplet Filter, and Triplet Roll.
Enhanced Microphone
The DJM-A9's microphone section provides more control and adds extra creativity for DJs. The phantom-powered input, a feature never seen before on a DJ mixer means you can connect a high-quality condenser mic directly to the DJM-A9. There are also 3 new microphone effects, with a dedicated reverb effect: Echo, Pitch, and Megaphone.
Expanded Connectivity
Connect two different PC/Mac computers at the same time using dual USB Type-B and USB Type-C ports for seamless transitions between DJs and easy back-to-sets. Additionally, the Bluetooth input routes to any channel on the DJM-A9 to wirelessly drop audio tracks into sets from other devices and use all the mixer's features and effects. The Multi I/O section has an independent channel selector to allow the use of external effects separately from Beat FX, giving the DJM-A9 true send capabilities.
Dual Independent Headphone Outputs and Booth EQ
Two DJs can plug in headphones simultaneously with separate cue buttons, volume knobs, and mix balance knobs for each set of headphones, making it easier to cue tracks during changeovers. There is also a 2-band booth EQ,
Support for the Brand-New Stagehand App and Built-In Sound Check function
The DJM-A9 is compatible with Pioneer DJ's new Stagehand app for iPad (coming soon), the industry-first PRO DJ LINK remote management app for front-of-house teams.
Support for rekordbox and Serato DJ Pro
Artists can choose their favorite DJ software, which includes support for the DVS features in both rekordbox and Serato DJ Pro. The team at Serato even put together the walkthrough video here showing how easy it is to connect the DJM-A9 to Serato DJ Pro with CDJs in HID mode or turntables via DVS below.
The DJM-A9 is available now for $2,699 excluding tax. To learn more, visit Pioneer DJ's website or pre-order here. They also have a bundle available here and here!