Pioneer DJ today unveils a new line of DJ controllers, the DDJ-REV7 controller for Serato DJ Pro and the DDJ-REV1 controller for Serato DJ Lite. (We've all been waiting for this announcement after seeing their video teaser last week!) Pioneer DJ steps into the motorized DJ controller game with the DDJ-REV7, and with the DDJ-REV1, they shoot to take over the entry-level controller market. Keep reading for more.
DDJ-REV7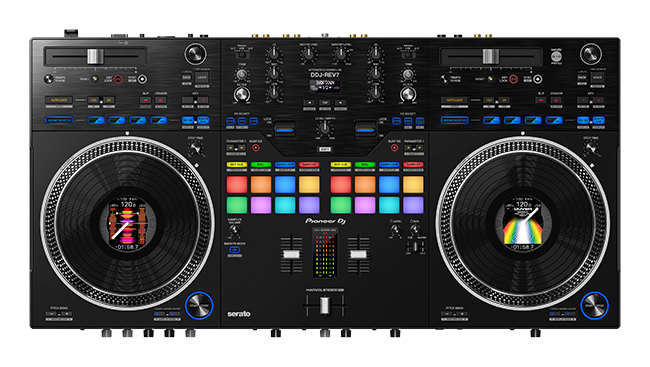 Let's jump right into it with this monster of a controller. Pioneer DJ describes this controller as an ideal solution for open format and scratch DJs since the layout emulates a professional DJM-S mixer and PLX turntable setup. The DDJ-REV7 also has stacked features like the top-of-the-line MAGVEL FADER PRO and On Jog Display with waveforms, track info, customizable DJ logos, and more.
For the first time on a Pioneer DJ controller, the tempo sliders sit horizontally on the top of the deck sections to mirror PLX turntables in a battle configuration, while the Performance Pads and Lever FX paddles sit in the mixer section to parallel the DJM-S Series mixer design.
Unlike a traditional DJ controller, the DDJ-REV7 enables artists to replicate the analog mixing experience with 7-inch motorized and "vinylized" jog wheels. The jog wheels feature customizable settings and two slip sheets included inside each deck to allow artists to experiment with torque and friction. The acrylic top plate is uniquely finished to feel like a real record and includes a spin treatment to easily catch on your fingertips.
More key features include:
3.5-inch LCD On Jog Display delivering essential information such as track waveforms, Hot Cues, and playback positions.
Instant Scratch buttons, complete with four original samples, are a built-in controller feature, making them accessible without a laptop.
22 Beat FXs including 3 new and five Sound Color FX for dramatic and texturized performances.
Advanced audio design with the highest sound quality of any Pioneer DJ controller.
Plug and Play compatibility with Serato DJ Pro.
Solid and robust build while still being lightweight and portable.
The DDJ-REV7 will be available in mid-February for $1,899. To read more about this controller, visit the Pioneer DJ website or check out the walkthrough video below.
DDJ-REV1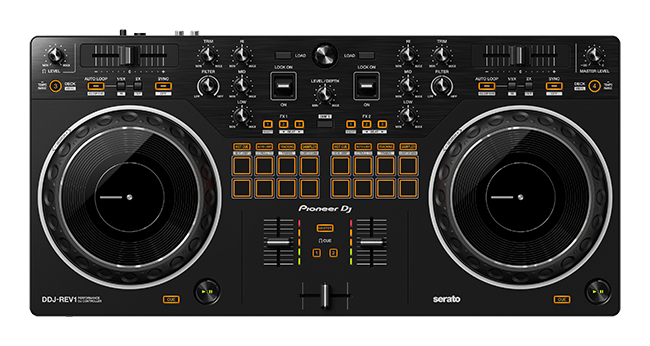 With the DDJ-REV1, Pioneer DJ shoots to take over the entry-level controller market. This feature-packed two-channel controller is priced at only $259, and like the DDJ-REV7, it mimics a professional DJM-S mixer and PLX turntable setup. The DDJ-REV1 also has scratch-ready jog wheels, which are noticeably larger than jog wheels on Pioneer DJ's previous beginner-level controllers (and are the same size as jog wheels on the DDJ-SR2).
The DDJ-REV1 comes equipped with Serato DJ Lite software and is an ideal kit starter piece for DJs looking to learn how to battle, scratch, and perform open format sets. A notable feature is Tracking Scratch, which allows DJs to automatically return a track to its cue point by moving the jog wheel from backward to forward or taking their hand away from the controller (removing the need for crossfader use or jog wheel wind back).
Plus, the DDJ-REV1's Performance Pads let you instantly trigger samples or tracks loaded on the Serato DJ Lite Scratch Bank—a feature previously only available in Serato DJ Pro.
More key features include:
Battle-style layout with space to perform mixing and scratching techniques.
Lever FX dynamically adds texture to music by pulling down the levers and holding them to apply effects from Serato DJ Lite in short bursts.
Mixed microphone audio to easily integrate speech and vocals into sets for social media livestreams.
Deck 3/4 Control to play tracks and sounds loaded on any of the four Serato DJ Lite decks.
Serato DJ Lite integration with full access to the free software.
Serato DJ Pro support with a 14-day free trial of Serato DJ Pro.
The DDJ-REV1 will be available in late January for $259. To read more about this controller, visit the Pioneer DJ website or watch the walkthrough video below.