What happens when one of the biggest African artists in the world, Mr. Eazi, joins forces with one of the most influential DJs in the Afrobeats space, DJ Edu? The answer: ChopLife SoundSystem.
The name ChopLife SoundSystem hails from the popular West African pidgin slang phrase "chop life," which translates to "enjoy life," combined with the traditional sound systems that make up the backbone of Jamaican music culture. Think of it as a modern African twist on soundsystem culture, reeling in genres such as amapiano and Afrobeats to curate the perfect soundtrack to any African party experience.
While Mr. Eazi is the primary vocalist, he's also the MC, or what he calls "Minister of Enjoyment." DJ Edu is a resident selector at BBC Radio 1Xtra, along with guest artists and DJs, holding down the turntables during their live shows.
If you want a taste of ChopLife SoundSystem, just watch the official music video for "Wena." The sound is undeniable, the production is insane, the vocals are hypnotizing, the nod to African culture is needed, and the vibes are immaculate. The lead single hails from their debut project, Chop Life, Vol. 1: Mzansi Chronicles.
BPM Supreme spoke with Mr. Eazi and DJ Edu virtually to discuss the inception of ChopLife SoundSystem, the synergy between the duo, the meaning behind the name, their live sets, the new project, shooting "Wena," advice for upcoming DJs/producers, and more!
Mr. Eazi, last time I saw you was in LA! You played us your new solo album.
Mr. Eazi: Oh yes. It's dropping later in the year, last quarter.
DJ Edu: That's if I don't leak it. [laughs]
How did you guys meet initially?
Mr. Eazi: By now, I can't even remember.
DJ Edu: We met through the music. When Eazi was starting to blow up with "Skintight," he came to the UK. We had runnings in there, because it was a very brave and new, different sound from what was going on at the time. That's what sparked my interest, because I'm calling it this Banku vibe and it was slowed down. In turn to discover and find out more, then I got to meet with Eazi, Juls, and the people from that era who were exploring something different for African music at the time. Afrobeats.
When did you guys decide to start a group?
Mr. Eazi: No specific decision date. There were moments where we just started working together. We've been working first with Edu as an A&R. "Leg Over" was not supposed to be a single, then he plays it on his radio show, and it ends up, again, blowing up on that radio show.
From there to playing together and being friends, he starts to produce and send music to me. We start making music. We're trying to figure out a way where we could work, but we didn't know exactly how. So we tried one or two times, nothing really came of it. But we stayed friends, outside of everything.
When we did the Spain, Madrid show, I was at this point where I was frankly bored and tired of the wheel, and looking for a way to express myself with the music, not just perform. All of that was not that much fun for me anymore. On that show in Madrid, he was DJing. I was the hype man. It wasn't planned. It was so much chemistry, we ended up spending two hours when it was supposed to be 15 minutes.
We still didn't know what was going on. I was feeling like people will say "oh, he's supposed to be an artist. Why's he being a hype man?" For my album, the songs he produced, he'd be laughing and saying "I'm gonna leak all these songs."
DJ Edu: [laughs]
Mr. Eazi: Somewhere around there, we said okay now we're gonna form a group. Start exploring that activity. For instance, his shows are one of the only shows where he says it's an Afrobeats chart, and it's not a Nigerian chart. I'm Nigerian, I love it. We're making the best music, but it's unfair to say you're making a show that represents African music and you're only playing music from one side. But his show is the show where I'll hear artists I've never heard of before, and sounds I've never heard of before. He'd be first on those sounds as well. I just knew okay, I could trust his wealth of knowledge of African music, it's widespread. And he's one of the best DJs in the world, so I wouldn't have a lot of work to do.
DJ Edu: [laughs] He's a slave driver.
So who came up with the name?
Mr. Eazi: I came up with the name.
DJ Edu: That's Eazi. As he was chopping life, obviously came up with the name.
Mr. Eazi: Yeah, I was chopping life in Cotonou, Republic of Benin. I don't know where it came from. I started doing Chop Life Sundays in Cotonou. This DJ at the beach, I'll be his hype man. But because it was in Cotonou, [which is] French speaking, I felt free to express myself there without feeling judged. Even if people were whispering, I couldn't even understand because it's French.
Both: [laughs]
Mr. Eazi: We did Chop Life Kigali, and we weren't even there. DJ Neptune went there and killed it, but we were doing the format. We pulled that 7,000 people show together in five days. It started to come together like you know what, since Chop Life are these events, and chop life [means] enjoy life, freedom, that's the name of the group: ChopLife SoundSystem.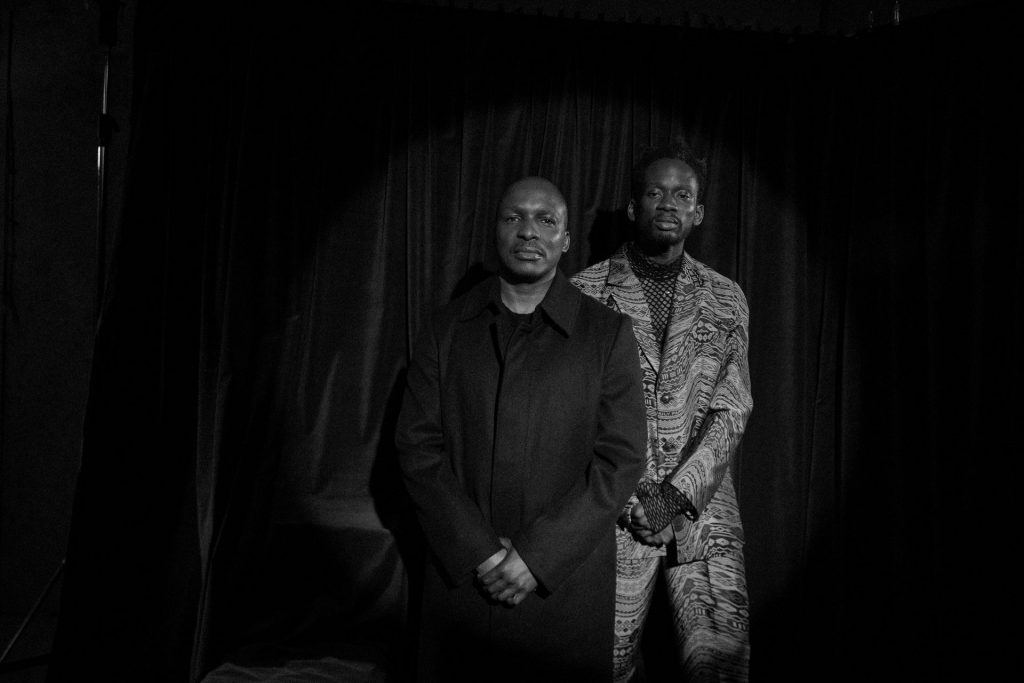 How are your fans responding to it? Because I don't think you've really done the group thing before.
Mr. Eazi: Not exactly, I think my fans are still a little bit confused.
Both: [laughs]
Mr. Eazi: Confused on what is going on. What is this ChopLife SoundSystem? Is Mr. Eazi now making amapiano? Who is this Edu guy that has come to take our
DJ Edu: Eazi away.
Mr Eazi: Going on tour with ChopLife SoundSystem, "is he gonna perform?" Then "oh, he's not gonna perform. He's just gonna be a hype man. Oh, he's doing parties now?" But in life and what ChopLife stands for is letting yourself go, being free. Ultimately, we want this to be beyond me and Edu. That's why we put out ChopLife SoundSystem DJ mixes every two weeks, on Apple Music and YouTube. And it's guest DJs, because we want to look at ChopLife SoundSystem like Black Panther. Today can be T'Challa, and tomorrow it can be the other person. There's actually a mask that's going to be unveiled, but we've not paid the artist yet.
Both: [laughs]
Mr. Eazi: Once we pay, hopefully we pay this week and he can give us our mask. It'll be the symbol, but we didn't want to wait. It was taking too long to do all the paperwork for the mask. We paused on everything because we've not gotten this mask. Now the music is ready, the mask is ready.
Edu, how does it feel for Eazi to call you one of the best DJs in the world?
DJ Edu: Well, Eazi does that all the time because he knows he's my favorite Afrobeats artist. Because he's just not an artist, the titles are many. He's an entrepreneur. He looks at the music business side of things, and he's empowered other people as well to get into the music scene. Getting those compliments is good, but I can see the person, the man he's become. The things he's doing, the moves he's making. I'm proud to be a part of that whole collective. The synergy when we come together is like the Avengers. Everyone comes in with their superpower and we make it happen.
What is your setup like?
DJ Edu: Right now, I like to use the REV7, because it allows you to do so much more. You can have your sound effects, all these things going. We also have a Roland drum machine, so Mr. Eazi can show off his drumming skills on the side as well. We will have mics. In my best case scenario, if I was to, I'd go for 1200 Technics and a Pioneer DJ DJM-S11. Because you can play with four decks, you can really explore. If Eazi wants to drum on the pads on the side, he can come and drum on those as well. Of course, I'd need a microphone to hype up people.
Favorite song to drop in a set?
Mr. Eazi: I don't think there's any. Actually on the last set we played, how we ended it was so perfect. Where we went, "how are you guys feeling tonight?!" Then "I am feeling good tonight." [sings]
DJ Edu: With Wizkid, "Ojuelegba."
Mr. Eazi: There was something we played before "Ojuelegba."
DJ Edu: It was "Skintight."
Mr. Eazi: Was it "Skintight"?
DJ Edu: We played "Skintight," then we went into "are you feeling good tonight?" You see how we work? This is how we work on the set as well. We're talking. We're like, "yo, I'm feeling this. Can we start with this?" So it's not just a DJ and an MC, we're literally bouncing off each other.
Mr. Eazi: We're bouncing off whoever tries the funny stuff. I'm going from what was supposed to be in the set, and flipping it based on the vibe. But out of our sets, my favorite was when we played "Ojuelegba" just at the end. Just that part, because we went straight to "how you guys feeling tonight? I am feeling good tonight. If you're feeling good, let me see you put your hands up! I can't explain." [sings]
DJ Edu: For me, it has to be the new Mr. Eazi song. We were in the background listening and trying to learn the dance from somebody in Nigeria, who's showing us the dance moves on FaceTime. [laughs] We need to get this song, we need to get the moves right? Because it's the first time anyone is going to hear this song. While we were mucking about, we came up with an amapiano version of it. Eazi's like "wow, we should do an amapiano version of this!" That was one of the moments because anything goes at these parties? Most people have a good time, no parties are ever the same. It's different energy every time, different vibes.
Why did you guys start with an amapiano project for your debut album, Chop Life, Vol. 1: Mzansi Chronicles?
Mr. Eazi: First off, that was a place musically I didn't expect to go at least. On that record, I'm rapping for most of it. Historically, the only people that call me a rapper are people who don't understand what Afrobeats is, so they just say rapper. On that record, I'm rapping a lot. I never thought I would do amapiano, because I thought I couldn't do it, from everything I was hearing, Until I heard Costa Stitch "Big Flexa." And I thought oh, this is something.
The [solo] album was supposed to come out, the one you listened to. I go off to South Africa to shoot the video for one of the songs on the album, with Soweto Gospel Choir. I ended up going into the studio to finish this song that meant to be on the album, but it wasn't working. The engineer was pissing me off, with the effects he was putting on my vocals. I was about to go batshit crazy.
I end up jumping on the beat for the song that ends up being "Patek." That was the first one we put out. We pulled out the vibes, really and truly. We still didn't know what was gonna happen, until I went to South Africa for New Year's Eve. I went to this party, for four hours they were playing straight amapiano. Songs that didn't have any vocals, just beats. I was there for four hours, almost in a trance. I had so much fun, that's when I knew.
DJ Edu: For three hours, we're partying and enjoying ourselves in this club. Shazam-ing the names of the artists like "Who's that? Who's that?"
Mr. Eazi: There wasn't too much thought, it was more where the vibe led us. I truly feel the vibe led us, it was a beautiful accident. Okay, let's do it! Cape Town, 30 days in South Africa. Make an album, boom boom.
I love the "Wena" music video. How was that shooting it?
DJ Edu: It was nice and chaotic, because I managed to miss my flight. [laughs] By the time I got on the next flight, Eazi was in Ghana, so he had to quickly come in and go out. The person who enjoyed the stay was Ami Faku, because she was there for more of a while. But "Wena" the video shows the freedom and the expression that ChopLife is. That's what it is: about enjoying life, living your best life, and sharing it with as many people as you can. Ami Faku really blessed it with her beautiful, beautiful vocals.
What else did you guys do in South Africa besides record?
Mr. Eazi: Hike.
Both: Eat.
Mr. Eazi: Drink wine.
Three things you guys need on the rider at all times?
DJ Edu: Sparkling water.
Mr. Eazi: Sparkling water, 100%. We need some tequila, sparkling water, and some
fresh towels.
DJ Edu: Yeah, fresh towels. And you could add some fruit there as well. Just your five-a-day type fruits.
What advice do you guys have for up and coming DJs or producers who want to do what you guys are doing?
DJ Edu: Reach out to Empawa. [laughs] ChopLife is offering that opportunity because as we worked with people that were feeling the synergy within South Africa, we're looking to replicate that whole cycle again in other parts. We could be in Kenya, Tanzania, Ghana, we could be anywhere. So there is an opportunity for us if we're feeling somebody's vibe, we could definitely work with them. The best thing is to always put your music out there. Have a SoundCloud, have all these things so that when the time comes, you have your material to show off. DJs, put out your mixes. Artists, don't be shy. Put out your music, you never know who might be listening.
Edu, what role does Mr. Eazi play in popularizing Afrobeats? And vice versa. Mr. Eazi, what role did Edu play in popularizing afrobeats?
Mr Eazi: I'll go first. Edu is consistently playing the music in places where you traditionally wouldn't have it, and breaking those barriers. That's been his spot in moving from the backdoor to mainstream radio. That's one of the biggest things that's happened to the music, especially starting from the UK. The UK was the first to embrace the sound in a more popular way. His role has played a big part in taking it from underground to where it is now and beyond. By just playing the music there.
DJ Edu: With Eazi, you see how the heart has different arteries that feed the body. One of those four pillars of Afrobeats will always be Eazi. Because not only did he put out very unique music to himself as an artist, he stayed true. He stayed independent, showing you can do it your way. And he engaged with parts of the world that would never have engaged with Afrobeats in the way he did it. With Bad Bunny, people like that, [and] doing music in the UK.
Being able to make music boldly and unapologetically African without swaying, and still being yourself, has made him a staple when it comes to African music. Because he, like many artists, didn't stop there. He decided to now empower other artists and give those a platform as well. You'll find that there's people who are not necessarily artists, but people who are producers, managers, all these people who have worked with Eazi have come out and said "we are better for it." It's been a stream of providing all this knowledge, way beyond the music. He's an important figure when it comes to the scene.
What can we expect next from ChopLife SoundSystem?
DJ Edu: Album next week. [laughs]
Mr. Eazi: There could be an album next week, but the next thing is we're going on tour. From July 7th, we're partying all across the world.
What are you most excited for with the tour?
Mr. Eazi: To party. Party party party, if I'm being honest with you.
DJ Edu: Chopping life, chop life.
Mr. Eazi: I want to get to these cities earlier. I don't know if we do it before or after, but do the thing where we eat from 12pm noon to 12am midnight. Maybe we should do it after so that we don't end up…
DJ Edu: Sleeping on the set. [laughs]
Mr. Eazi: Or have a sick stomach when we're supposed to be performing.
DJ Edu: You never know.
Do you ever get tired of partying?
Mr. Eazi: Not in recent times.
DJ Edu: Work hard, play hard.
Mr. Eazi: I'm in my Chop Life era. Yesterday, I landed in Accra and I went straight out. Went to party, boom boom boom from eating to partying. I was still up very early to go to the gym. Right after the gym, I ate two big bowls of food, then straight to the airport. I'm ready to party right now. My fiancé was telling me, she's like "you know you can just sleep. You can just lie down." [laughs]
About the Writer
Shirley Ju is a Los Angeles-based journalist and on-camera host with her own show called Shirley's Temple (with a focus on mental health). She lives, breathes, and sleeps music, and if there's a show in LA, you can find her there. Born in the Bay Area, the Hyphy movement is in her blood. Shirley contributes to several publications and also does interviews for VLAD TV. Follow her at @shirju on both Instagram and Twitter.