Jae Murphy calls himself the "undisputed curator of sound," and this comes to life in any room he enters. If you've had the pleasure of seeing him shut down the hottest events and clubs in Hollywood, then you know exactly what type of time he's on – fire music, dancing, and undeniable energy.
The Chesapeake, Virginia native relocated across the country after graduating from Howard University in Washington D.C. back in 2012, fully embodying the hashtag #HowardToHollywood. With a degree in broadcast journalism, Murphy started interning at Radio One 93.9 WKYS before landing at WHBC 8:30am, the radio station on campus. There, making news packages was part of his curriculum.
What brought Murphy to Los Angeles was an audition to be a video correspondent on REVOLT TV during their inception. While he didn't get that specific gig, he ended up DJing on the network several times.
He states, "Once I relocated to LA, I had to pivot with plan B in case that didn't work out. I made it work. A lot of people would have went back home. Nah, I made this journey to get here. I'ma stay here, I'ma figure it out. REVOLT TV is what really brought me to LA, because I had no intention of moving to LA until later in life. I graduated and I ended up here."
Now, Murphy's resume has grown quite exponentially: touring seven years with Jason Derulo, opening for Chris Brown on his Under The Influence Tour, DJing in rooms for Diddy, Jay Z, Beyoncé, and most recently landing a residency at Deluxx Fluxx in New York City. He also adds executive producer and recording artist to his bio, releasing two singles: "Hood Girl Magic" and "Rich Black Poor Black," both produced by Mike & Keys.
We caught up with Jae Murphy in downtown Los Angeles, after he spent the last five days in five different cities. Read below as we discuss his background, how he got into DJing, an epic moment with Jay Z, opening for Chris Brown on tour, advice for aspiring DJs, and more!
For those who don't know, who is Jae Murphy?
Jae Murphy is a character that's relatable to almost every facet of life. Somebody that lives down the street from you, somebody that went to middle school or high school or college with you. Somebody you see, feel like you know, but you don't know if you know. You may want to speak, but you don't know if he's gonna speak back. But then he speaks like, "Oh, I thought I was you." That's who Jae Murphy is.
When I relocated here, it was in the era of the very, very, very beginning of REVOLT. I was auditioning to be a video correspondent. In that journey, it didn't work out the way I wanted it to, but it worked out the way it was supposed to. I ended up DJing on the network several times. Once I relocated to LA, I had to pivot with plan B in case that didn't work out. I made it work. A lot of people would have went back home. Nah, I made this journey to get here. I'ma stay here, I'ma figure it out. REVOLT TV is what really brought me to LA, because I had no intention of moving to LA until later in life. I graduated and I ended up here.
I met you when you released "You Playin'," featuring Eric Bellinger and The Game.
That was a DJ record. That was my version of doing a Khaled or Drama record. Because at that time, I was DJing for Problem. DJing for Eric. That's how I was able to get that record done.
How did you learn how to DJ?
I was a host during my college days. Even while I was going through my curriculum at Howard, I was hosting parties on campus, off campus. Hosting concerts on campus. I wanted to be comfortable with the microphone, honestly. I ended up pledging my fraternity, the greatest fraternity in the world, Kappa Alpha Psi. A few of my brothers said, "Yo, you need to start DJing." I said "Nah, I'm cool. I got the mic, I got the ladies. I don't need to do all the extras."
It came a point shortly after they said something, where I entertained the idea of me learning how to DJ. Keep in mind, I pledged and crossed in 2010. This is going into 2011. Slowly but surely, I was learning how to DJ in VirtualDJ. First time I physically DJed was after I graduated.
I was hosting the BET Music Matters tour with Kendrick, Ab-Soul, Jay Rock. This is right before good kid, m.A.A.d city came out, I was hosting that tour. Towards the end of the tour, they didn't have a house DJ on the BET side that'd be DJing while I host.
Shout out to Omar Grant, who's now at Sony. He asked me, "Could I play some tunes? Could I DJ?" Immediately I say yeah. But in the back in my mind: here he goes! He jumped out the window. I thought if I mess up, I can just host. It went over well for me. The very first crowd I DJed for was a Kendrick Lamar opening crowd.
And how lit was that?
Oh, it was Kendrick. It was that early Kendrick era, it was lit. It was crazy. It was great.
What is your perfect DJ set-up?
I need a controller. Personally, I do a lot of mic work. A lot of maneuvering. A lot of cues, a lot of spin outs. I don't want to be in a space where one CDJ is working, one CDJ isn't working. The CDJ isn't connected to the mixers. Controllers are so savvy, portable, easy to maneuver with. It gets the job done for me. To each his own. Every creative, every DJ has their muscle memory and what's comfortable for them performing.
People perform at different levels. People are scratch heavy. Some people are not as present on the vocal side, but they want to do a lot of live blends in Serato Studio. They want to do a lot of loops in rekordbox. Whatever makes your boat float, I encourage everybody. I'm not somebody that's in a great debate if you're not scratching! I learned on 1200s. I learned properly on turntables. I still have the turntables I learned on. But DJ controllers: SRT or SX2 or SX3. We're good to go.
I interviewed J. Espinosa earlier, he always wanted an artist to ask him to scratch on a song. DJs bring so much to the culture. Our presence really is a force that's not always respected as it should be. "Oh, he's just a DJ. Ayo DJ! Play…" Nah, we really hold the key and the power to a lot of people's careers. Not even just artists, people that are hired by these distros and these labels. We keep y'all lights on too by playing the artists that's on your roster, that's on your whiteboard. We're making good things happen for a lot of people in a lot of places, then we're feeding the masses your art. This is a bold statement, but same way the narrative of teachers being underpaid. DJs are underpaid.
Are they? But you be doing all the hottest clubs and events?
It's not even necessarily premier events with premier sponsor budgets, it's DJs as a whole. Granted I went through enough strife and mud and politics to land in such a place where I'm able to say a number and it's honored. Plus travel, plus… but the entire scope of DJing is not fully respected on the conversation of compensation, if we're being completely honest. To each his own. Sometimes, it comes down to the dynamic of the event who's doing it, but I'm speaking as a whole.
We really take the time to do market research. To region, country research. Then we have to take the time to download all this music that none of these labels are sending to everybody. All their music is not on any of these record pools at once, right away. They end up on the record pools, but we don't always have the best access to the promo rep at Interscope. Or at Republic, or at Atlanta. Where y'all have these mp3s and these WAVs, y'all are being lazy. Just giving it to top DJs, then hoping it gets to the DJ that plays at a hookah lounge 5 nights a week. That's actually breaking records for people you'd overlook, because he's not playing at a premiere club.
It's so many different dynamics to look at it from my lens, because I've played in so many different capacities. I know where DJs' minds are, where DJs' hearts are. It's a place where once you feel you're not respected, you lose interest and love in your passion. That happens with all creatives in my opinion. But overall, a lot of DJs are overlooked and underpaid for their contribution. Whether they're a big-time, big name DJ, or they're somebody that's downloading every day. Waiting for that phone call or email.
What's been the wildest event you've DJed?
I DJ'd in Budapest at this festival when I was touring with Jason Derulo. The first time I crowdsurfed. My crowdsurf was in Budapest. Being able to be in these rooms with Diddy and Chris Brown, with Jay Z and Beyoncé, all of these people that I've been fortunate enough to perform around, those all accumulate to moments of being ready and prepared. Always working towards mastering my craft.
If anybody's listening to anything I've ever said, just really wanting to master your craft. I still consider myself a student, somebody learning. I still consider myself wanting to explore more with what I have and what I can do, and how I can get better at it. Being prepared for those moments, keep those moments coming. Whenever the first one comes, the next one is going to come. And the next one, and the next one. Outside of the crowdsurf, being able to share these moments with elites and legends. It's surreal to say I want to do this, I want to do that. Then it happens, and you're like yoooo. [laughs] It's crazy.
Can you talk about the moment you DJ'd with Jay Z? That was an epic photo.
That was still a highlight. Super pinnacle, climatic, pivot of my entire career and my brand. I was DJing Ty Ty's 50th birthday. Everybody was there. Beyoncé…
Who calls you up for that?
Lenny S. When I was DJing, he wanted to play a song from his phone. We were trying to find a RCA to auxiliary cord, with the iPhone dongle to hook up to his iPhone. Come to find out, he wanted to play "Blow The Whistle." Bro, you want to play it for you? He's like, "alright cool." That's one of Ty Ty's favorite songs.
That setting, I got to experience Jay Z in the most calm form — "I'm with my best friend. My wife is here, my bros are here. There's only 30 of us. We turned this place into my living room." I got to experience Jay Z very, very calm. I got to experience Shawn Carter, the way we were able to connect. Me being able to play Too Short "Blow The Whistle," that opened up multiple conversations of how we could co-collaborate and curate the night.
That picture, he wasn't DJing. He was grabbing his phone because he left his phone with me to look at his Tidal playlist. But he knew what it looked like, that's why he spinned it like that. Not only did that picture get approved, but he used that same picture for the Montecito Memorial Day Mix on Tidal. Elliott Wilson told me that he specifically said, "Yeah, let's use that picture with me and the DJ." That picture is still on Tidal to this day, because Jay Z doesn't do playlists all the time. He's only done one more playlist since mine. I don't know if he's done anything this year. That was a very climatic pivot and pinnacle of being ready. Being prepared like I said.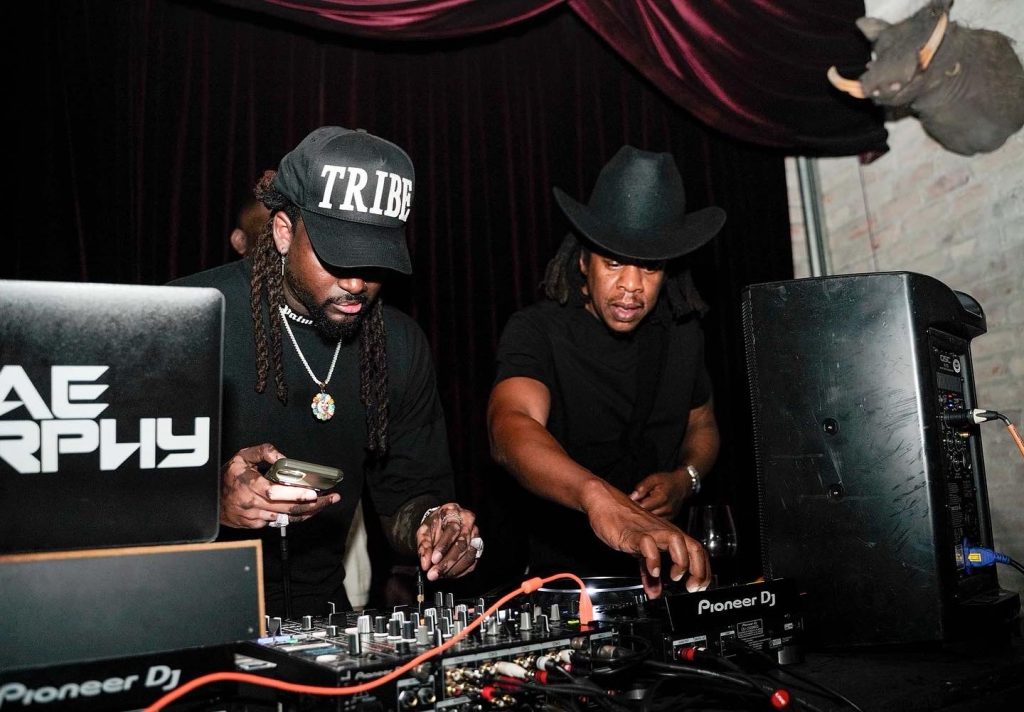 Talking about joining Chris Brown's tour as an opener.
Big shout out to CB, that's my boy. Virginia is for lovers. Chris is by far the most talented, overlooked artists of our time. Can't say decade because we in a whole new decade. [laughs] But being able to share stages, arenas, and experience the nostalgic and current glory of Chris Brown outside of America — to see the impact he has on this world, despite what American mainstream media has said. Despite the narrative that's been created, despite his troubled past on multiple occasions. He was born to be who he is. He was born to touch the world in an unforgettable, vicarious way. I got to experience that being support for the tour as the opening DJ, and the DJ for afterparties of course. Also getting to know him. We've always been cool in passing, we have each other's numbers. He knows I'm from Virginia.
You opened for the entire Under The Influence Tour? Those are big crowds.
It was me, Tyla ["Water"], then him every night. I had my own [set], then I DJ'd for intermission in between his two-hour sets. I did that at the end of February going into March in Europe. In 27 days.
How'd that happen?
Shout out to Booba. When they first announced the tour, it was the end of 2022. When they announced it, I sent Booba a text or DM saying, "ahh, what we doing?" Booba knows I've toured Europe for seven years with Jason Derulo. I'm familiar with what to play, what they want to hear. I was in Nigeria last December with my manager, working out there. I got a text from Booba saying, "I'm shooting for the stars right now." Basically, he was implying that "I pitched you to be a DJ on this tour."
Lo and behold, the tour starts and I'm not on the first date. But the first date, I got confirmed to be on it. I was already at the Super Bowl in Arizona, I ended up coming out there. We rocked out, did 27 dates. It was amazing to see how the world reacts to Chris Brown. How they accept, appreciate, and love who he is. According to music.
Me and Chris are the same age. To see Gen Z front and center, it's amazing to see the impact he still has. We saw older people. We saw married couples, people were proposing to each other. It was a hashtag going on TikTok and social media called #BreezyBlues. People were so blown away that they got to experience Chris Brown. They were sad because they didn't know when he was coming back again. People started going to multiple shows, flying to different countries just to catch the show. Because in their mind, they have no idea when they'll ever be able to experience this. People were crying right on TikTok saying "I've never experienced nothing like this." It was amazing to be a part of such a legacy moment for Chris Brown.
Favorite song to drop in a set?
What advice do you have for aspiring DJs who want to follow in your footsteps?
Create a regimen of not only practicing and downloading, but organizing your crates. Organize your crates! The thing is, people don't realize it's all in front of you. All of these curated playlists – they give y'all the game. It's made so much more easy. All you gotta do is download everything, do your research. Just because you're looking on Apple, Spotify, whatever you're looking on. But you can't download it from there. A nice regimen of downloading, cleaning your crates, organizing your crates, and being ready. Being ready. Every opportunity isn't a paid opportunity, but every opportunity is an opportunity for you to get paid.
Follow Jae Murphy on Instagram and TikTok for more.
About the Writer
Shirley Ju is a Los Angeles-based journalist and on-camera host with her own show called Shirley's Temple (with a focus on mental health). She lives, breathes, and sleeps music, and if there's a show in LA, you can find her there. Born in the Bay Area, the Hyphy movement is in her blood. Shirley contributes to several publications and also does interviews for VLAD TV. Follow her at @shirju on both Instagram and Twitter.