If you have yet to hear about CAM GIRL, you're missing out. While the world-renowned DJ is best known for her diverse sets, blending the genres of hip hop, trap, bass, and house music, it's her bubbly and vivacious energy that we love most. Plus, CAM GIRL boasts her own unique fashion sense – one that perfectly fits her personality and speaks volumes to her persona.
In describing herself, CAM GIRL states she's both a "DJ and up-and-coming musician." She explains, "That's the thing, I'm caught between the worlds of wanting to make weird experimental hyper pop, uptempo stuff — or should I go full-on EDM? I'm stuck between those two worlds. But I've come to a place where I'm going to try first doing what makes me happy, and just do my weird shit. [laughs]"
Born in South Korea but moved to the States at just 4 years old, CAM GIRL relocated to Southern California with her mom, her dad, and her brother. And while she was a nerd growing up, it wasn't until her teenage years she discovered raves and underground parties, which would eventually yield her own dreams of becoming a DJ. After graduating from UC Santa Cruz, CAM GIRL moved to Los Angeles and started doing HAM on Everything shows. 
And with her devout fan base protecting her at all costs, CAM GIRL continues to deliver unforgettable sets in both America and Asia, touring the world and reminding folks that dreams really do come true if you work hard and never settle. 
BPM Supreme caught up with CAM GIRL in downtown Los Angeles to discuss how she learned to DJ, her favorite part of BPM Supreme, favorite songs to drop in a set, playing multiple genres, meeting Nardwuar, playing HARD festivals, her new YouTube series, and more! Also, watch her "Quick Hits" video on Instagram.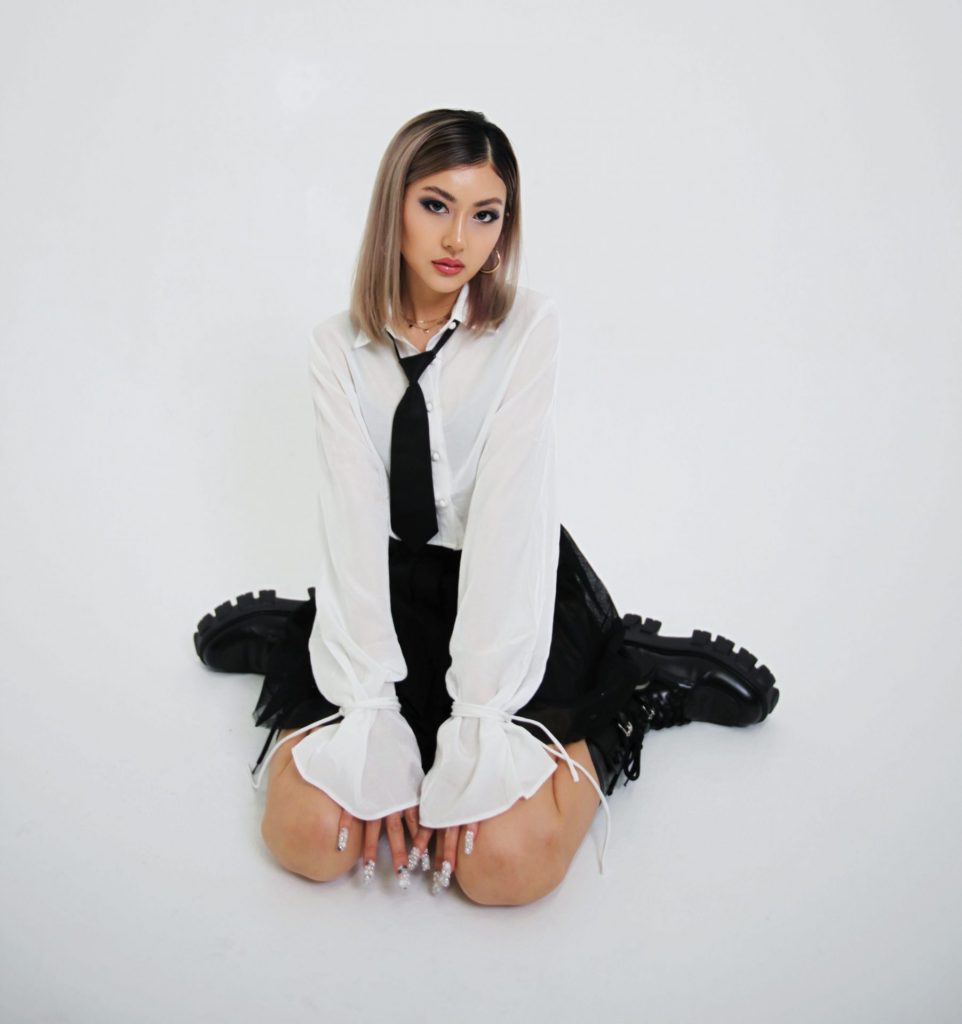 You came to the States at age 4, how was that experience?
We moved around a lot. I went to 10 different elementary schools. We moved so much I don't even know why. It was a pretty normal childhood with Asian parents, going to Costco.
When did you fall in love with music?
I've loved music for as long as I could remember. Especially growing up with MTV, all the fuckin videos on TRL, that's my earliest memory of being obsessed with music.
How did you learn how to DJ?
I wanted to be a DJ at least 6 or 7 years before I actually started. I was too scared and didn't know where to start. When I finally did start, I got myself the stupidest, cheapest controller. At that time, I didn't know that's not going to cut it. You need a controller with a sound card in it, which means you can plug in headphones and mix in headphones. But it didn't have that, it was mixed out. So I watched YouTube tutorials and begged any DJ I knew to please teach me. [laughs] It was a lot of figuring it out on my own.
Was there a moment where you thought "oh shit, this could be a career"?
When I started getting booked for bigger and bigger things. Festivals and places like Asia, and when I stopped doing local bars and parties. I was like "oh shit, things are happening." It's hard to realize that in the moment, it's more stepping back and looking back like "oh wow, that really happened."
How is it DJing in Asia compared to LA?
I like Asia, but they're a little bit later with the music.
The hits now come way later…?
Exactly. You could play "Blasé" [by Ty Dolla $ign] and it'll hit like it just dropped this year.
We hooked you up with a membership for your recent gig. How did you like using BPM Supreme?
Amazing! BPM Supreme is so clutch because it has the dirty and the intros. I never play clean music. So clutch, because rappers don't understand song structure. They don't understand you have to make a 16-bar intro so you can mix in and go straight off the bat.
What's your favorite part of BPM Supreme?
Again, the fucking intros. I love the intros!
What were you using before?
Fuckin' Google. I type in "any song name, MP3, 320," click. And just try to find one. [laughs]
Favorite songs to drop in a set?
It depends, because I play a lot of different types of parties. But in terms of EDM stuff, the dashstar* track to "Knock2," that one's the biggest hit right now. It's really good, it's like bass/house music. In terms of hip hop, the Glorilla Pimp "FNF." I love that song.
"S-I-N-G-L-E again!"
Exactly. [laughs]
Talk about all the genres you play.
Literally, I don't know if it's good or bad. I'ma take it as good. Whatever you book me for, I could cater to that. If I'm playing an LGBTQIA+ party in New York, I will play Sophie. I'll play Kim Petras "Treat Me Like A Slut." If you book me at the Yeat concert, I'll play Ken Carson. I'll play whatever.
Favorite genre to play?
It's so hard to say. I don't have a favorite, because I'll get bored if I play too much of the same shit. Obviously, hip-hop is always up there. I really want to play more weird, hyper pop parties. I don't play enough, but I want to.
Do they get crazy?
I've only played a few, and the crowd's very young. It's a new, whole underground scene. It feels fresh.
Craziest gig you've ever played?
I'm trying to remember. Craziest? Day N Vegas probably, 2019. Oh my gosh, that one was crazy because of Nardwuar!
So he interviewed you?
I didn't get my own video, but I'm in the Vegas vlog. I saw him, I didn't expect shit. I'm like okay, I'll get a picture with him. Whatever. As soon as he sees me, I'm like "Naurdwar!" He's like "CAM GIRL!" And the cameras are rolling. Oh shit, this is happening!
What did he end up gifting you?
It's so embarrassing, he gifted me — I don't know where I said this, where I said I liked this record. But it's "I KNOW J," and I thought it was "IN OJE" for a long time. He gifted me that record.
It was so cute when you hopped on him!
Oh yeah, I went OD.
How was playing HARD EDC Japan, compared to HARD Summer here?
I'll be honest, it's different playing in Asia. I'm not going to say all crowds, but some of the crowds are a lot more filming. They just like filming. I'm like "let's turn up! Come on, make some noise!" They're just like [holds phone up]. It was still a good experience. It was fun.
Do you get nervous playing for such big crowds?
Yeah, I get nervous pretty easily. The more I've done it, probably this year, I've finally got to a place where I don't get as nervous. Before I'd hyperventilate, call my mom and we'd pray. We'd pray we have a good gig. But now, I can go without calling my mom. [laughs]
Talk about being an Asian in the music industry? Any struggles or obstacles?
If I'm honest, I don't really think about it. I do like being representative, because I personally don't walk out like "Asian!" [claps hands] If I do get DMs from Asian kids who are inspiring to work in the music industry — I'm sure you do too — they're like "you're such an inspiration!" What the fuck? [laughs] thank you!
How do your parents feel about this buzzing DJ career you've created?
At first, I would have jobs while I do the DJ thing. I worked at music record labels, backend music stuff like that. As long as I could pay my bills, my parents weren't complaining. Once I got to a place where "oh I can quit my job, and do this." I don't ask them for money and instead, they ask ME for money. How could I complain?
Talk about your Twitch show, how often do you livestream and how did you build a community there?
Shout out to Twitch, that was something me and a lot of the DJs were doing toward the pandemic. It kept us going, being able to tap in with our fans virtually. I'll be honest, after the pandemic, views were down. Everyone was outside, they're ready to be outside and not be in front of their computers. On top of that, my fucking PC is broken right now. [laughs] But I do plan on being back on Twitch.
Talk about your YouTube DJ mix series and the "Chat Room."
Yay! To supplement my Twitch, which isn't happening right now, I wanted to do a mix series on YouTube. We did three episodes and I filmed that in March. Shout out to Bobby Astro, shout out to Just Being Kyle. The first three were a proof of concept like this is it, this is what we could do. We just filmed a whole new round of episodes. They're spanning across genres. They're dropping every month. The first one is dropping in a few weeks, shout out to Baby Stone Gorillas. Next one we have Jack Daniels, and I won't give away the rest. More coming soon, every month.
What inspires your fashion?
I just get up in the morning, what I do is I pick one piece and build around it. What would go with this? And I wear it. Right now, my favorite brand is Left Hand LA. Everyone go buy their shit.
Upcoming shows you're excited for?
What I'm looking forward to is 88 Rising, Head in the Clouds.
I love that! How did that happen?
This guy DMed me and I'm like hmm, is this real? He had an 88Rising email, I'm like okay. His name is Martin, I think he does booking. Then I have another festival in Austin, on September 3rd called Illfest. If you're listening, please come. I forget all else, all my dates are on my Instagram.
Anything else you'd like to let the people know?
Please watch "Chat Room" on my YouTube. Please come to my shows, and please support my music.
About the Writer
Shirley Ju is a Los Angeles-based journalist and on-camera host with her own show called Shirley's Temple (with a focus on mental health). She lives, breathes, and sleeps music, and if there's a show in LA, you can find her there. Born in the Bay Area, the Hyphy movement is in her blood. Shirley contributes to several publications and also does interviews for VLAD TV. Follow her at @shirju on both Instagram and Twitter.