As of 2020, just 2% of the music industry's acclaimed producers were female. In an age where DAWs are more accessible than ever, this disparity is shocking and saddening. Thankfully, there are plenty of female trailblazers we can look to in order to help close the gap.
Below, we'll dive into what has caused gender disparity throughout the pro-audio community and share a few inspiring female producers who have paved their own path despite the setbacks.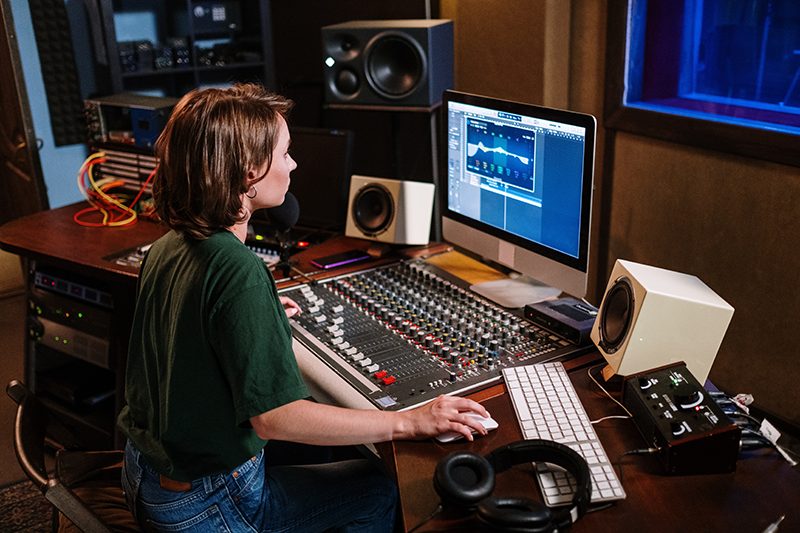 Why Aren't There More Female Producers?
So, why are there so few chart-topping female music producers? Here are a couple of reasons why the music industry has created such a large gap in music production.
Women experience high rates of sexual harassment within the industry: A discouraging 81% of women have experienced sexual harassment in the music industry, according to NPR's 2018 poll. This creates an unsafe work environment for female creators, making it especially difficult to pursue already sparse positions.
Gender bias in music education: Within accessible music education, there is a gender bias towards which instruments young girls are encouraged to pursue. Females are more likely to face exclusion towards certain keystone instruments like the guitar and are directed towards orchestral instruments like the flute.
There isn't adequate representation: This is sort of a chicken and the egg type of issue, but when you don't see yourself represented in a particular role, it's hard to picture yourself working to or beyond that position.
The prevalence of historical attitudes of women's role with technology: Unfortunately, many hold onto the unequivocally false notion that women just aren't interested in learning music production. Women who do produce music may even be seen as "questionable." Anecdotally, I can recall many times where I demoed creations only to be asked, "You really made this yourself?" or "Who helped you produce this?" Even when presented subtly, many people have an underlying assumption that women are incapable of production.
Industry gatekeeping: It's an unspoken truth that some engineers can be overly protective of information or unwilling to answer basic questions when it comes to the recording, mixing, or mastering process. The industry's overall hush-hush attitude with technical education makes it difficult to maintain a spot within the industry, especially as a female.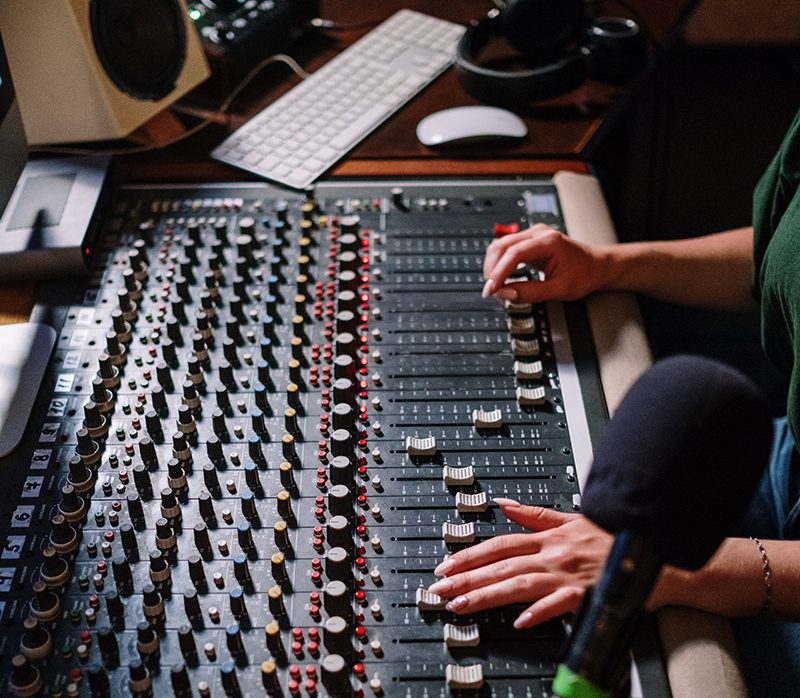 10 Female Producers Paving Their Own Paths
It's no secret that sustaining yourself as a female producer in this industry is incredibly challenging. Luckily, there are plenty of powerful producers blazing the trail for the rest of us. Here are just a few skilled female producers to keep your eye on.
Experimental hip hop and electronic producer Bad Snacks is known for her inventive beats. She is also a skilled violinist who has produced for the official YouTube audio library, Spectrasonics, along with her own artist project. Check out her YouTube tutorials for other producers learning the craft:
Australian singer, songwriter, and producer G Flip is a force of nature. Not only does G Flip produce her own music, but she also plays the drums, guitar, bass, and piano as if her production chops weren't impressive enough. She's earned "best live pop act" and "drummer of the year" on Australia's National Live Music Awards and doesn't appear to be slowing down anytime soon.
PinkPantheress is an unlikely hero, beating the odds as a POC producer and artist, blowing up on TikTok after learning how to produce music at just 17 years old. Her unique style has earned her a distinct genre, combining bedroom pop, jungle, drum and bass, and hyperpop into one smooth soundscape. She provides plenty of hope for future female producers.
While Susan Rogers is now a professor at the esteemed Berklee College of Music in Boston, her career spans multiple decades. Rogers was a pioneer in the audio space, serving as one of the first female audio technicians and engineers to pump out some of America's classic hits. Serving as the staff engineer for Prince and working with other artists like Barenaked Ladies and Tricky, Rogers is incredibly impressive.
Imogen Heap is a pioneer in the electropop space and serves as a label owner, producer, artist, and music tech developer. This British composer has held a career and well-deserved space within the industry for two decades and counting and has composed for plays such as Harry Potter and the Cursed Child.
Imogen Heap received a Grammy for her production and engineering work on Taylor Swift's 1989 and has gone on to create new music tech through her MiMU gloves, which act as wearable musical instruments.
Lorely Rodriguez, or Empress Of, is a Honduran-American producer and critically-acclaimed artist. The LA-native has a degree from Berklee College of Music and pulls inspiration from diverse acts ranging from the Cocteau Twins to The Beach Boys. Her self-produced works have received high praise from Pitchfork and NME, which is no small feat.
Producer and DJ TOKiMONSTA is truly one of a kind. Despite having a brain aneurysm in 2015, causing her to lose the ability to speak, as well as make music, Tokimonsta retaught herself everything from the ground up, culminating in her album Lune Rouge. She continues to collaborate and create with creators like Anderson .Paak and ZHU.
Caroline Polachek may have only recently become a well-known name due to her breakout hit "So Hot You're Hurting My Feelings," but the truth is that the singer, artist, and producer has been grinding in the industry for decades. Polachek is a Grammy-nominated producer and engineer for Beyonce's self-titled 2014 album and has produced works for past projects Chairlift and Ramona Lisa. Polachek continues to further the boundaries of music with her ethereal soundscapes.
Canadian DJ and producer Rezz infiltrated the male-dominated bass and riddim music scene, catching the ears of big-name acts like Skrillex through her self-released EPs and sets. Rezz has impressively won Juno Awards for "Electronic Album of the Year" not once, but twice.
Keeley Bumford, better known by her artist name Dresage, is an inventive music producer and artist who has notably solidified her status as an independent artist. Her songs have landed sync placements in a Netflix original series, and she co-scored the soundtrack for Hulu's original My Valentine. Dressage also generously provides free production breakdowns of some of her tracks, allowing artists to gain insight into her process:
While the statistics surrounding women in the world of music production can be staggering, it's clear that there are plenty of accomplished female producers to inspire future generations of creators. Join us in celebrating female acts and artists throughout Women's History Month and beyond.
About the Writer
Kate Brunotts is an audio engineer and music producer from New York City. When she's not writing about music, producing music, or singing and songwriting, Kate helps others realize their unique sound, whether through a fresh mix, new instrumental approach, or total rework of a particular sound.