Mobile DJs play at a variety of events ranging from weddings to parade floats and everything in between. They may be DJing a party of 5000 or 50, so the equipment needs for the party could vary. However, owning a basic setup will cover you for most gigs, and you can always rent or borrow additional equipment. A mobile DJ setup includes your DJ controller or turntables, of course, but also other electrical, audio, and visual equipment.
Here are some guidelines for what gear to invest in as a mobile DJ:
DJ equipment
There is no hard rule that says that a mobile DJ must play on a controller or vinyl, so it's best to use whichever DJ setup you are the most comfortable with. Controllers like the Pioneer DJ's DDJ-FLX4 are good to use because they are easy to transport and can digitally source almost any song. CDJs are good because you typically don't have to use a laptop and can therefore engage with the crowd. Vinyl, while a little harder to transport, allows you to scratch and give your audience the true old-school DJ experience.  
Cases or gig bags
Some DJs carry their equipment in zippered gig bags, and others prefer flight cases, such as the Odyssey Dual Electro-Voice Portable Case with Wheels or ProX ATA Flight Case.
Headphones
When you are DJing a mobile gig, just like any other gig, a pair of studio-grade headphones like the Audio-Technica ATH-M50x will help you preview your mixes and songs before sharing them with the crowd.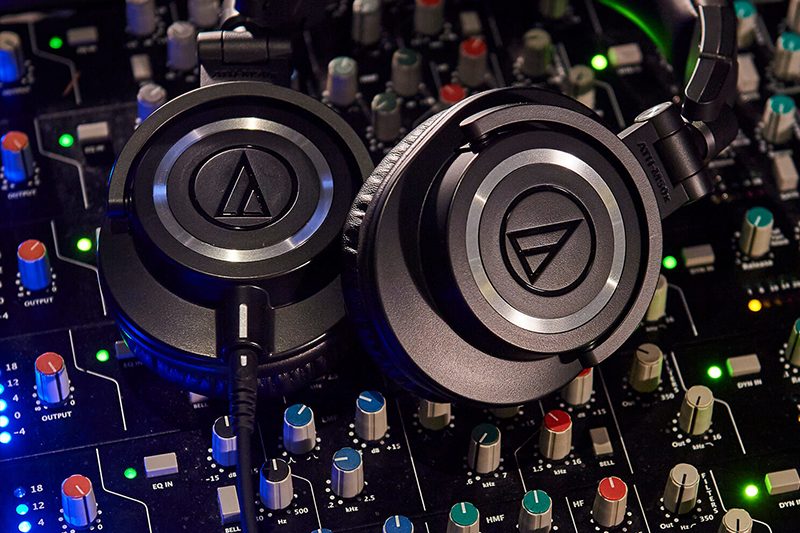 Laptop
If your DJ setup is linked to a laptop, it may be worth the extra money to get the most RAM, processing power, and hard drive space to ensure a seamless flow of music. In case your primary laptop breaks down, it might be helpful to bring a backup laptop or at least a music player you can connect to your speaker.  
Phone with hotspot
Venues don't always have wireless internet for the DJs, but you can use your own phone for internet if you set up a hotspot. Having internet comes in handy if you need to look up a song or download music from BPM Supreme on the spot.
Chargers
Your laptop or phone battery might run out sooner than you think, so it's best to keep these charged while you work.
Speakers
It's best to own at least two professional-grade speakers with XLR or ¼'' inputs, like the QSK K12.2 2000W 12 inch Powered Speaker. Depending on the size of your events, you may want to also consider purchasing a subwoofer. It's helpful to own a third speaker to provide sound separately from the main speakers. For example, if you are using two speakers for the dance party at the wedding reception, you may also want to set up a third speaker for the wedding ceremony or cocktail hour. Consider investing in a chargeable speaker in case clients are looking for sound far away from an electrical outlet. Also, having a Bluetooth speaker helps in case you want to connect a phone to play a playlist from Spotify. Additionally, you may want to bring a speaker to use as a monitor so you can hear what the crowd is hearing.   
Speaker stands
Foldable tripod speaker stands are perfect for mobile DJs. 
Speaker scrims
Scrims are pieces of cloth that cover up speaker stands. They make a DJ setup look more professional by hiding wires.
Microphones
It's good to own a high-frequency wireless microphone in case you need to make announcements or guests want to do speeches. It's important to purchase a high-frequency microphone rather than a standard wireless microphone because you want a strong, undistorted signal from at least 20 feet from your DJ booth. You can also bring a wired performance microphone, such as an SM58, to connect with an XLR cable. That way, you have a backup microphone in case one microphone is acting faulty. 
Tables, keyboard stands and laptop stands
It is good to own at least one fold-up table that can support your DJ equipment. Alternatively, you can rest your controller on a keyboard stand. It's always handy to have a small laptop stand that you place on your table or a table the venue provides. Some DJs also use their flight cases or other solid objects to raise their DJ equipment from the table so it's more comfortable to mix. Another option is to invest in a collapsible table that doubles as a DJ booth, like the ADJ Pro Collapsible Event Table.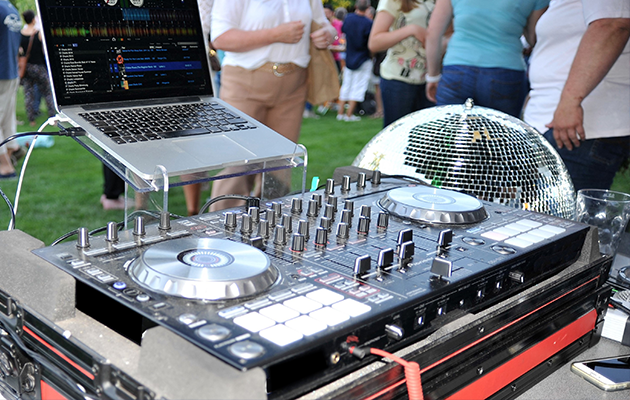 Tablecloths
A black tablecloth will make your DJ setup look more polished and professional. There are even some tablecloths designed to cover up wires while still creating space for them to pass through.
Façade
You can purchase a foldable façade to put around your table to hide wires and make your DJ setup look more professional.
Power strips
It's good to start with at least two six-outlet power strips. A typical mobile DJ setup will require at least four outlets—one for your DJ controller, two for your speakers, and one for your wireless microphone. If you then add lights, laptop and phone chargers, and more speakers, you will need at least two power strips. 
Cables
You will need cables for many different parts of your DJ setup. There are power cords for your controller and speakers. There are also XLRs or ¼'' cables that connect from your DJ equipment to your speakers. You will also need a USB cable to connect to your DJ controller if you are using a laptop. You will need XLRs or ¼'' cables for your wireless and wired microphones. 
Additionally, it's always handy to bring a couple of extension cords in case the venue's power source is far from where you will be setting up your DJ booth. Consider purchasing high-quality cords with lifetime warranties rather than budget cords. Budget cords can break down very quickly and may even stop working during your gig.
Lighting
Mobile DJs use all kinds of lighting, ranging from huge hanging light displays to small uplights that go behind your façade. You can also purchase rotating LED lights to hang on your speaker stands or put on your table.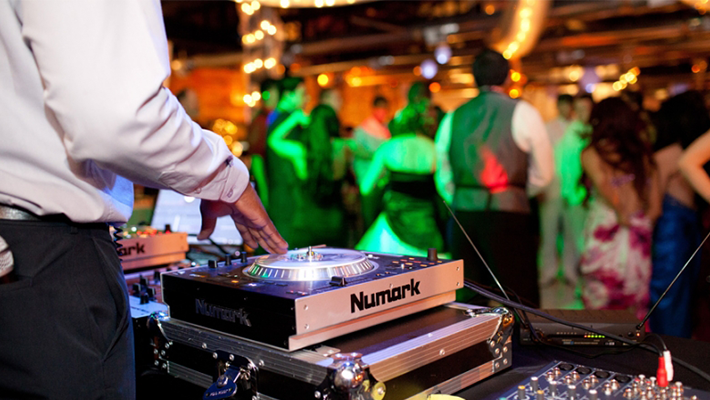 Dollies, bags, suitcases, crates
You can load your speakers and controller on a dolly, and transport everything at once rather than carrying each item piece by piece. Also, a bag, suitcase, or crate is perfect to store smaller items such as wires and microphones.
Gaffer tape
A roll of gaffer tape is good to secure and hide wires. That way, guests won't trip over loose wires. 
There are many other things you can bring to your DJ gig, depending on what it calls for. Perhaps you'll bring a video projector, some kids' games or a karaoke machine. However, the setup described above will get you through most mobile gigs. Although investing in this equipment may be pricey, you can also purchase it on payment plans or rent it. The investment can surely pay off. Mobile DJ gigs tend to pay well, and having the equipment makes you much more hirable in the first place. 
After all, it's a lot easier for an event planner to hire a DJ with equipment than to find a DJ and then rent the equipment from a separate vendor. Also, if you carefully choose high-quality equipment for your mobile setup, it will last for years through all different types of events, from baby showers to 75th birthday parties.
About the Writer
Anna Awe is a DJ, producer, and singer/songwriter based in Los Angeles, CA. She is passionate about helping DJs and artists use entrepreneurship and digital media to pave their own paths in the music industry.