So you've decided to try your hand at DJing? Congratulations! Very few feelings on the planet can compare to plugging in your first setup and taking a stab at your first mix!
But for many just starting out, browsing all of those product specs and wires can feel a bit overwhelming. Fortunately, we've compiled a list of six of the best mixers and controllers fit for every style of live mixing – from the bedroom to big room.
And the best part? They're all under $500. Let's jump in.
Pioneer DJ DJM-S3 2-Channel Serato DJ Mixer
Looking for a reliable mixer but have no idea where to start? The Pioneer DJ DJM-S3 might be a perfect fit. This two-channel mixer has all of the bells and whistles you need to get started, such as three-band isolators for low, mid, and high isolations, a Magvel Crossfader for smooth level balance and transitions, two independent channel filters for FX, and two cue buttons for simple track positioning. Plus, this mixer has a built-in sound card with Serato Pro enabled, allowing newcomers to practice on the pro version of the DJ software straight out of the box.
The DJM-S3 is easy to use and fairly simple to set up, having both XLR outputs and RCA inputs for high-quality audio playback, as well as two headphone inputs and a microphone input. This mixer also has Serato DVS support and can be connected to your PC/Mac via USB, making it very accessible for someone who wants to start mixing on their computer before investing in turntables and other expensive equipment.
Numark Scratch 2-Channel DJ Mixer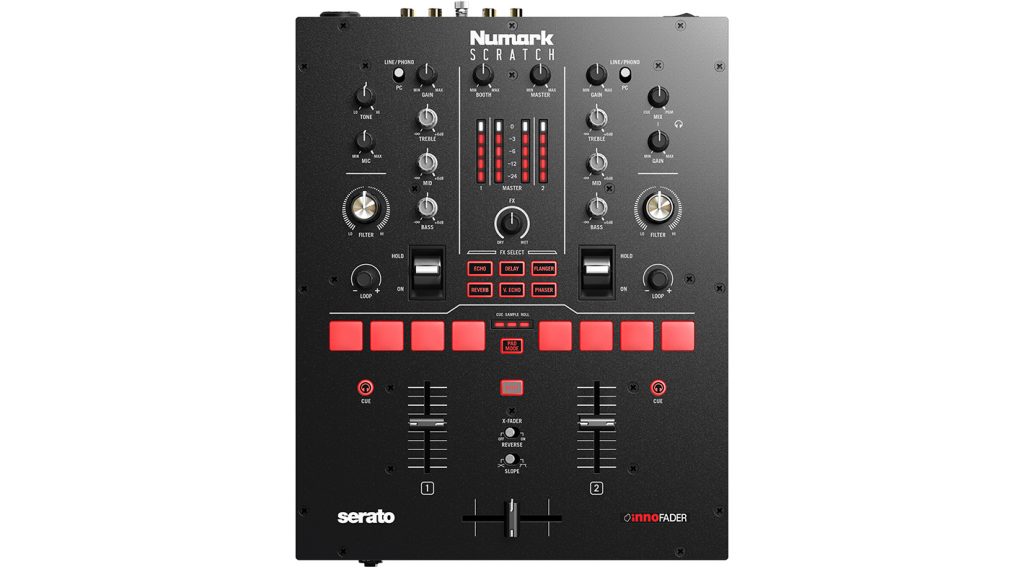 The Numark Scratch is another great option for someone looking to get their feet wet with mixing. Similar to the DJM-S3, this two-channel mixer boasts all the essentials you'll need, including three-band EQ knobs, an Innofader crossfader for accurate scratches, and high pass and low pass filters. However, this piece of equipment takes it much further, with six dedicated software FX buttons for mixing effects, eight responsive performance pads for hot cues, roll loops and samples, reverse and slope switches, and instant loop encoders that make repeating sections of a track effortless.
The Numark Scratch comes enabled with Serato DJ Pro and has XLR, USB, and microphone connectivity. This mixer also is DVS ready and pairs well with turntables such as the Numark NTX1000, Reloop RP-7000 MK2, and Pioneer DJ PLX-500.
Numark Mixtrack Pro FX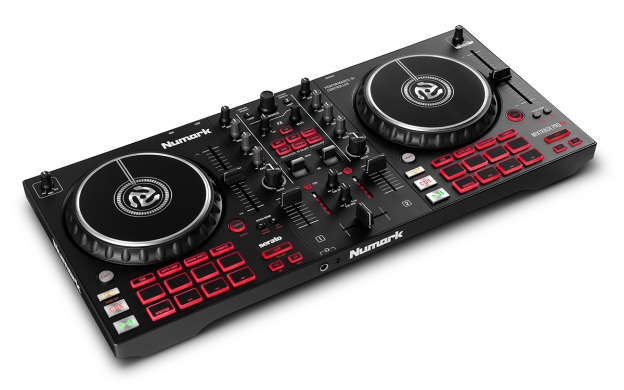 Is a controller setup more your style? Check out Numark's Mixtrack Pro FX. The Mixtrack Pro FX features a sleek, lightweight design that exemplifies what a professional setup should look like with two six-inch jog wheels, three-band EQ knobs, six direct software effects with a toggle pad for professional quality transitions, and 16 performance pads for hot cues, loops, and samples. It also features premium paddle triggers for FX filtering and knobs at the top for seamless scrolling and loading of tracks.
Compared to other similar controllers, this option is more limited in connectivity. The Mixtrack Pro FX only features one headphone and microphone input and RCA outputs, so you will need speakers to use this product. Also, it has no external power source, so it will need to be plugged into your PC or Mac via USB to work.
The Mixtrack Pro FX does, however, come preloaded with Serato DJ Lite, which is great for beginners. It is also compatible with the Pro version of the software, so you can always upgrade later.
Hercules DJ Control Inpulse 500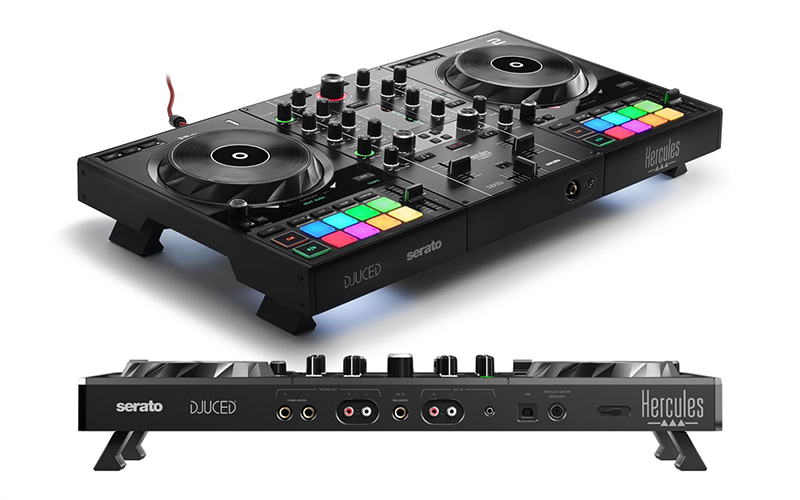 Are you searching for a device designed with rookies in mind? Look no further than the Hercules DJ Control Inpulse 500. This controller features a large, professional design broken up into three sections: two deck sections with large jog wheels, tempo filters, and 16 backlit rubber RGB pads, plus a mixer section with three-band EQs, line and crossfaders, and filter effect knobs. The Inpulse 500 is also laced with a ton of great extras, including extendable/retractable non-slip feet, a beatmatch light guide for manual syncing assistance, and an intelligent music assistant that can suggest tracks from your library.
The DJ Control Inpulse 500 comes with DJUCED in addition to Serato DJ Lite. In terms of connectivity, this controller shares the same issues with Mixtrack Pro, mainly in that it only has RCA outputs and runs via USB. However, this controller does have an input hardware mixer, which allows you to add filter effects onto external audio sources like a smartphone or tablet, so you can use the controller without any software (making it perfect for beginners or use at house parties).
Pioneer DJ DDJ-REV1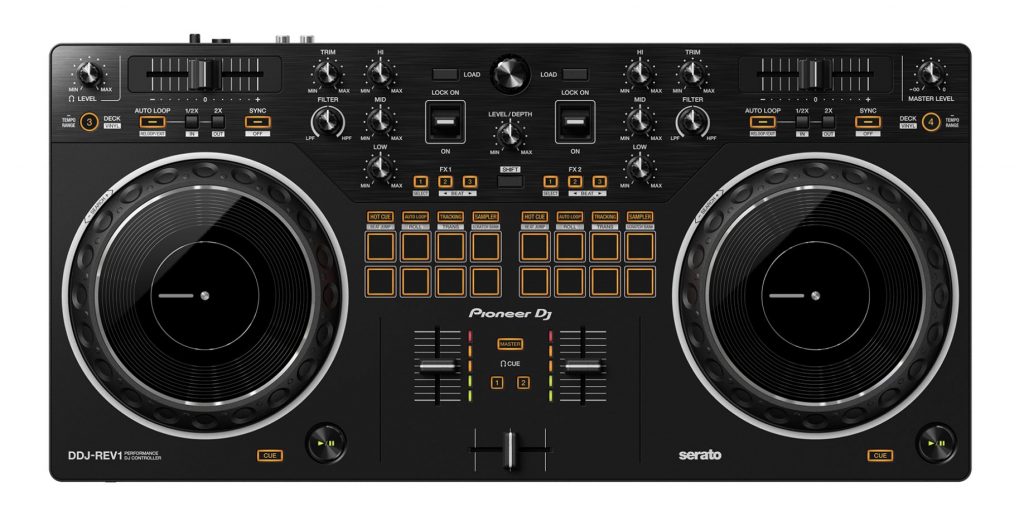 Speaking of controllers built with beginners in mind, the Pioneer DJ DDJ-REV1 is another fantastic option for someone looking for a pro-style setup on an entry-level budget. This two-deck controller is stylized to imitate a professional battle mixer and turntable setup, with two large jog wheels, three-band isolation, eight responsive pads on each side for cues and loops, intuitive tempo sliders, and lever FX for sound texture.
Like both of the previous controllers, the DDJ-REV1 comes loaded with Serato DJ Lite and is compatible with Serato DJ Pro. But what separates this controller from the pack is its tracking scratch feature that returns your track to the cue point the moment you move the jog wheel or remove your hand. This not only eliminates the need for cues for live scratching but also allows you to creatively implement scratch techniques into your mixes without losing your spot in the track.
TRAKTOR KONTROL S2
Last but not least we have Native Instrument's TRAKTOR KONTROL S2. As with the previous options, this controller features a clean layout with two large jog wheels, three-band isolation, and eight pads on each side for cues and loops.
But what makes this controller special is the abundance of additional features, such as four built-in filter effects (reverb, delay, noise, and timing), transition mode buttons for flex and reverse, and knobs that allow you to navigate or loop your tracks at intervals of two, four, eight, 16 and 32 bars.
Another difference to note is that the KONTROL S2 is a four-channel controller, meaning you can layer up to four decks of tracks and inputs at the same time, as opposed to the two-track mixers and controllers previously featured. It comes loaded with TRAKTOR PRO 3, Native Instrument's original DJ software, and its lightweight design and club-grade effects make it a perfect controller for bedrooms, house parties, or clubs.
We hope one of these mixers or controllers is the right choice for you. With a little cash and dedication to your craft, you'll be owning the decks in no time.
About the Writer
Shawn Hampton is a writer based in Brooklyn, New York. He has a B.A. in Creative Writing from Florida State University and is passionate about live music and promoting artists and creatives via various digital marketing efforts.