BPM Supreme has collaborated with Roland, the world-leading electronic musical instrument and music software creator, to introduce an exclusive apparel collection in celebration of Roland 909 Day and the iconic TR-909 Rhythm Composer drum machine's 38th anniversary. This collection is available now worldwide through the online Roland Lifestyle Shop.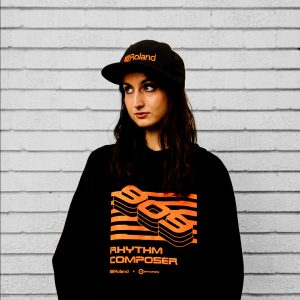 "We are honored and excited to reveal this collection of merchandise. Working alongside Roland, one of the most iconic respected music companies in the world, and Roland Lifestyle, we were able to create a truly unique collection that combines inspiration from Roland's roots in music culture with our passion for the DJ and music industry," said Angel "AROCK" Castillo, founder and CEO of BPM Supreme.
The Roland X BPM Supreme 909 Day apparel collection includes a t-shirt, hoodie, and hat with customized patches. All of the items flaunt Roland's signature branding and colors, as well as the BPM Supreme logo and trademark. Available in limited quantities, each item can be purchased through the online Roland Lifestyle Shop, which features lifestyle products and brand collaborations.
38 years after its initial release, the Roland TR-909 Rhythm Composer drum machine still plays a key role in modern electronic music. As the first Roland drum machine with MIDI functionality, the TR-909 allowed musicians to synchronize and sequence with other devices and digital instruments. Although only 10,000 units were made, the TR-909 gained popularity in the late 1980s and played an important role in the development of techno, house, and acid house music. Over the years, the TR-909 has been used to produce hit songs by artists like Daft Punk, Madonna, Phil Collins, KRS-One, and Richie Hawtin.
In addition to the Roland X BPM Supreme apparel collection, BPM Supreme's online sample library BPM Create is offering a free 909 Day sound pack for active subscribers that features an original Roland TR-909 drum machine sampled through a variety of hardware samplers. Subscribers can also access a "Classic House" curated sound pack with hand-selected sounds found on BPM Create inspired by Roland TR-909.
"Our Roland drum machine sound packs are always a favorite among BPM Create subscribers. We are pleased to continue advancing the legacy of these legendary musical instruments to the producers of tomorrow," continued AROCK.
To learn more or purchase apparel from the Roland X BPM Supreme apparel collection, visit the Roland Lifestyle Shop.