A wedding is one of the most important events of a person's life, and they have chosen you, of the many DJs in your area, to create the soundtrack for their night. So, it's important to handle the event with care. Couples may have songs that they associate with key moments in their life, such as when they first met, or a special summer they spent on the beach with their friends. You can help them remember how wonderful those songs made them feel.
Choosing and mixing the right party songs is also essential to bringing out the best energy from a multigenerational crowd. Plus, you might be emceeing and managing the AV equipment for the event. A lot of responsibility for one person, right? It becomes much easier once you sort out your responsibilities alongside the wedding timeline.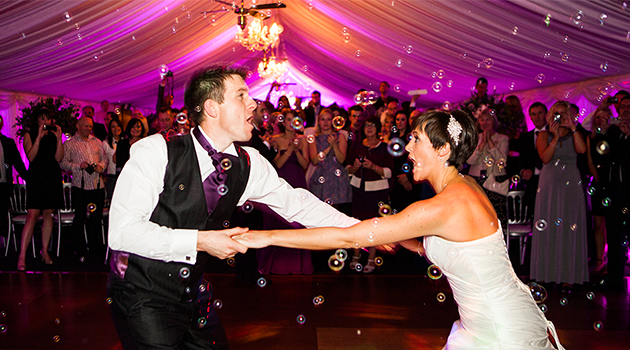 Wedding DJs may be responsible for emceeing and managing the AV systems for a wedding, or these responsibilities might be delegated across a DJ team. Alternatively, the wedding planner might source lighting or sound from a different vendor and leave just the DJing responsibilities to you. Often, these are the typical hats you'll wear during a wedding:
DJ & Music Selection
You will select, play, and mix music for the ceremony, cocktail hour, dinner, dances, and dance party.
Emcee
You will host the event, and make announcements during key moments, such as the grand entrance and first dance. You may also make logistical announcements, such as gathering a group for a photo shoot, or getting people to their dinner tables. As an emcee, it is very helpful to have a pre-wedding meeting with the couple to go over name pronunciations, when you will be speaking, and what you will say.
Audiovisual Technician
You will provide, set up, and manage the sound and (possibly) lighting for the entire event. Different parts of the event might utilize different sound systems. For example, the cocktail hour and ceremony might be in different rooms than the dance party, so you would need to manage a second sound system for these parts of the schedule.
Sometimes you might just leave a playlist on a small speaker in the cocktail room while you set up your larger system for the wedding reception. Additionally, you may be bringing uplights, rotating dance lights or even an entire hanging display of lights to decorate your DJ area and the dance floor. Be sure to include two microphones in your system: one for the ceremony and toasts, and the other for your emcee duties.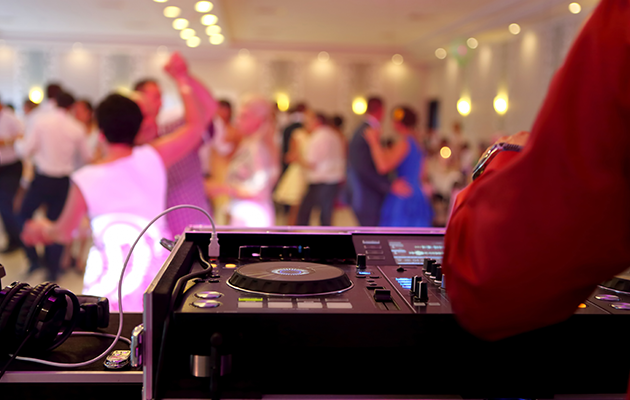 Each wedding is a little different, but they typically follow a schedule like this:
Ceremony
This is the part of the event where the wedding officiant marries the couple in front of a seated audience. You may be playing songs before and during the ceremony. If you provided the sound system for this part of the wedding, your job is to ensure the sound for the speeches and music is at the right volume and coming in cleanly without distortions. You should also ensure that the microphones are on and working properly.
Cocktail Hour
Cocktail hour is when guests mingle, drink cocktails, and eat hors d'oeuvres before sitting down for dinner. As a DJ, you might be mixing live during this timeframe and using your main system. Alternatively, you might create a playlist, use the couple's playlist, or play a pre-recorded mix. In those cases, you can simply attach a music player or your phone to your speaker and let the music play. Cocktail hour music tends to be more chill and played at a lower volume than the dance party music.
Grand Entrance, First Dance, and Welcome Speech
After cocktail hour, guests transition from the cocktail area to their dinner tables. You might also be transitioning from using your cocktail speaker system to your main speaker system. As the emcee, you might make an announcement to help people transition. Once everyone is seated, typically the grand entrance, first dance, and welcome speech take place. A grand entrance is an enthusiastic introduction of the parents, bridesmaids, groomsmen and, of course, the couple. You might be emceeing the grand entrance and first dance, and it's best to discuss in advance with the couple which songs you will play during these moments.
Dinner
After the grand entrance, first dance, and welcome speech, servers will begin passing the various courses of the meal. During this time, you might be playing music from a playlist or pre-recorded mix, or you might be live mixing. Music during this time tends to be slower and quieter so guests can talk. For example, you might play jazz standards or lounge music. You might play acoustic pop songs or songs with a slower tempo.
Toasts, Family Dances, and Cake-Cutting
Later in the dinner, loved ones might make toasts to the couple, and you might be emceeing the father-daughter and mother-son dances. It is recommended to go over which songs you will play during each family dance. Once the dance floor is open, more events, such as the cake-cutting, may follow. During the cake-cutting, DJs often play a related song, such as "Cake By The Ocean," unless otherwise specified by the couple.
Dance Party
The last part of the night is dedicated to the dance party! It often begins right after the last formal dance. This is where the energetic, ready-to-party people hit the dance floor. And this is when you get to showcase your skills as a DJ. You can blend, use effects, introduce mashups and remixes, and scratch (tastefully). The music during this timeframe will most likely be high-energy, and reach BPMs of 110, 120, or even 130. Sometimes, you will play high-energy music with a lower BPM (such as hip hop). For the party, certain songs prove successful time after time across many generations. "I Gotta Feeling," "Let's Groove," and "I Wanna Dance With Somebody" are great examples.
The schedule might vary from wedding to wedding. For example, some couples don't have a cake-cutting, some may host the dinner and then have the grand entrance, or some may do the family dances right after the grand entrance.
The most important thing you can do when selecting the music is to communicate with the couple before the wedding. Most likely, they will have songs that they want to hear for each part of the night, and sometimes full playlists for cocktail hour and dinner.
DJ companies often send questionnaires to the couple asking for genre and artist preferences, family dance songs, 'must play' songs, and 'must not play' songs. Couples may know every song they want to hear during the event or ask you to determine that. In this case, you can use your DJ experience and sensibility to select music that brings out the best energy across generations. For more ideas, BPM Supreme's premium subscription offers wedding-themed playlists, such as "First Dance Songs" and "70s Disco Groove Dance."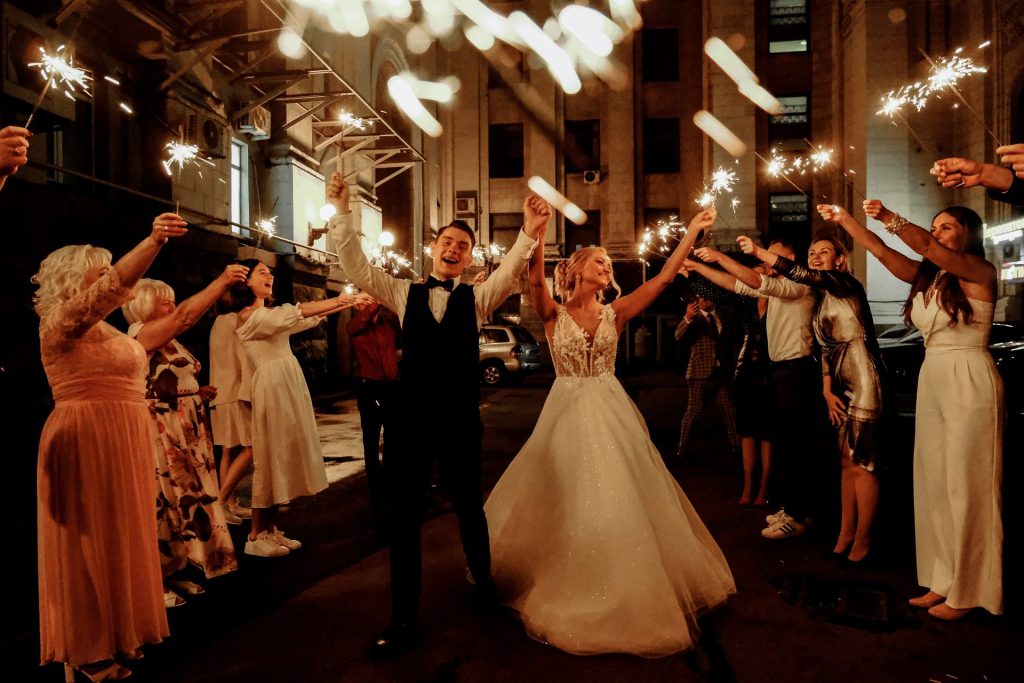 DJing a wedding involves more planning and work than your typical club gig, but it also pays much better (and allows you to use your gift of music to help create the most wonderful evening for a new couple and their friends and family)!
There are all different types of wedding DJs: some who emcee and perform, some who specialize in cultural music such as Latin or Indian, and some who mix seamlessly behind the decks. No two wedding DJs are alike, and as a small business owner, you can cultivate your own unique style and service offerings. As time goes on, you might discover a niche and become the go-to in your area for your very special brand of wedding DJing.
About the Writer
Anna Awe is a DJ, producer, and singer/songwriter based in Los Angeles, CA. She is passionate about helping DJs and artists use entrepreneurship and digital media to pave their own paths in the music industry.