DJ Mal-Ski isn't just a DJ — he's a full-blown entertainer. If you've had the pleasure of attending one of his world-famous college parties or one of his many celebrity events, then you know exactly what type of time he's on. There's dancing, an undeniable fire set, and, of course, his unforgettable laugh.
Born and raised in Long Beach (mostly), as well as in Rialto, CA, Mal-Ski (real name Jamal McCoy) stays focused on inspiring people and bringing joy back to the dance floor. He explains, "I just want people to laugh, dance, and have fun again." Mal-Ski is a curator of fun. The self-proclaimed "Captain Fun" says, "If I'm DJing, it's going to be fun. You're going to dance, you're going to sweat, and most of all, you're gonna laugh. That's what I'm all about."
DJing events and clubs is one thing, but DJing entire arenas is next level. Mal-Ski has spent the better part of the last ten years doing just that. From becoming the first African American to DJ the NCAA Final Four and the CFP National Championship to being the official DJ and in-game producer for the Los Angeles Rams for over six years.
Presently, Mal-Ski is the official DJ for the Los Angeles Sparks and USC Trojans. He's also the CEO and founder of his own traveling gospel party called Club Hope, all while putting on the producer hat and releasing his own records across genres like pop, hip hop, gospel, and R&B.
We caught up with Mal-Ski in downtown Los Angeles, who was as excited as ever for his record-setting pool party at USC. Read below as we discuss his roots in Long Beach, how he got into DJing, his setup, DJing athletic events versus music events, advice for other DJs, and more!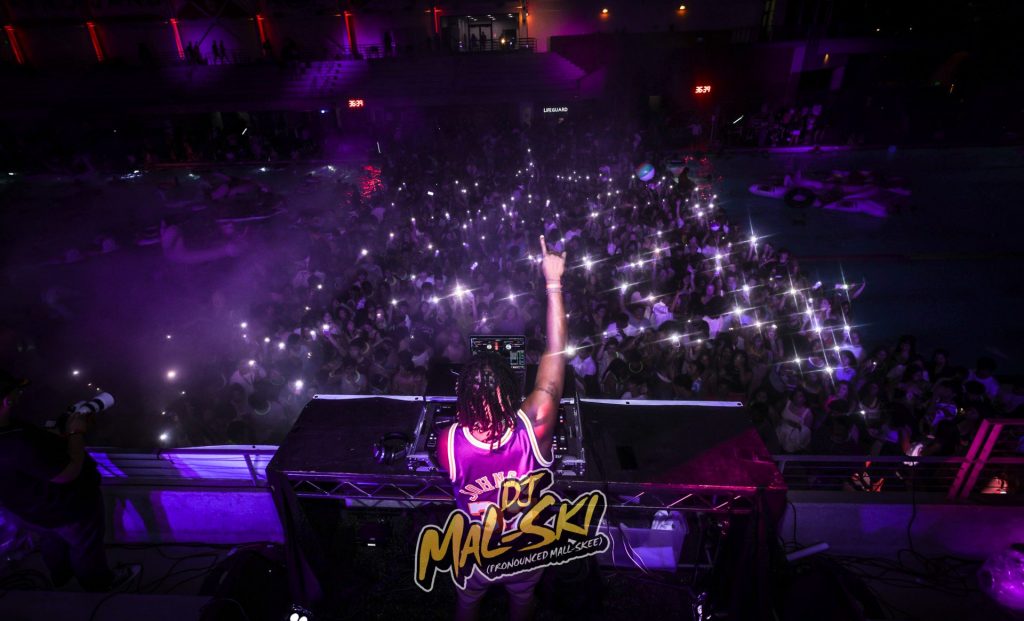 How did you get your DJ name?
In Long Beach, we lived in these apartments called Springdale. Once the street lights came on, my grandmother would stand on the porch and say "Jamali-Mali-Mal-ski! Come on meathead. It's time to come inside." After hearing it over and over again my friends started saying, "Mali-Mali-Mal-ski!" and it just stuck, so I kept it.
Being from Long Beach, talk about your love for music growing up there.
Long Beach for me was amazing! I started out at nine years old, DJing my father's parties. Every Friday, night my parents threw a Bid Whist party. It all started out with my father saying, "Don't let the music stop." After a while, my father wanted me to really learn what I was doing. Shout out to Mixmaster Tony G who told my father what to get me. He got exactly that, we set it up. Next thing you know, I'm playing on two Technics and a Vestax mixer.
You taught yourself?
Trial and error. [laughs] I just started playing records. As I would play certain songs, more people would come in. People would tip me, give me a dollar if I played a certain song. Celebrities started coming in. Barry White came in one time, Eazy-E came in.
Your father was poppin' or what?
I guess [laughs] — he was one of the plugs for that side of the hood in Long Beach. That was a place you can come get whatever you need. You can come get street pharmaceuticals, or security, or girls. Whatever you needed he would say, "I know a guy". I'd just be playing music, and that's how I grew up.
Growing up, did you always want to be this big DJ?
No, I just loved pleasing people. I love making people laugh, forcing people to have a great time. That's all I cared about then and all I still care about now. Sometimes, I actually miss the money because I'm so focused on people having a great time. That's where my focus always is. In the beginning, it was just about not letting the music stop, but then I started noticing if I'd play certain songs, certain people would get happy and enjoy the party more. Then those certain people would give me money (tips) for playing their favorite songs! So that became all I wanted to do, and I'm still doing that to this day.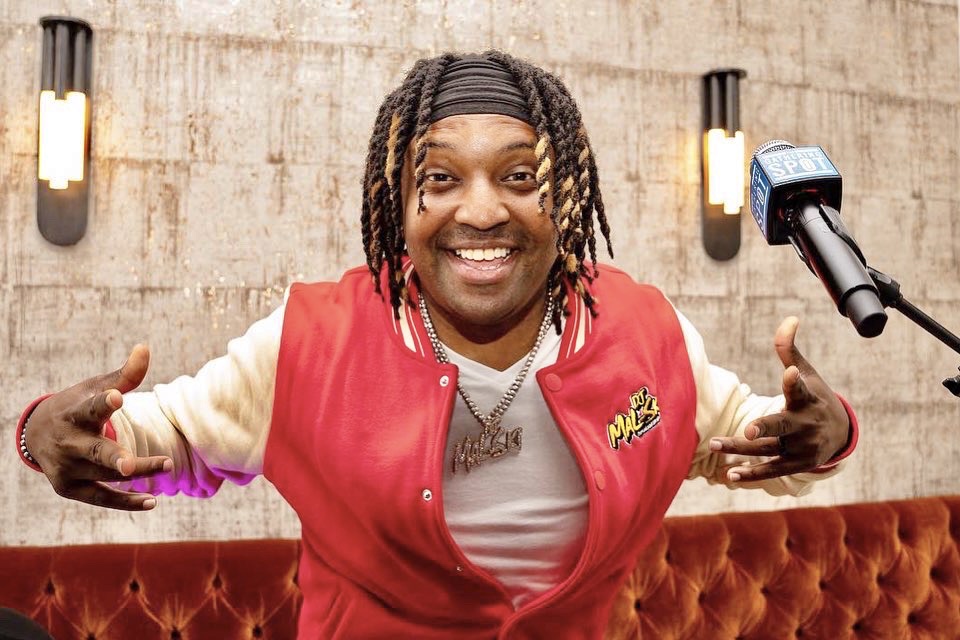 What was your first big gig?
Barry White. Well, that wasn't really big. Let me back that up. My first booked gig was Barry White, at age nine. It was a small private party, a celebration of him signing an artist. Blah, blah, blah. A bunch of kids running around and me playing some records. He gave me $100! At the time it was HUGE, but really, my first "BIG GIG" was with Stevie Wonder.
How'd that happen?
It's kind of a long story [laughs]. After DJing for a while, I transitioned into being an artist. I wanted to make music that makes people feel good. (Sidebar: I'm getting back into that now.) So I put out some music by my name, Jamal. Ended up doing a deal with Hidden Beach Records with Steve McKeever, who initially connected me to Stevie Wonder.
While producing for artists like Jill Scott and Mike Phillips on Hidden Beach and producing for and touring with Kenny Lattimore, I met my mentor, Frank Wilson. Frank Wilson was also the mentor of Stevie Wonder at the time. Frank said, "Hey, I want you to go down and help Stevie out with his radio station. I want you to help him out with everything." So I go to KJLH and chat with one of Stevie's security guys, who says Stevie's throwing a party for his daughter and needs a DJ.
Fast forward, I end up DJing the party. Stevie and the family danced and laughed all night, and Stevie asked me to come work at the station. They hired me at the station, and in no time, I became the music director and built the ratings up to the highest they'd been in 17 years. One night, while discussing the station, Stevie asked me to tour with him. I cried like a baby! Dont judge me [laughs]. He was and always will be my hero!
That first night on tour was in Las Vegas — it was a big deal. A big deal.
That's such a legend to tour for!
Yeah, it's another level.
Were you nervous at all?
I know it sounds arrogant, but I'm never nervous because I'm never going to be good enough for everybody. You could do the perfect set, everybody have fun, and there's going to be somebody that says "ehhh, I didn't really like him." Or "he played too much music" or "he didn't talk enough." Or "why didn't he play my song?" So I don't get nervous. I just do my best at pleasing as many people as I can and go from there.
Side note, can Stevie see?
No, he can't. But he tells me all the time, "Your sight is distracting you." It means that you're not focused because you're depending solely on your sight to see. Sometimes you can get around people, and there's more to them than what you see. But you don't notice it because you're looking at them. You're not even listening to how they're talking, or what their spirit is saying, because you're depending solely on sight.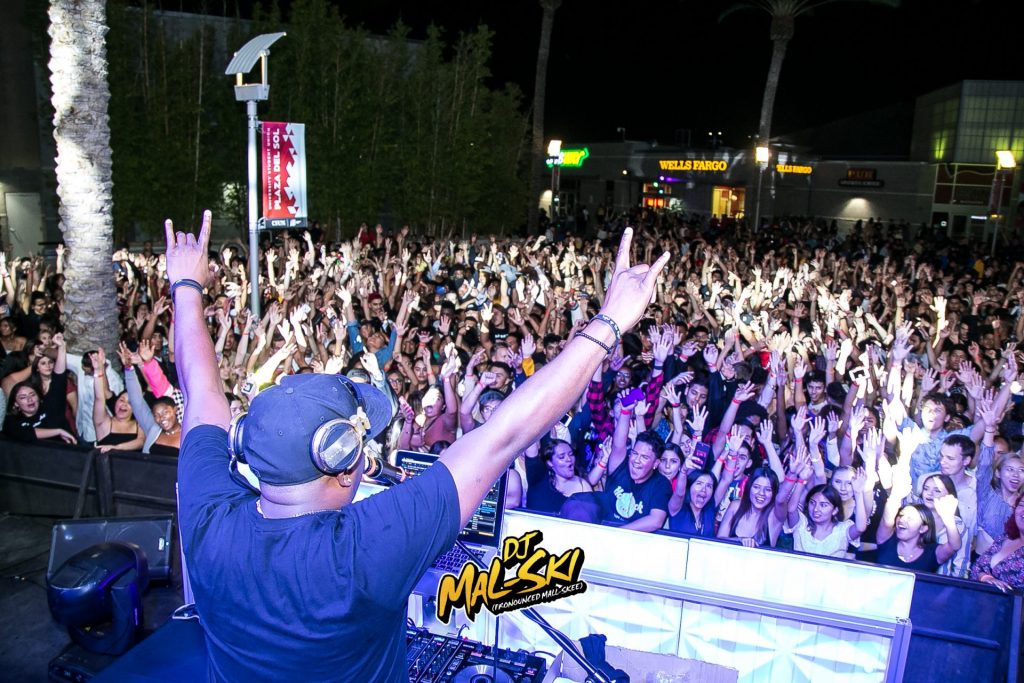 What is your DJ setup?
My favorite setup is all Rane. Rane 12s, the Rane 70, or the 72. That's it! For my travel setup, I'll take the Rane One. I love Rane. Thinking about doing a song called "Summer Rane" [laughs].
How did you become the DJ for the LA Sparks, and all the other athletic teams? You were the Rams DJ too, right?
Yep, I DJ'd for the Rams as well as produced in-game for seven years. I just walked away recently. The sporting events all started again with my mentor Frank Wilson. After understanding my passion for sports and the intersection of entertainment, he just randomly said, "We have to find a way to get you to DJ where there's sports going on." He said, "Why don't you invite all the athletes to where you're DJing? Or, why don't you just go DJ games? Why don't you call my son-in-law Tray, who's the head coach at Bishop Alemany High School."
I called Tray, he says yes, and it starts. That season, while DJing/announcing, we built the student section to nearly 1000 students per game, and the following year the team actually won the State Championship. At one of those games, the head coach from Cal State Northridge, Bobby Brasswell at the time, came to recruit a player. He said "Whatever you're doing here, you need to come do it at CSUN. The following season I was doing CSUN games. While at CSUN, we built the In-Game experience up so good that it was rated one of the best basketball experiences in Southern California.
While at CSUN the following season, Penny Toler, who was Executive Vice President for the LA Sparks came to recruit a girl that was playing against the CSUN Women's team. She said, "I don't know how you're doing what you're doing here, but you need to come do it at LA Sparks games." So I go to the Sparks.
While I'm at the Sparks, a girl named Tiffany who was working for the Rams and scouting locations when the Rams were making their move to LA said, "Hey, I don't know what you're doing here, but I work with the Rams. I want to introduce you to Chris who's over at the In-Game experience for the Rams." I meet Chris and Chris said "You're our guy." [snaps] I become the Rams' DJ their first year, all the way up until this past year.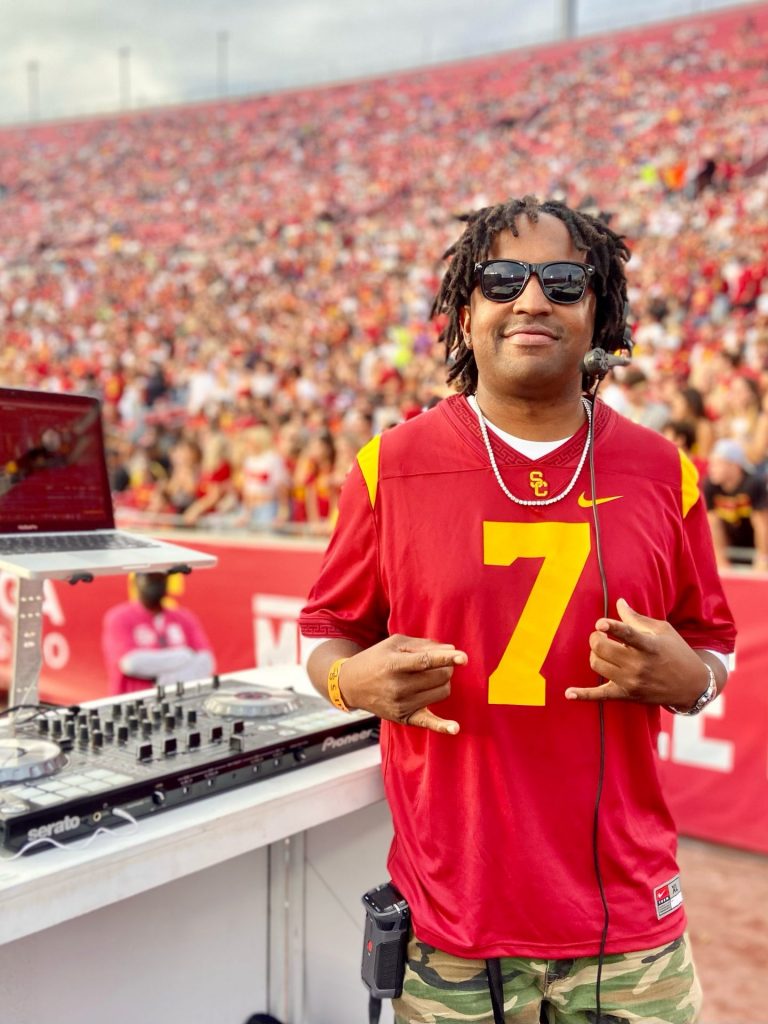 So why did you give it up?
Well…[sigh], the Rams have such an incredible fanbase! I love the Rams' fans, and I'll always be proud to carry the flag of being the first LA Rams DJ at Sofi Stadium. We were ranked #1 fan experience in the NFL, which is really hard to do! However, seasons change. In big business, things change. Goals change, priorities change, regimes change. While I loved being able to produce halftimes and book artists like D Smoke, Kalan.FrFr, Ty Dolla $ign, BLXST, Warren G, and Montell Jordan, I realized it was time for the next season in my life. Which brings us to where we are now — me putting out my own music!
What is it like DJing a sports event versus a music event?
Sports is way more lit! When I started, it wasn't. Everybody looked at me like you're corny. As a matter of fact, some very well-known DJs told me to my face that DJing games was corny. And now, guess what they're doing? Asking me what to play for the games they're DJing [laughs]. But it's okay.
The main difference between sporting events and clubs is, if you're in Vegas or you're at a club in Hollywood, everyone there is not far apart in age, maybe 21 to 26 or 27. Also depending on the kind of club, determines what style of music you would play. Those narrow the choices of what you can play a whole lot. The challenge then comes in trying to be unique and dope within that demographic of people.
In a sporting event, you can have 8-year-old kids, 70-year-old granddads, and 23-year-old athletes all in the same arena/stadium. That type of diversity makes it crazy! In a club, the challenge is being creative with the expectations of what's currently hot. In a stadium/arena, the challenge is finding an overlap of what's currently hot and what used to be hot, in such a large diverse audience and using it to charge them up!
Salute to every DJ out there putting that work in both places!
What's your favorite song to drop in a set?
My own songs [laughs]. Honestly, I'm always crowd-oriented so it normally depends on the crowd. But whenever I can, I'm playing songs like my new single "Day 1" out now.
How do you prepare for a show? Especially a stadium.
For stadiums, any analytics I can get. Ticket analysis, group sales, whatever I can get that gives me a hint to who's gonna be there. I know the songs, that is not a problem. Understanding where the songs fit, I can handle. But understanding who's there to play to is always the struggle. I normally start from there.
What's the wildest party you DJ'd?
Well, I had to sign NDAs for several of them [laughs]. Things get wild when there's no phones and no proof.
LA is wack when it comes to that, right?
Nah, that's why they call me. That's why most of the stuff I do, I don't necessarily promote publicly. From presidents to world-renowned pastors, your party secrets stay with me.
Wildest party that you can talk about?
The wildest party that I can speak on, is a yearly party I'm about to throw next Friday. Every year, we used to throw a pool party on the campus of USC called The Splash Bash. The largest pool party in LA County — 5,000 people, all in the Lyons Aquatics Center. The last one in 2019 was one of the craziest parties I've ever been a part of. I brought Compton rapper AD to perform with me. While rapping, he ended up jumping off the balcony, down on a speaker, and down into the crowd. They went nuts! And everybody jumped in the pool. It was insane. 5,000 people. I have pictures. That was one of those where it was like "Whoa." And I'm throwing it again next Friday! It will be a movie!
Are you sober when you DJ?
Depends. I'm a co-owner of a tequila brand, Vuelo Tequila, so not always. Really depends on the event, because most times, I'm already on 10 without alcohol.
Any advice for up-and-coming DJs who want to follow in your footsteps?
Yes. Find out who you are, and be you. Stop copying. Realize who God made you, and focus on being the best at that.
Listen, when I started doing athletic events, a lot of my friends were negative about it. A lot of DJs I looked up to talked down on me. I now understand, because being in the club circuit was such a coveted position. In their eyes, that was the only success as a DJ. While being in the club circuit is amazing, it's not the only way to be in front of a crowd.
Through this experience, I realized that my success can only be defined by me! So I started setting my own goals. If you're trying to get into this game, realize now that your success is defined by you and make decisions based on that. I got to the highest level by doing that. I've been blessed to DJ some of the largest attended sporting events in this country by doing just that. I've been blessed to DJ and share stages with some of the greatest performers of all times by doing just that. This year I'm set to do the PAC-12 Football Championship Game, the CFP College Football National Championship game, and the Men's NCAA Final Four, all by doing just that.
I've made the transition to becoming an artist and just released my debut single "Day 1," which has already gotten incredible reviews. And I will bring fun back to dance floors all around the world by doing just that!
Follow Mal-Ski on Instagram and TikTok for more.
About the Writer
Shirley Ju is a Los Angeles-based journalist and on-camera host with her own show called Shirley's Temple (with a focus on mental health). She lives, breathes, and sleeps music, and if there's a show in LA, you can find her there. Born in the Bay Area, the Hyphy movement is in her blood. Shirley contributes to several publications and also does interviews for VLAD TV. Follow her at @shirju on both Instagram and Twitter.