Creators of the legendary SL-1200 turntable, Technics, have announced a new limited edition model in celebration of the 1200's 50th anniversary, the SL-1200M7L. Only 12,000 units will be released globally. Keep reading for more.
Inspired by the street culture created by DJs, the new SL-1200M7L model is available in white, blue, red, black, green, yellow, and beige. Each option features a gold tonearm, as well as a badge inscribed with a unique serial number. The tonearm inherits the highly reliable static-balance universal S-shape tonearm, a tried-and-true feature beloved by the DJ industry.
The SL-1200M7L also comes with a limited edition Technics sticker, a control vinyl sticker the same color as the turntable itself, and a slipmat featuring a gold Technics logo.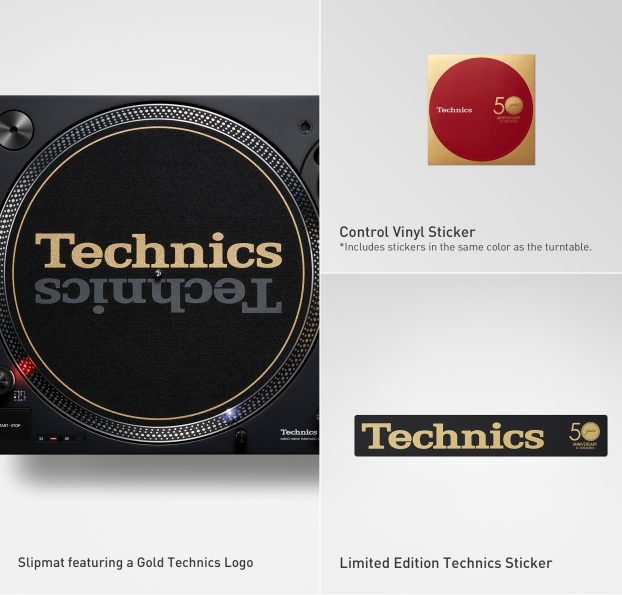 Other key features include:
Coreless direct-drive motor achieving stable rotation free of cogging and powerful torque
Highly sensitive yet robust tonearm accurately reads the signal engraved in the record groove
Two-layer structure platter with improved vibration damping performance
High rigidity cabinet and high damping insulator for thorough shut-out of all vibrations, even during harsh operation conditions
Starting torque/brake speed adjustment function
Pitch control function enables accurate and stable pitch adjustment
Reverse play function expands the flexibility of DJ playing styles
Stylus illuminator featuring a high-brightness and long-life LED
The SL-1200 was launched in 1972 and became a best-selling model with its powerful torque, easy operation, and high durability. It became greatly admired by both audio enthusiasts and DJs and is still highly acclaimed by DJs worldwide today.
The SL-1200M7L will be available for pre-order starting April 7 for $1,099.99 and can be purchased from retailers such as Guitar Center, Mile High DJ Supply, I DJ Now, Sweetwater Sound, and Turntable Lab.
To learn more, visit the official Technics website.