When thinking about the most important aspects of DJing, crowd control should be the number one priority. It makes your set come alive and ensures a fun experience for everyone. The skill of crowd control takes a lot of practice to master, so in this article, we're giving you a few tips to get you on the right track!
Understand the Demographics
The starting point for crowd control is knowing who you're going to play for. Determining the demographics of the venue is usually straightforward, especially if the event attracts a specific age or cultural group. When in doubt, it's a good idea to talk to the venue owner/booker in advance or arrive early to scout the place ahead of time. Even better, you can talk to people in the room and ask them what music they want to hear.
Prepare Your Playlist
Regardless of the setting, you want to have an exhaustive and versatile library ready at your disposal. This takes some effort to maintain as a DJ, but it will make performances go much more smoothly. When you are completely uncertain, having a "safety" crate full of well-known mainstream songs comes in handy, so be sure to have one ready for this situation.
In general, you can categorize age groups by their different preferences. For example, people in their 40s-50s will likely be comfortable with pop from the 1970s-80s, or you can mix in some disco and mainstream. When I play for seniors who are over 60, I stick with music from the 1970s and earlier, as well as the most mainstream of mainstream pop music.
Playing For a Younger Crowd
The 18-30 age group is an interesting one, as it takes more effort to know what they'll respond to. Start by asking what the overall mindset is in the room. If people are there to just get lit and sing their hearts out (I call this a "fun crowd"), play mainstream music that people can sing along to. Personally, I find that pop-punk anthems are a good call in most cases. Think All-American Rejects and Panic! At the Disco. On the other end of the spectrum, you have the "fanatic crowd" who might want to hear specific styles of music. This could be dubstep, regional hip hop, or indie genres. The thing to remember here is to stay in a specific lane if the event calls for it.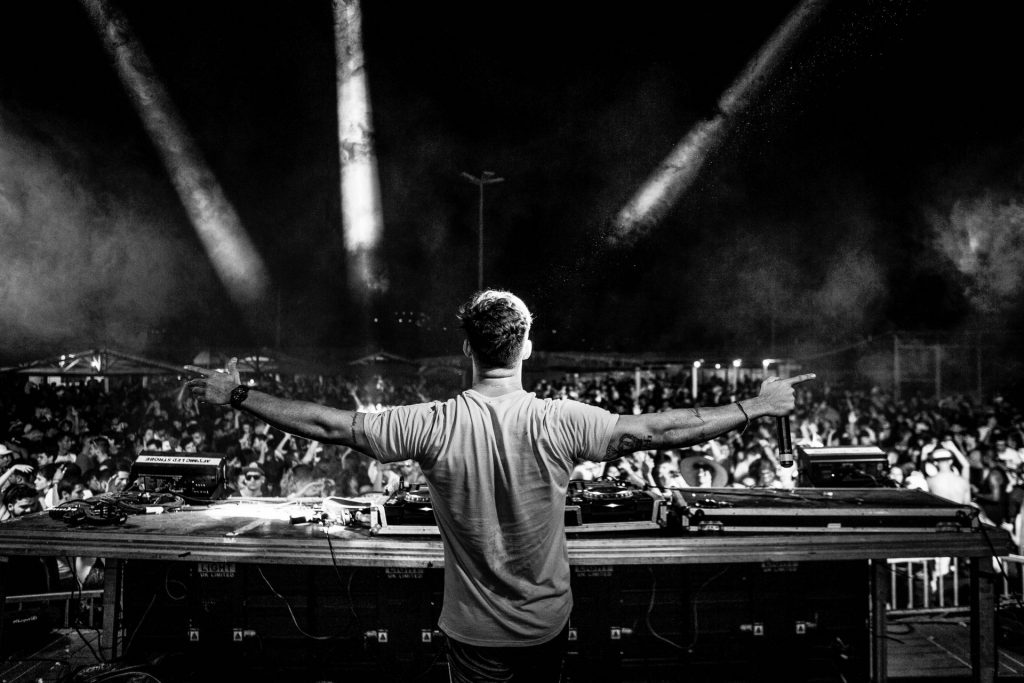 Scan the Room
Remember to constantly scan the room to maintain crowd control. Make it a goal to keep your head on a swivel. Be aware of how people respond through body language. A simple way to determine if you're doing well is to check if people are dancing and singing along. If so, continue with songs of similar styles and BPMs. If not, go in a different direction. At the same time, remember that you don't have total control over the response. This will keep you from getting discouraged and help you focus on the next best song to play.
Build Momentum
It's crucial as a DJ to understand the power of momentum. In my opinion, this is a superpower on stage. To do this, you want to build energy and anticipation for the next one with each track you play. If you can keep the momentum going, the dance floor will steadily grow and gain more energy as the set progresses.
Be sure to keep track of time while you play so that you can manage the energy level of the room. You don't want to start off playing all your best bangers. In my experience, hour-long sets with pop music usually have around 20 songs to fill the time, so it's best to allot those songs for key moments when the excitement gets to its highest.
Be Interactive
Making an effort to interact with the crowd can create a closer connection with them instantly. You might be surprised to see how much of a difference it makes to show others that you're having a good time. When people see the DJ turning up and singing with them, they feed off that energy.
Oftentimes you can identify one person in the crowd who is the most hyped, a.k.a. the life of the party. I love feeding off the energy of these people and making sure they stay lit to my music, because they are setting the tone for everyone else. Another straightforward way to engage your crowd is to lower the volume when the song gets to a popular lyric, so that they can scream out the rest of the line. The fun of DJing is in these interactions throughout the night.
Work the Mic
At some point in your DJ career, you'll be encouraged to use the microphone while DJing. If you've been in the club scene, then you know how much a great MC can enhance the set – from the classic "hands up!" and "make some noise!" to more interactive lines like, "where my Bad Bunny fans at?"
My approach to mic work is to treat your voice like an instrument or as part of the song. Just remember not to overdo it. It is meant to enhance the music already playing and bring it to a new level. I find that live hip hop performances are a good source of inspiration for adlibs. Figure out a few quick lines that work for you, and practice them at home and during gigs. Once your confidence grows, you'll be able to let loose and have more fun on the mic.
Wrapping Up
Let me emphasize again that sometimes you can't control the response you get from the crowd, even though we call this piece "crowd control." The goal should be to understand the factors that you CAN control as a DJ. Applying these principles is sure to increase your chances of blowing the roof off the place. So keep showing up and keep working the crowd!
About the Writer
Carlo Vidallon, a.k.a. CHARLEMAGNE, is a DJ based in the Seattle area. A relative newcomer with two years in the industry, he has steadily worked his way up in local venues. He seeks to help other upcoming performers level up through his online publications.