DJs are the backbone of any event, show, or function. They're the ones who can set the mood and turn up any crowd at their discretion.
Insert DJ Sky High Baby, who has quickly established herself as one of the most sought-after DJs in Los Angeles. And a female DJ at that! Whether she's hired personally to DJ a party for Wiz Khalifa or shutting down a festival overseas for French Montana, DJ Sky High Baby is a true gem. Beyond her DJing skills, it's her authenticity, down-to-earth personality, and of course undeniable beauty that draws in fans from all around the world.
Talk about superhero, DJ Sky High Baby is also a mother to her 5-year-old daughter. It definitely begs the question: how do you balance a fruitful DJ career and motherhood? Especially since most of the time, club or strip club gigs go until the wee hours of the morning, and that's not even including her recent dive into reality television.
DJ Sky High Baby is the official DJ for Baddies West on Zeus Network, a show that reels in all the baddies on the West Coast onto one tour bus — a sure recipe for drama and cattiness. But DJ Sky High Baby is not one to partake in anything negative. She's simply grateful for the exposure she's gotten from the show.
BPM Supreme spoke with DJ Sky High Baby to hear more from this multi-talented mother.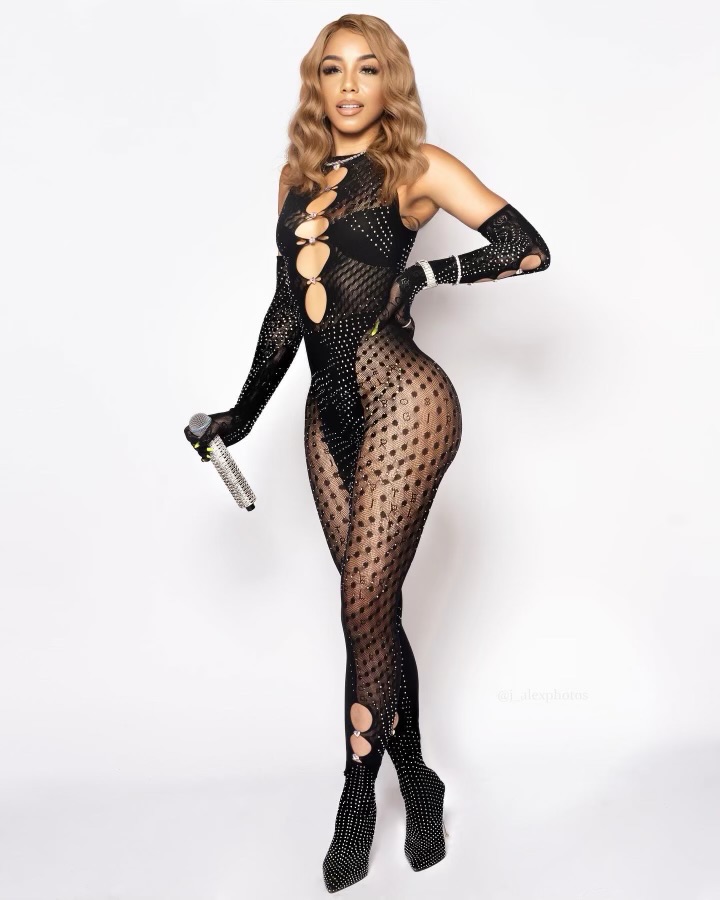 For those who don't know, who is DJ Sky High Baby?
DJ Sky HIgh Baby is a baddie, a boss babe, an entrepreneur, a DJ, an artist, a hustler, and a good mom. A great woman, all of the above. I cover all the bases.
When did you fall in love with music? 
I fell in love with music being an artist. I was a rapper in Baltimore, so I have my earliest mixtape. I dropped mixtapes, I dropped visuals. King Los is from my city. The first time I heard the King Los freestyle, oh my God. We were in such close quarters, because we all worked in an art house. We had videographers, rappers, photographers, editors. We had one of everything. He was one of the artists. I remember the first day I sat there and I heard him freestyle for 30 minutes, he was talking all this philosophical shit.
Because I was modeling at the time, but I wanted to do something else. The only female artist really out was Nicki Minaj, as far as being a big deal. This was before Cardi B really came up, before the Megan Thee Stallions and all these other female artists who are really on right now. Who made way for so many other female artists. I transitioned from being a model to making music. I dropped a project and it did really well. One of my artist friends said, "Hey, I need a DJ for my show." I didn't feel I could keep competing in the lane of being a musician. 
Especially out of Baltimore, isn't it tougher?
It's just tougher in general because it's such a tough city, but with a lot of heart. I didn't want to compete in everybody else's lane. I wanted to try to find a career I can make money in and I was good at, that was in my own lane. I had my first DJ booking, I bought all the equipment and I crushed it. From there, alright, this is what I'm good at. I can get back to making music whenever, but right now let me hustle and really get on my DJing thing.
I had mentors that helped me become good at what I do, learning through working as well. Just being around. When you're in the club is when the best work is. You learn the best, being in the field. I got really good at it. Alright, this is what I want to do. I just kept working at it.
How'd you learn how to DJ?
I had three different DJ mentors: one from Baltimore, one from Atlanta, one from California. It was really me investing in my own craft. Alright, I want to figure out how to get better at this. Or I want to figure out how to make my library better. Going to people who were more knowledgeable than me about it, to be able to develop a better skillset.
What was the DJ hustle like when you were coming up? I'm sure you did gigs for way cheaper than you do now.
I've always kept the level of, I'm not coming out the house unless it's X amount. I've never done too many free gigs, unless it's a friend or somebody I'm really vibing with. It wasn't ever really that hard for me. I have the look, I have the sound. I have the charisma to really make it happen.
Not only have I always known how to DJ, I know how to MC. I really got the MC vibe being a strip club DJ. That part of it was a little different. I knew how to DJ, but learning how to MC was a different skill set. When I got to LA, I watched Sincere. As far as being an MC, he brings that presence that I really looked up to. The King Show was such a big experience. [laughs] Alright, let me figure out how to do both.
What's your setup like?
I always use Pioneer DJ equipment. I love Pioneer. I'm a Pioneer DJ from day one. My first board up until today has always been Pioneer. I've always had the top of the line. Whatever Pioneer DJ drops, I get it because that's my shit. 
Any specific Pioneer DJ equipment?
Honestly, I like the all-in-one controllers. I like the DDJ-1000SRT, it's the best to me. It's all in one, the decks are easy. They're really the same size as CDJs, which is cool. I don't really like using CDJs that much, even though it is a club standard. Because there's a certain setting called HID mode, it really makes it in sync with how you're controlling your music. It's really so easy for me, it doesn't matter where I'm at. If it's a big festival or if it's a small space like this, you can bring your DDJ-1000SRT and it's ready to go for whatever.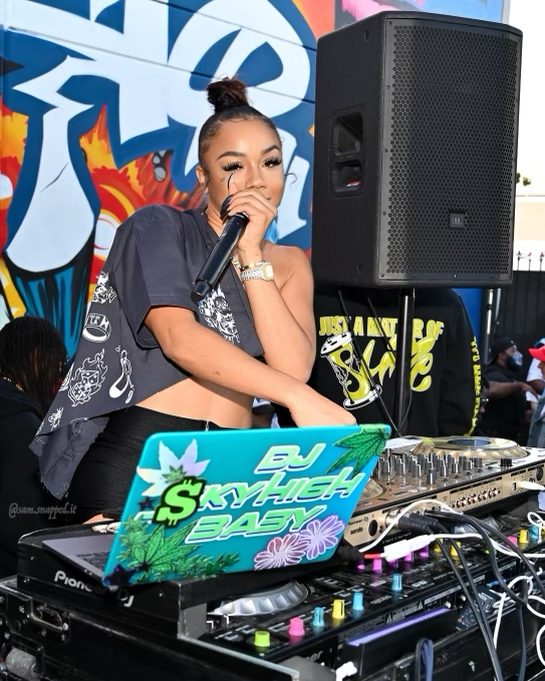 Craziest gig you've ever played?
Most lit gig? I really love my gig with French Montana in Canada. It was such an amazing experience. It was at a college, which was really cool. That young energy, just loving the music. Just being ready and energetic to do whatever, it was a really great experience.
You've recently DJed for French Montana, celebrating Zeus right?
Yeah, it was great. I work with Zeus and Baddies West, being the official DJ. But French reached out to me that day, and said "Hey Sky, can you DJ?" Definitely big shout out to my sis DJ Duffey, she plugged me in. She had to go film a TV show and said "Sky, French has this gig in Canada. Can you do it for me?" I said sure! 
That's love! I love Duffey.
For sure, it's good to see female DJs — shout out to DJ Carisma, someone who's always inspired me too. She's from the West Coast, I'm from the East Coast. So coming here into this scene and being able to really do my thing and blow up the way I have, has been amazing.
How do you prepare for your sets?
Honestly, it's second nature right now. Even when I had the gig with French, he literally told me five minutes before what the songs were, what the set is. As a DJ, the best way to work is to be working. If you know your library, you don't ever have to do too much. I used to use headphones, but now I'm so in touch with my library that I don't have to anymore.
Really, Dre Sinatra taught me that years ago when I was here in LA. He said, "Once you really know your set, once you know your music, you don't have to use the headphones." It's cool if you're working with music you're not familiar with or something new, it's good to wear headphones because you can hear what's about to happen. But if you really know your library and know what you want to do or how you want to get into it, then it's second nature.
Favorite song to drop in your set?
It's different. It varies because in the club, those Drake bangers always slap. In the strip club, the Jeezy. That's always gonna slap. For me, I'm feeling Ice Spice. She's really got some cool vibes. My favorite song right now though is "Search & Rescue." That Drake, I love it.
When did you get pregnant?
So I left Atlanta, and I was on a flight to come out here. I found out I was pregnant when I got to California, so I never went back. Once I left Atlanta, I literally never went back. I had put all my stuff in storage. Aw man, well I'm three months pregnant. Here we go. I was turning up the night before too. I was lit. I was so sick on the airplane like what's going on?
I really kept my pregnancy off of Instagram. I never posted anything. Like how I do my daughter now, the internet is so undefeated that you have to keep your personal life off of it. It's Ramadan right now and I'm Muslim, so I'm celebrating fasting. I took my daughter to the mosque, and I posted a picture. Of course, I have the Baddies clout right now. But I had 800K impressions on the picture of me and my daughter. They're like, "oh my God, Sky has a daughter! I didn't know you were Muslim, how old is your child?"
My daughter has lived in my house every day. I go home to my child – every night. A lot of people, they're separated from their kids for whatever reason. It's all respect however people do their parenting, but my mother helps me take care of my daughter. Every day, they live in my house. She moved to California when I was eight months pregnant, and she hasn't gone back.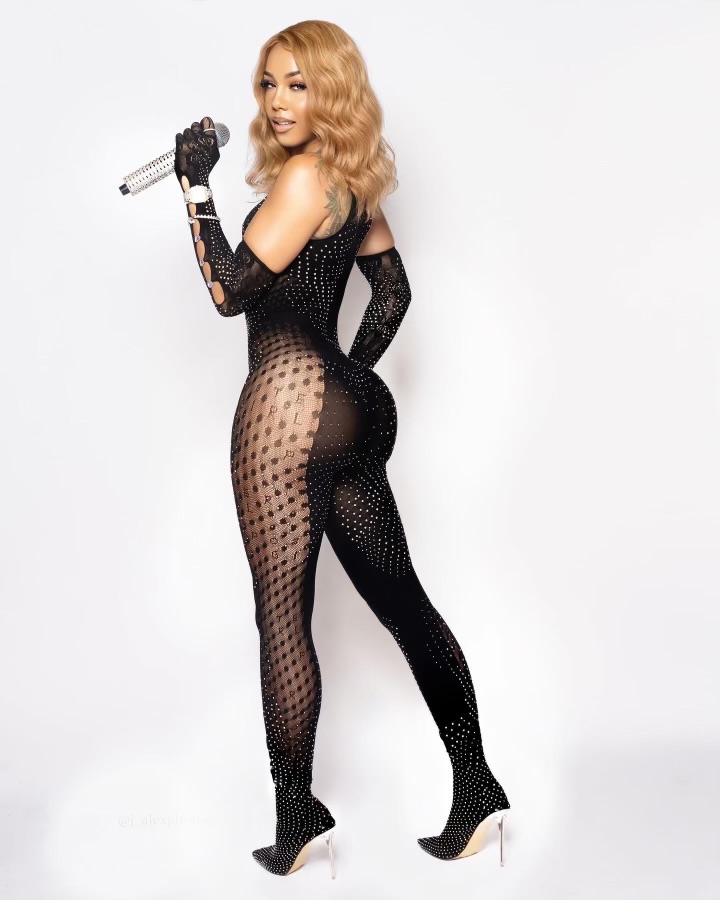 Were you still DJing when you were pregnant?
Nope, I wasn't doing anything. I definitely took all that time off. I worked out for eight months, which is why I have an amazing body now. After I was pregnant, I worked out for eight months straight. Straight through, I was at Runyon [Canyon] every day. I wasn't playing any games. As soon as I got my body back together, I started back DJing.
As a female DJ, do you feel appearance matters?
No, appearance doesn't matter. It's all about your skill set. But appearance for me has never been a negative, it's always been a plus. I was already getting bookings for appearances and hostings, they're paying me X amount just to show up. Now I'm really good at controlling a whole crowd and setting the mood for a whole room, so it made it easier for me to navigate the way I wanted to navigate through the industry. But really being good at what I do and it not being just about looks — you can't say Sky's pretty, but she can't DJ. It helps, it doesn't hurt.
Any goals for yourself?
I definitely wanted to do a complete tour. That's one of my DJ goals. I've gone down the checklist of all the clubs in LA that I wanted to do. I'm doing pretty good, getting through the list. Continue to spread good energy, always be a bright light instead of someone who's corny or catty or weird. Something I've never been classified as. When I tell you this reality TV stuff makes things so elevated and escalates situations for no reason, it's crazy. But it's been great as well., I've gained a lot of real supporters. It's great seeing people out and being able to show love. Even on a day with no makeup on, no hair on, they're like, "oh my God, DJ Sky!" It's really cute, it's really great. I love to see it.
Just continue to be a dope female. There are so many female DJs right now, I love to see that. We're in a male-dominated industry. I can drop my own music on my sets, it doesn't matter. I can be at the biggest club in Dubai, I can drop my track. People really pay crazy for that. Artists need to tap in with DJs more. DJs really keep the energy of the club and of the environment going, so it's cool to be able to drop my own music. 
About the Writer
Shirley Ju is a Los Angeles-based journalist and on-camera host with her own show called Shirley's Temple (with a focus on mental health). She lives, breathes, and sleeps music, and if there's a show in LA, you can find her there. Born in the Bay Area, the Hyphy movement is in her blood. Shirley contributes to several publications and also does interviews for VLAD TV. Follow her at @shirju on both Instagram and Twitter.