It's not everyday a DJ/producer duo gets nominated for a Grammy, but Adventure Club makes it look easy. In 2018, both Christian Srigley and Leighton James were nominated for Best Remixed Recording of their remix of Kehlani's "Undercover," which is a huge recognition — especially given the minimal existence of electronic dance music categories at the Grammys.
The crazy part is, the Montreal natives actually started as a punk metal and rock band before finding their footing in the EDM space. Soon, they would become one of the pioneers of the "melodic dubstep" genre as a whole, laying down the foundation for other dubstep artists to follow.
Leighton James said, "We fell in love with the sound of dubstep and we made it our own. We made a little lane for ourselves in the melodic, sad boy lane. That lane now has gone off enormously, and we're happy to have played a little part in it."
Most recently, Adventure Club released their Monstercat debut titled "You Found Me," in collaboration with Mexico bass superstars Jessica Audiffred and Clara Park. Joining the Monsterclub family meant everything for Leighton, who was extremely humbled to be working with such a legacy label in the space.
BPM Supreme caught up with Leighton James virtually, who was exhausted as they enter the busiest year of their decade-long career. Read below as we discuss their journey into the dance music space, where dubstep stands today, their new release, joining Monstercat, their setup, their favorite DJs, upcoming tour, and more!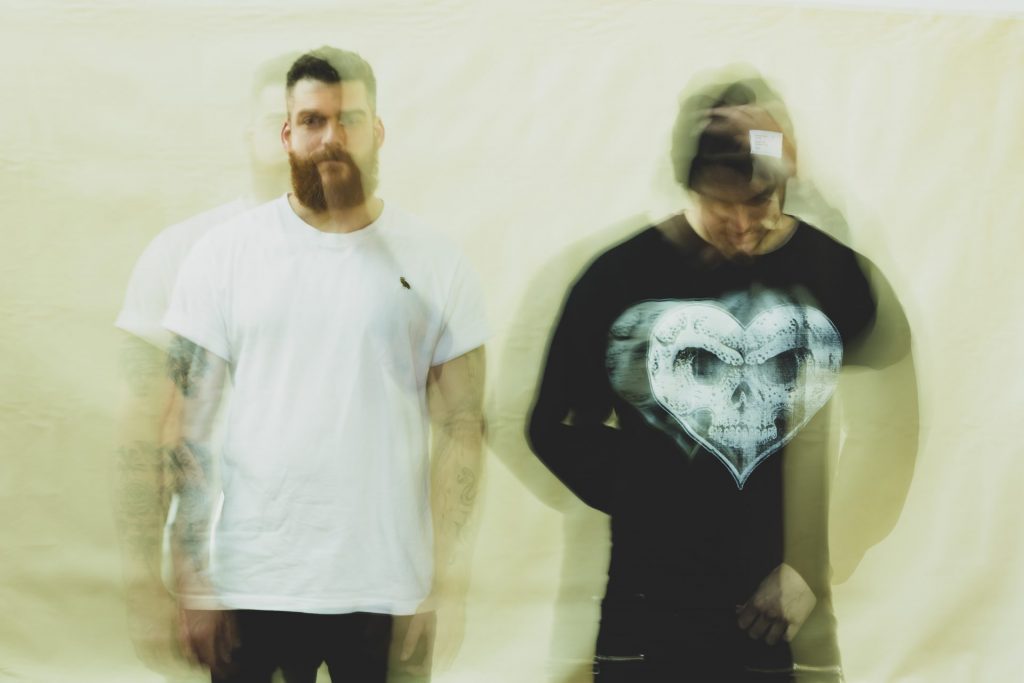 Being the forefathers of "melodic dubstep," where do you view dubstep in the scene today?
I think it's one of the most prominent sounds, one of the most prominent genres of EDM right now. You go to any festival, there's usually at least one, if not two stages dedicated to bass music. There's been a big resurgence of house music and tech house, which is obviously super great. The two sides of that, and dubstep, those are the two pillars of festivals right now.
How does it compare to back in the day in 2001 when you guys first exploded onto the scene?
There's been a plethora of talented artists, talented producers that have come up on the scene over the past six years. They sit in front of their laptop, they learn one or two things on a YouTube tutorial. Or they go to ICON (Collective Music College), and they're lightyears ahead of us. Ahead of a bunch of these older producers. But it's great, they expand the sound. They take some of their own influences and make the genre EDM better as a whole.
When we started, there were maybe a handful of artists doing what we did. Maybe a dozen or two dozen dubstep artists, so there weren't really that many songs or tracks that you could pull from when making sets. But today, we can't even keep up with the amount of music that comes out every day. It's really nice to have everyone creating content, creating music, creating art. Expressing themselves.
You guys just released "You Found Me," your Monstercat debut. How are you feeling?
Long time coming, for sure. Really happy with Monstercat. We've been following Monstercat since its inception. We love everything they've been doing, every release they've put out. It feels nice to have a marriage with our Canadian family, Canadian label. That song in and of itself is one of those examples where one of the new producers we fell in love, Jessica Audiffred, took her form of expression and blended it beautifully with something we had been working on.
How did it feel to put it out? How did the fans respond to it?
The response has been nothing short of incredible, a lot of love the track. Even live, it's something when you play a song, it's only been released for a day or so, a lot of the crowd (if not the whole crowd) can sing the lyrics back to you. We love that. We love that feeling.
How did that collab with Jessica Audiffred and Clara Park come about?
That was one of those: wow, we love what Jessica was doing. Let's message her on some social media platform, we'll trade some ideas. After about a year and a half of working on "You Found Me," we finally were able to release the final product. Originally, it was supposed to be part of a two-song EP. We had "You Found Me" and there's another track that we're working on together. Something that's a lot heavier, a lot more aggressive. That one's slated to be released some time this year as well. This will show the duality of both of our projects, the more emotional side, the melodic side with the heavier, aggressive side.
What is your setup like?
It's pretty standard. Christian and I share four decks, four CDJs. That's pretty much it. One of us is either using one of the decks to sample other songs or bring in acapellas to drop over some of the songs we're playing, but it's a pretty standard DJ setup. Eventually, we would like to incorporate a full band and bring it back to our roots. Maybe start covering some old pop-punk songs. That'd be super, super cool.
What made you stop doing the live band? I heard it's expensive.
It's really expensive. When we were touring back in the day, we were touring in Christian's old-school Camry. We have to fit the drum kit, all the amps, the guitars, the bass, everything into this one little car. Once the Adventure Club project started, the first song released got more traction, more popularity than anything we've ever made in our previous bands. So we took the route as the production DJ duo/outfit and started touring that way.
As a duo, who does what when it comes to the performances?
We share all duties pretty equally. I dig more into finding more obscure songs or trying to really keep my ear to the ground when it comes to finding new music. Christian does love making edits. We both love combining some of our older songs, our older acapellas with some of the newer music that's being released today. We split everything kind of evenly when it comes to the performance side.
Production side, Christian's always been more at the forefront. He's the one who knows how to manipulate the DAW. We're pretty unorthodox. We use something called Cakewalk Sonar, which maybe point .0001% of EDM producers use. It's made for rock bands when you're recording in a studio live. But that's what we learned on and that's what we continue to use.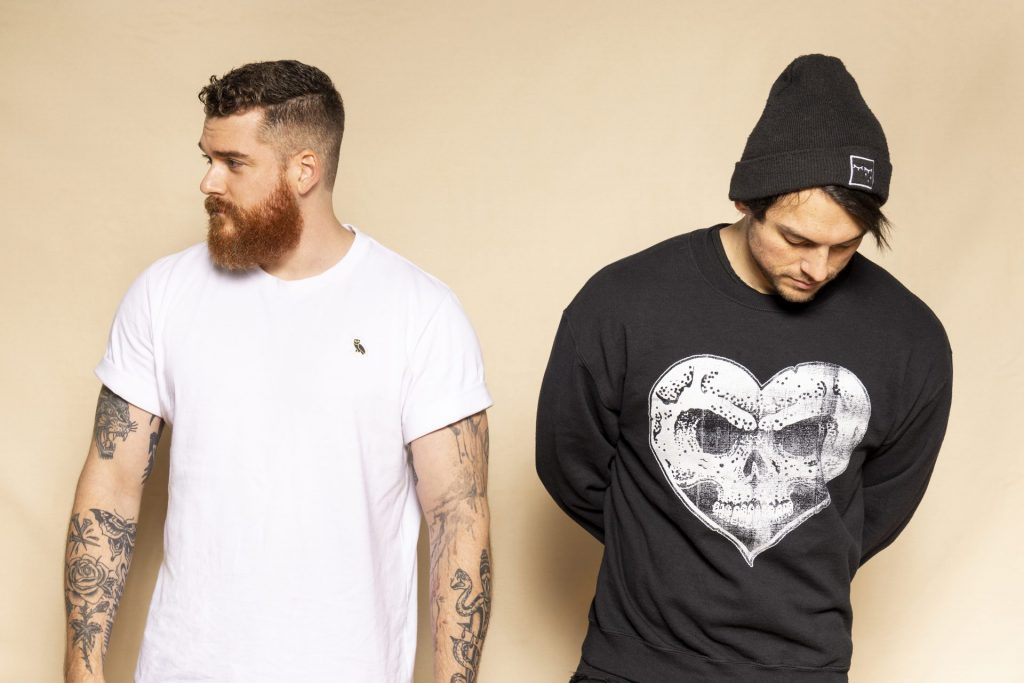 Do you guys get nervous?
Show-wise, no. We're veterans when it comes to that. The only time we do get nervous is if there's a flight delay or cancellation, especially in this economy and environment. We used to not worry about that stuff. But lately, a 10-minute delay turns into a complete flight cancellation. Before you know it, you missed the show. There's nothing more nerve-wracking than knowing you might be letting your fans down.
How many times has that happened?
To be honest, recently it hasn't happened. Since the pandemic, it hasn't happened. It used to happen quite often prior to that, which is why it's weird. It's an irrational nervousness we have now. But it hasn't happened, fingers crossed knock on wood. [laughs]
I work with B-Real. He said Cypress Hill used to miss so many shows that they always land the day before now, just in case.
You know, we started doing that. Maybe that's why it hasn't happened to us. [laughs]
What's your favorite song to drop in a set?
It's the new one, "You Found Me" with Jessica Audiffred. The reaction is always incredible, it goes off.
Wildest show you've ever done?
Definitely the most memorable one was Coachella. The crowd was incredibly enthusiastic, they knew everything. They were singing along to everything, crowd surfing was going on. It was one of those things that was so visceral that we will never forget. We're able to bring out so many of the singers we have featured on our songs, everything about that show was incredible.
How did it feel to be Grammy-nominated and did you celebrate?
We absolutely celebrated once we heard of the nomination. The week leading up to it, the day of. Even after we didn't take home the award, we had a whole family dinner. Celebrated all night, it felt great. It's one of those things where the Grammys are, regardless of anyone's opinion, it's one of those things that you strive towards to be recognized in your field. It's like a you see excellence award when it comes to that, so to be nominated really meant a lot to us.
One thing you want fans to take away from your latest album, Love // Chaos?
That Adventure Club really loves to divide or play the line between melodic music and the more heavy and aggressive music. That we want to find that balance between the light and dark.
#1 advice for DJs and producers who want to do what you do?
Don't try to follow any sounds, stay true to yourselves. Learn how you want to learn. Put out what you want to put out. Today it might not be the sound that's cool, but you might be the pioneer of a new sound, later on in the next coming years.
How did you guys learn how to produce/DJ?
I don't even think we're really great at DJing right now. [laughs] Christian and I, we have to learn how to manipulate the DAW to record our old band. The leap from there to learning how to manipulate synths and record live instrumentation on that wasn't that much harder. Back then, there weren't as many tools and knowledge bases to learn from, so we learned from the YouTube tutorials we had back in the day. There wasn't that much, just a lot of trial and error.
Were there any DJs that you guys looked up to?
Skrillex was the #1 for us. Skrillex, The Bloody Beetroots, Flux Pavilion. Justice was definitely like a big one for us. Justice had that whole rockstar appeal and they still were able to DJ at the same time, really make banging EDM.
Any goals you guys have for yourselves?
We really want to take another shot at getting a Grammy nom, and winning it this time. Upping the game, maybe upping our tour game. Bringing the live band back in.
Anything else you're excited about?
We do have a tour we're working on right now. We're going to be doing it end of fall and winter. Probably going to be our longest, biggest tour to date. We want everyone to come check it out once we announce it.
You said you're on the road every weekend?
Yeah, this is probably going to end up being our busiest year ever.
Wow, that's a blessing!
Yeah, pretty happy. Especially since we've been doing this for over a decade now. My brain, my mind, and my heart loves all the shows, but my back hates all flying.
Are you getting massages?
Yeah actually. I just ask random people to jump on my back. [laughs]
What's the secret to not burning out on tour?
Stop after partying. [laughs] Bring a book. I think we've found a balance between tour life, home life, and the right amount of letting loose on the road. It's cool to after party after one or two shows here and there, but we've learned that if you really want to have a career that lasts longer, if you want to stay healthy, it's probably best to not go so hard after the show.
About the Writer
Shirley Ju is a Los Angeles-based journalist and on-camera host with her own show called Shirley's Temple (with a focus on mental health). She lives, breathes, and sleeps music, and if there's a show in LA, you can find her there. Born in the Bay Area, the Hyphy movement is in her blood. Shirley contributes to several publications and also does interviews for VLAD TV. Follow her at @shirju on both Instagram and Twitter.