As of the end of 2022, only 3.4 percent of top-charting songs were produced by women. Clearly, the music industry has got some catching up to do. 
Fortunately, we've rounded up some of the most promising female music producers to keep an eye on in 2023. These ladies span all genres and are each leading by example in their own respective spaces. Below, we'll also highlight some organizations providing resources and support for fellow female music producers. Let's dive in!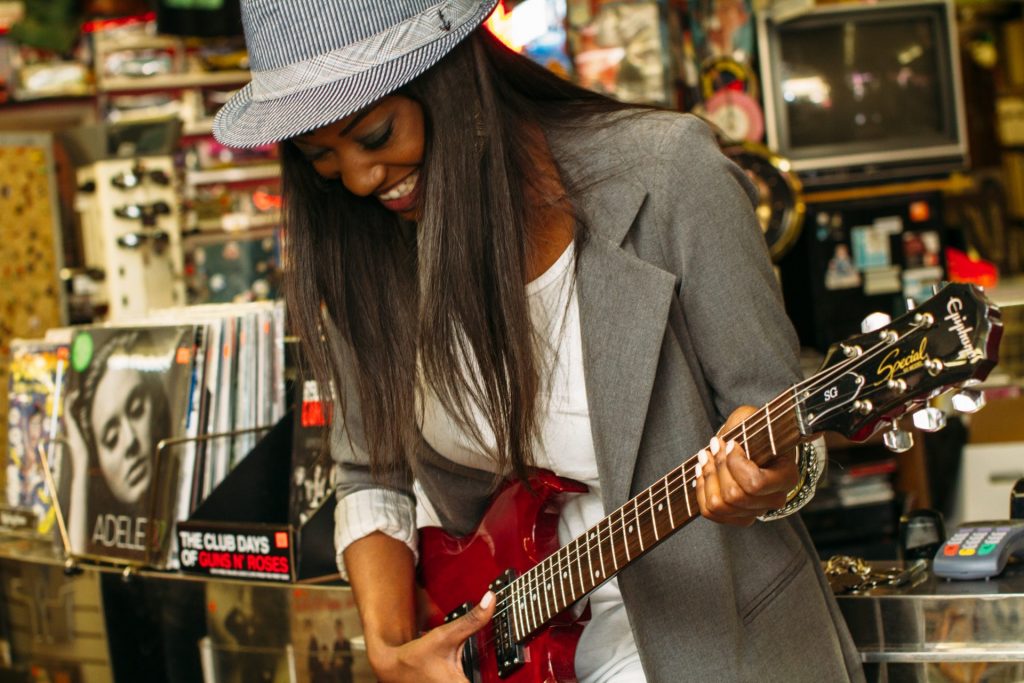 10 Up-and-Coming Female Music Producers To Keep An Eye On
Bring on the beats! Here are a few of the many talented female producers revolutionizing the landscape of music as we know it: 
DJ, producer, and artist Yaeji has created a name for herself through her use of dance-floor-ready beats and playful production. The prolific producer has created remixes for the likes of Dua Lipa and Robyn and has built her own pop-up product line. 
Kelela builds dreamy R&B soundscapes shrouded in a sound that is uniquely her own. The producer started releasing in the early 2010s, building the foundation for her prolific career today. This genre-bending artist's sound has led her to collaborate with industry giants like Solange and The Gorillaz. 
BABii creates future-forward dance music with pulsating bass and kicks you can't help but groove to. The London-based producer has built songs with hyper-pop favorites like Iglooghost and Umru. 
Multi-hyphenate Talia Goddess has made plenty of waves for herself at the young age of 19. The producer-DJ-model extraordinaire built her dreams out of East Flatbush, Brooklyn. With headline sets at NYC classics like Elsewhere, this producer is one to watch. 
The Danish-Portuguese singer, songwriter, and producer builds dreamy beats you can sink into. Erika runs her own label, "Jeep," and revives the feeling of the 90s and 00s R&B to futuristic heights. 
Florida native TWEAKS is a versatile DJ and film director making waves across all creative industries. Splitting her time between NYC, LA, and London, you're bound to run into some of the pulsating rhythms from this producer. 
Cowgirl Clue takes two things that couldn't seem more different and fuses them together: guitar licks built for the radio and drum beats destined for the dance floor. The multi-talented artist also creates her own clothes under ClueWear. 
Miami-native Ayleen Valentine has already made the Ones to Watch list with her gorgeous melodies, creative production, and gut-wrenching introspective lyrics. The producer has created an audience of her own through the power of her songs and TikTok. 
Model, producer, and artist Daniela Lalita creates a sound that's unmistakably her own. The Peruvian experimental artist, now based in NYC, has made waves on the likes of Pitchfork and the FIFA soundtrack. 
Pitchfork darling Marina Herlop is often hailed as a composer first, and a producer second. The Catalan composer builds art with a distinct, ephemeral quality, fusing her classical piano background with experimental art pop.
5 Resources Every Female Music Producer Should Know About
Are you a femme producer? Consider checking out one of these organizations! Each provides education, support, and resources for budding producers and musicians. 
She Knows Tech, founded in 2018, works towards closing the gender gap in technology by providing mentorship, community events, and education for female producers and artists. She Knows Tech's summits connect budding producers with top industry professionals. 
Women in Music is one of the longest-standing organizations dedicated to providing visibility and opportunities through education, support, empowerment, and recognition. With chapters from LA to Japan, this organization provides community events, panels, and directories to connect and empower female creators. 
Girls Make Beats is dedicated to inspiring and empowering the next generation of female beat makers, engineers, and DJs. This nonprofit organization curates clubs, masterclasses, camps, and workshops for kids and teen producers. 
This non-profit organization supplies scholarships, advisors, and educational opportunities under the arm of Grammy-winning engineer Emily Lazar. WAMTN also provides internships and entry-level positions for those just getting started in the music industry. 
She Is The Music leads an industry-wide movement to empower female creators. With a job board, writing camp, database, and more, this organization is certainly worth following. She Is The Music regularly curates content to keep you up to date on all things audio from a female perspective. 
These powerful producers are undoubtedly inspiring. As beat makers, it's up to us to continue to cultivate a community where producers from all backgrounds can be heard. Let's celebrate and elevate female producers and artists throughout Women's History Month and beyond.
About the Writer
Kate Brunotts is an audio engineer and music producer from New York City. When she's not writing about music, producing music, or singing and songwriting, Kate helps others realize their unique sound, whether through a fresh mix, new instrumental approach, or total rework of a particular sound.