Have you ever wondered if the perfect DJ setup exists? We're pretty sure it does, and it starts with the right booth to handle your precious DJ gear. BPM Supreme caught up with JJ Boooth, a design and production service for DJs, collectors, music producers, and design enthusiasts. The Berlin and Paris-based owner is also a DJ and started collecting vinyl when he was just a teenager. After purchasing his first turntable with the money he won from an architecture competition, you might say he knew he had to combine his love of music and building.
Founded in 2019, JJ Boooth creates DJ furniture for turntables, vinyl, mixers, synthesizers, speakers, and more. Each piece of furniture is unique and designed in close collaboration with the client. JJ Boooth combines his knowledge from a background in architecture with a mastery of cabinet making and a passion for music.
Keep reading to hear from the furniture builder extraordinaire himself.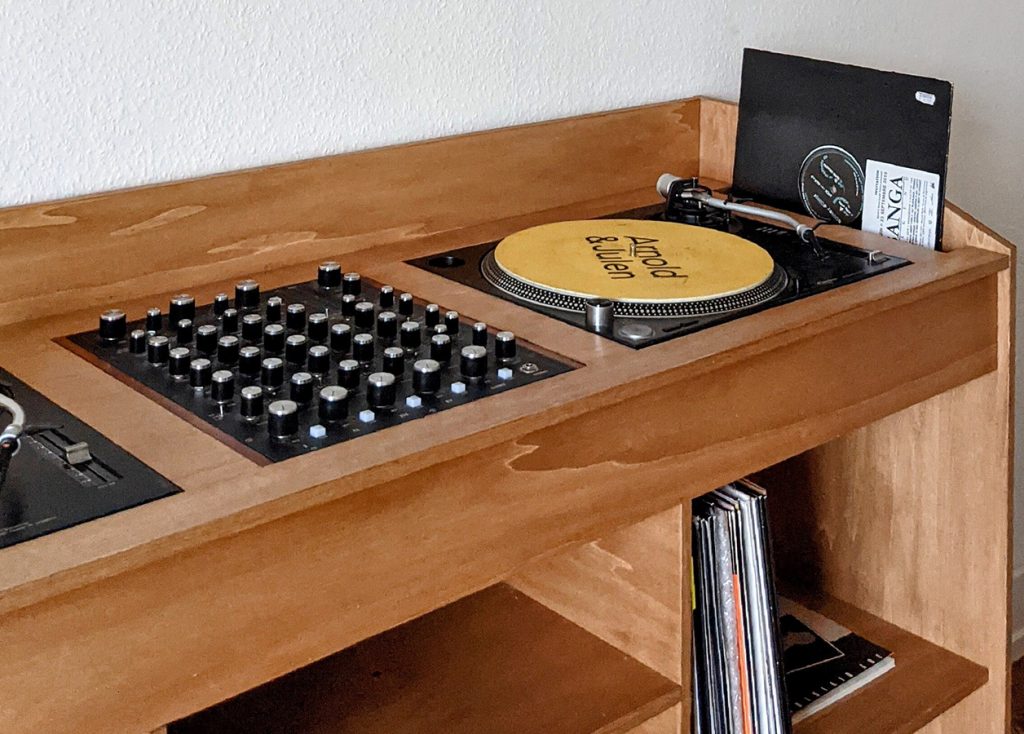 How did you first get into this profession?
I've always been into designing stuff! Years before JJ Boooth came along, I studied architecture in Paris and then became an architect. But working in offices for a few years made me have doubts about doing that job for my whole life. A few bad work experiences had me needing a break and eventually I moved to Berlin.
This is where I started thinking, "what do I really want to do?" The answer was simple, but it took me a few months to figure it out. At that time, I had already built two DJ booths for myself. When I showed them to my friends they asked me, "why won't you do that for others?" Then I got a first customer, and a second…
This is how I decided to try doing that for a living. I just decided to go with the flow, even though the first year and even the second one were a bit rough!
What does your process look like?
I usually ask all my clients to send me an initla e-mail with all their needs, desires and inspirations. If they are friends or in Paris (this is where I live and where the workshop is), I prefer to have a physical meeting. Once we've decided about the dimensions and the materials, I start drawing and do some 3Ds and renderings. Most of the time, I propose different versions from which my customer can chose, but sometimes there is only one proposal because it sounds obvious to me!
After a few modifications we get to the final version, and this is where I leave my desk and go to the workshop to build it with my fellow partner Elliott, who joined me last year! Together we work in that dusty and very untidy space, and then after 2-3 weeks, it is ready for delivery.
We do the delivery ourselves because we want to mount it at customers place. It is really the last step, and without it we can't say our mission is complete. This is also why we don't ship our units!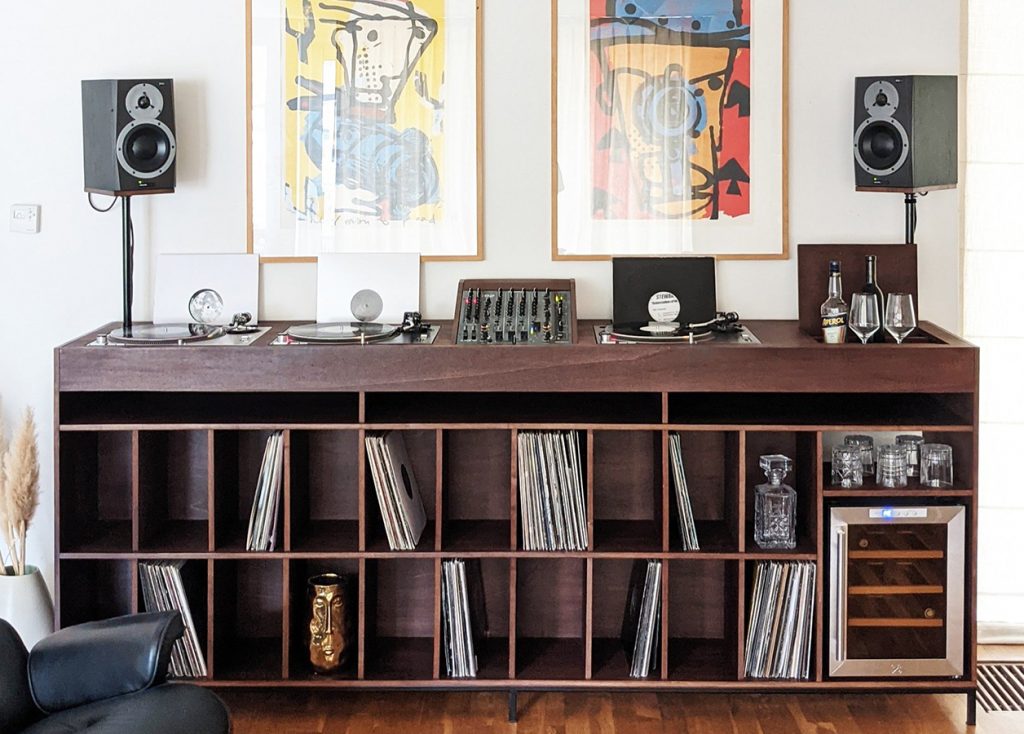 Do you build for any kind of DJ setup or do you have a specialty?
My furniture is aimed first at DJs who prefer the vinyl format. I don't do strictly CDJ setups – there has to be at least a turntable in the booth (like shown here). Most of my clients are from my local music scene or are friends of friends, there is usually a connection. If not, I try to get to know my client! 
Sometimes I meet past and new customers at parties, clubs, or festivals. Some of my first meetings have been late night on a dancefloor. This is really fun and actually one of the reasons why I love my job!
Have you worked with any famous clients?
Yes, a few! But I'd like them to stay anonymous, haha.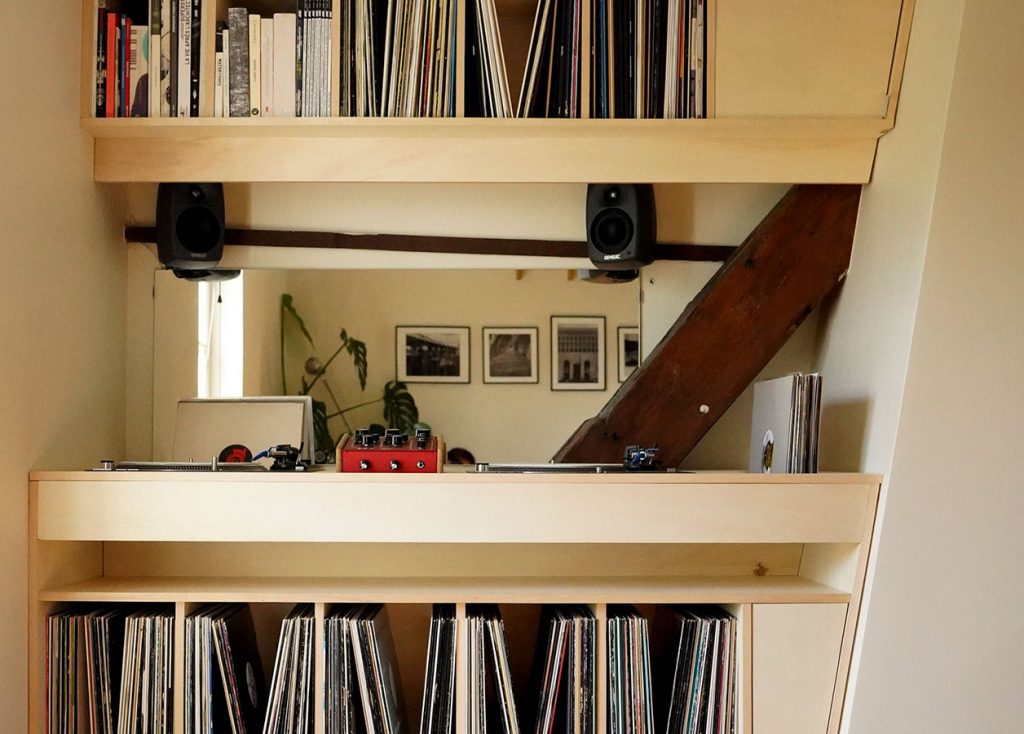 What's the craziest request you've received?
That's a funny question! I had someone ask me for a suspended booth with chains. I also had a request for a booth compatible with lying down in a bed (for a very lazy DJ)! Someone also asked me for a full mirrored DJ booth, but I think it was more of a joke because I really would do it if this customer was serious! I've also had a few requests for having a little drawer with a mirror on it close to the turntables, I don't really know why…
You are a DJ yourself. What kind of music do you play?
Yes indeed, I have been into electronic music since I was a teenager. I started buying turntables and collecting records as soon as I got my first paycheck from an architecture competition, something like 10 or 11 years ago.
I've been through a lot of phases music-wise, but it had always been club-focused as I've always been some kind of club kid. What I like to play today can range from trippy house to '90-00s off-kilter techno and trance. Sometimes downtempo, sometimes electro or new wave. I just play the records that sound right to me!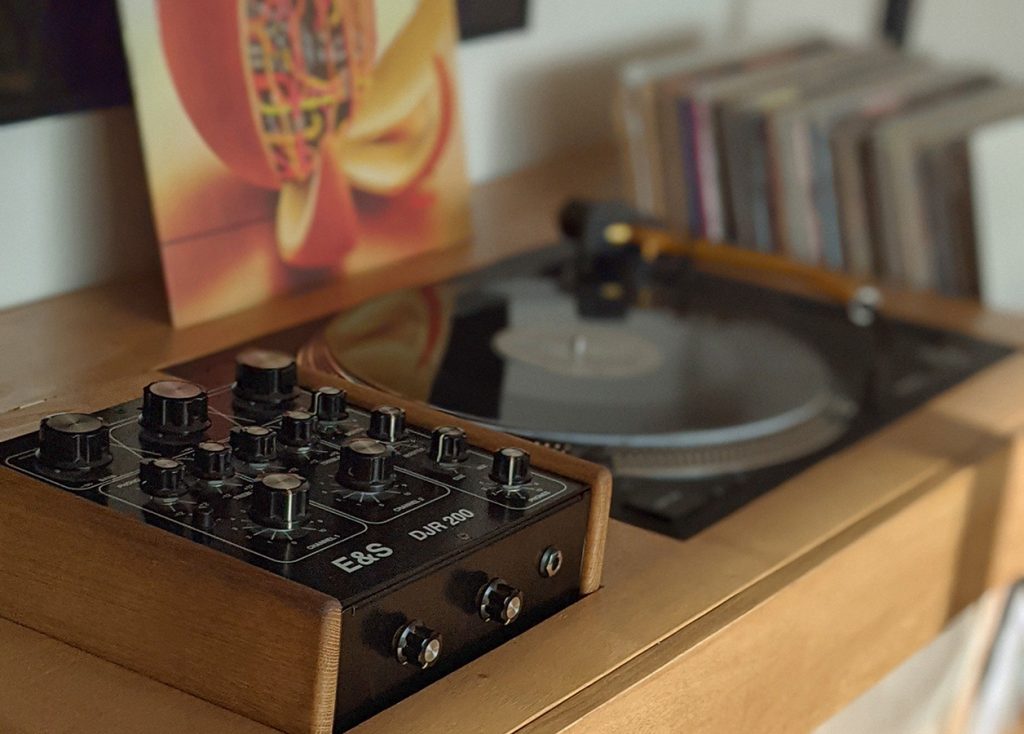 To learn more, see more setups, or inquire about your own custom booth, visit jj-boooth.com and follow his work on Instagram.