Every year, Rolling Loud Los Angeles does it big. And every year, DJ Five Venoms steps up to the throne as the festival's official DJ.
Growing up on the East Coast, Venoms lived in South Jersey with Philadelphia just 15 minutes away and frequented Philly as a kid. He grew up in the suburbs, raised by his mom (who helped him become a DJ), and remembers being a Philadelphia Eagles fan and idolizing Allen Iverson.
Venoms would spend his summers near Richmond, Virginia, with his cousin, who was a DJ. That was the beginning for Venoms, when he got a taste of the lifestyle and culture. He soon discovered his own skills on the turntables, and from there, he knew DJing was his calling.
As far as how he landed the Rolling Loud gig, it all stems back to 2010 when the founders Tariq Cherif and Matt Zingler had a touring company called Dope Entertainment. At the time, they saw a void for hip hop shows in Florida. Venoms was DJing for an artist named Wes Fif, whom they ended up booking. After meeting Tariq, Venoms asked to be the house DJ for all their shows. The rest was history.
To date, Venoms has spun at all the biggest clubs around the country, including LIV and STORY Nightclub in Miami. We caught up with him at his invite-only DJ appreciation dinner at Toca Madera in Los Angeles, just one day before Rolling Loud transpired. Read below as we discuss how Venoms got his start, becoming Rolling Loud's official DJ, how he preps, his DJ setup, his favorite song to play, and advice for new DJs!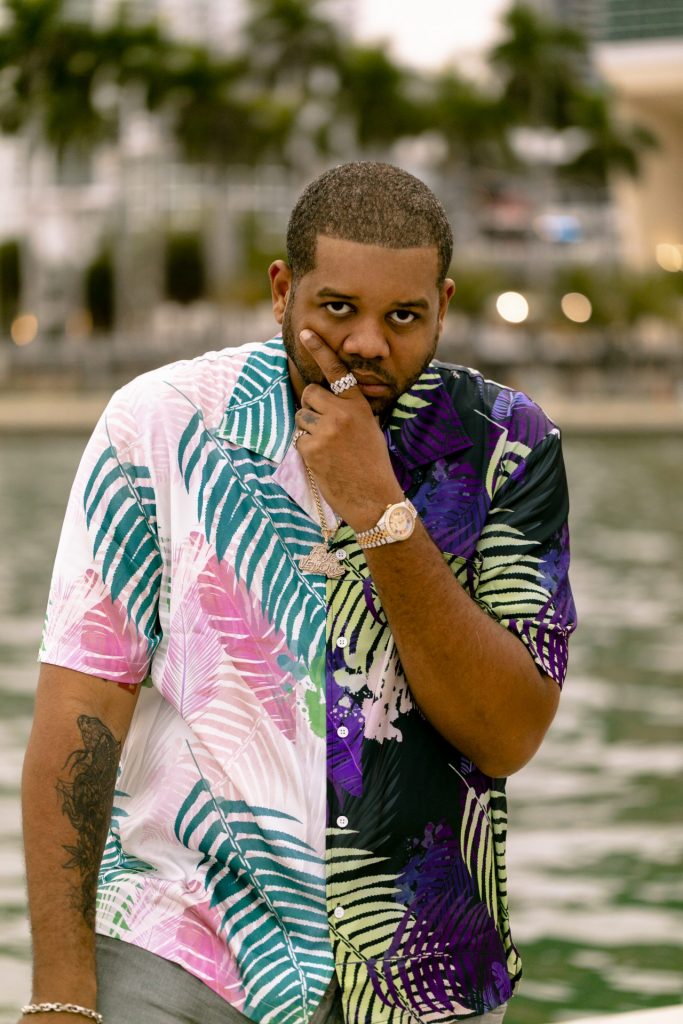 For those who don't know, who is DJ Five Venoms?
Rolling Loud's official DJ! Miami, Florida. We turning up this weekend, we out here in LA. Let's go!
How did your mom help you become a DJ?
She bought me some of my first equipment. I was in the basement, didn't really complain about loud noises in the basement. Just supported me with everything. My mom's been definitely the backbone of my career for sure.
What did your cousin teach you about being a DJ?
My cousin showed me the ropes. Him being a DJ, so learning how to use vinyl. Records on the needles. Different vibes with music, my hip hop education. Everything that's the basis of what I do now is based off of that. My music selection, everything I like, my taste in music, all that comes from my cousin.
What're you most excited for with Rolling Loud this year?
This year, I'm happy more for the international shows. Going to Thailand, Germany, Portugal again. Netherlands, back to Toronto. Really, because we've been doing Miami, West Coast, New York. So going to these other countries and seeing how they react to our hip hop and discovering some of their hip hop, it's so dope.
How did you get involved with the festival? I know a lot of DJs out there want to get into the festival circuit.
So me getting in with the festival started before the festival. With Tariq and Matt being the cofounders of Rolling Loud, they had a company called Dope Entertainment. They were pretty much promoters that were doing shows in Florida: Orlando, Tampa, Miami. I was their Orlando DJ for their Orlando shows. When they came up with the concept of Rolling Loud, it was already like "okay, you're DJing our shows." Now, it transitions into "you're going to be doing our festivals also." We just kept going.
How do you prepare for such a big weekend?
Going through music really, seeing what's new. Different markets have different sounds. We're out in LA, who's the hottest artist in LA? That's who I want to play. I want to see what's going to turn up the crowds. Really tapping in with other DJs too is another thing. Hitting up Carisma, Dre Sinatra, being like "yo, what's banging right now in the clubs? What're the kids listening to out here?" Then get it going.
What's your setup?
Right now, primarily using CDJ-3000. S9 Mixer, that's my go-to right now.
Favorite song to drop in a set?
Woo. Man, "March Madness" is always hitting for me. I like it a lot, "March Madness" is definitely hitting.
Talk about your mixtapes dropping with Moshpitsdaily.
Moshpitsdaily mixtapes, we're playing all the rage music. In those tapes, we're dedicating it. Shout out to Moshpitsdaily. We got our third tape dropping soon with DJ Blak Boy, which is Playboi Carti's DJ. He's hosting it with me, it's going to be dope. These days have been hitting. We've been dropping on my LiveMixtapes, also doing the playlist on Apple Music and Spotify.
Putting indie artists on there, as well as your Playboi Carti's, Travis Scott's, the Trippie Redd's, Ski Mask's. All the good guys that everyone's raging in those mosh pits, we're putting them on there. And supporting the new and up and coming guys that are going to be next year's guys, that everyone's going to be in the mosh pits for.
Hip hop celebrates 50 years this year. What does hip hop mean to you?
Hip hop is everything, it has molded my life. I fell in love with hip hop in the '90s and been in love with it ever since. It's changed a lot since then, but everything does. It's in a beautiful spot though. We're one of the top genres in the world, we're traveling the world and everyone around the world is listening to hip hop. It's a beautiful thing.
How do you feel hip hop DJ culture has evolved over the years?
I think with technology, it's a catch-22. Some things are better, some things are worse because of that culture. Still holding on to that culture: the techniques, the etiquette, the basic skills of blending and scratching and song selection. Reading crowds and playing music for people. The people that really care about the culture, you can tell. You see it when they play, you can see how they act about it, how they participate in the culture. The guys that don't, a lot of them fade out a lot quicker than the people who do care about it.
What's your best advice for the DJs?
Show up on time. Prepared. Practice, practice, practice, practice, practice, so you're prepared for everything.
Any advice for new DJs?
Practice, just practice. Practice, practice, practice. Learn your music, watch other DJs too. Other DJs that you look up to, watch what they do. See how they play songs in the crowd, how they transition. Outside of the playing music part, how they handle themselves at the club. How they talk to people. How they deal with promoters, how they deal with club owners. How they deal with other patrons and other DJs. Learn the etiquette, learn how the culture works.
Favorite thing about BPM Supreme?
Just the song selection, they hit on the head. Going on there, find the song that you want. Download it, and you're good. Shout out to BPM Supreme.
Anything else you wanna let the people know?
We got more Rolling Louds coming. The first one, LA, then we got a lot more to come.
About the Writer
Shirley Ju is a Los Angeles-based journalist and on-camera host with her own show called Shirley's Temple (with a focus on mental health). She lives, breathes, and sleeps music, and if there's a show in LA, you can find her there. Born in the Bay Area, the Hyphy movement is in her blood. Shirley contributes to several publications and also does interviews for VLAD TV. Follow her at @shirju on both Instagram and Twitter.