Pioneer DJ announced a fresh addition to its family of DJ controllers, the DDJ-FLX4. This new 2-channel controller combines foundational elements from Pioneer DJ's range of professional equipment with an intuitive and educational user interface to help beginner DJs and aspiring artists get started on their mixing journey. Keep reading for more.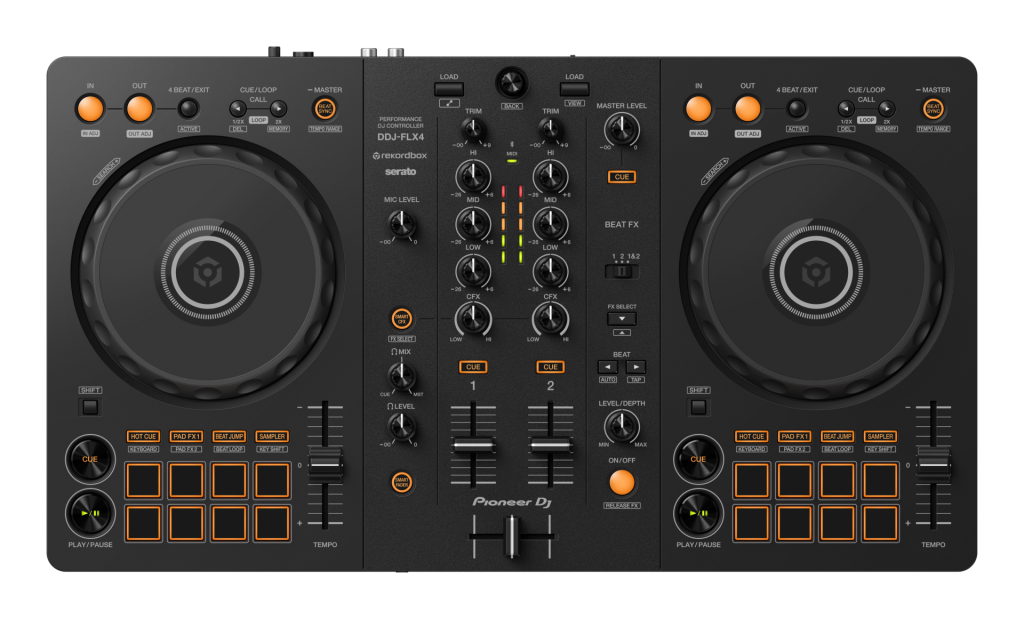 The DDJ-FLX4 integrates two new smart features to help beginner DJs start mixing: Smart Fader and Smart CFX. Smart Fader allows DJs and artists to effortlessly transition between tracks with a simple glide of the crossfader or channel faders. After sliding the fader, the DDJ-FLX4 automatically adjusts the track's BPM, volume, bass volume, and other aspects of the music to create a seamless transition into the next song. You can also spice up your favorite tracks with the help of Smart CFX, an effect that applies complicated combinations of effects to the music with the turn of a knob.
The DDJ-FLX4 DJ controller couples a matte grey body and metallic grey mixer for a sleek look. It also features a bright amber-orange LED light to illuminate key controls alongside two glossy jog wheels and eight performance pads on each deck.
Also, this controller is compatible with both Pioneer DJ's rekordbox and Serato (with free access to rekordbox Performance mode and Serato DJ Lite).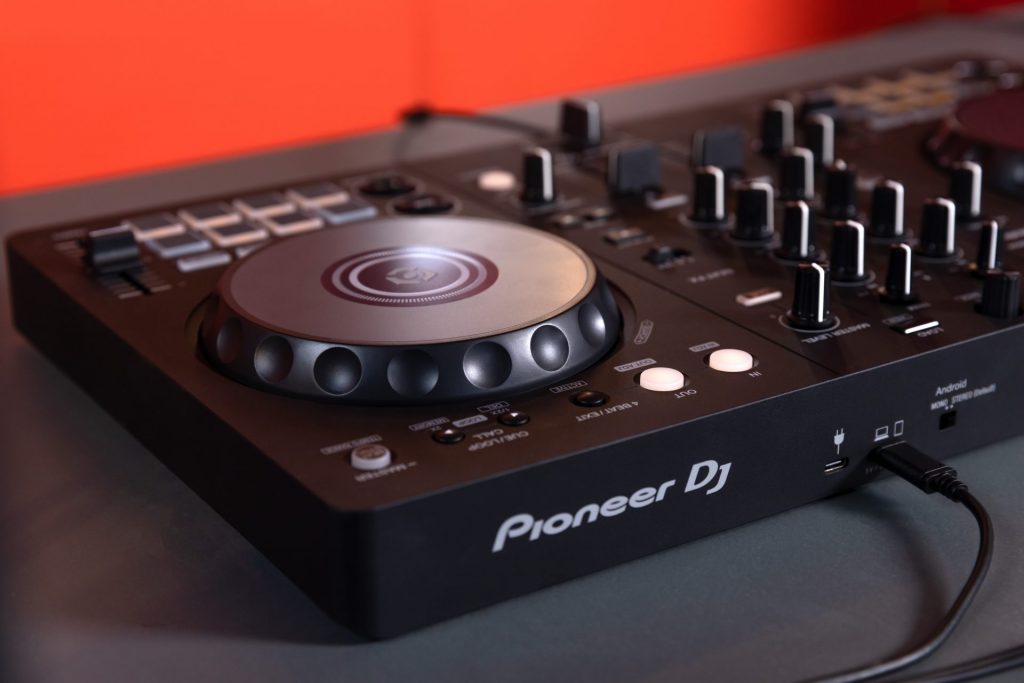 Key features include:
rekordbox and Serato Compatibility
DJs can perform using rekordbox or Serato DJ Lite for free by connecting their PC/Mac to the DDJ-FLX4. Upgrade to Serato DJ Pro with a license or subscription for the premium version of the software.
Multi-Device Support
The DDJ-FLX4 is compatible with a host of devices, including PC and Mac computers, iPhones and iPads, and Android phones and tablets.
Portable Design and Professional Layout
The layout of the controls on the DDJ-FLX4 makes it easy to learn to DJ and is inherited from professional Pioneer DJ products. Everything is simple to use and neatly arranged, which also makes the controller compact enough to take anywhere you want to practice or perform.
User Intuitive Smart Mixing Features
DJs can get started right away with the Smart Fader feature, which automatically adjusts the volume, bass volume, and BPM of the music so you can smoothly transition from one track to the next by simply moving the channel faders or crossfader. Plus, with Smart CFX, you can put your own stamp on every song by simply turning a knob to apply a combination of effects that will add drama to the sound.
USB Audio Output for Microphone Sound
The DDJ-FLX4 removes the need for a separate mixer or sound card as the controller mixes the microphone audio with the music. These audio capabilities make the DDJ-FLX4 an ideal choice for DJs and artists looking to livestream their sets.
The DDJ-FLX4 DJ will be available at the end of this month for $299 and is available for pre-order now. To learn more, visit Pioneer DJ's website.