An artist can have however many followers on social media, but at the end of the day, are they selling tickets to their shows? Insert Deorro, who recently shut down two evenings at Exchange in downtown Los Angeles, followed by two more sold-out shows at the Hollywood Palladium — four consecutive nights in a row.
With the amount of influence, talent, and respect Deorro carries, it was only right that he joined BPM Supreme's new music advisory board. Deorro joins a notable group of Grammy-winning producers and superstar DJs in restructuring the industry-leading digital music delivery service into a complete suite of services for the music industry.
But Deorro isn't only a DJ and producer — he's here to put on for his Mexican community and culture any chance he gets. With his origins deeply rooted in the city of Los Angeles, (real name) Erick Orrosquieta has since catapulted to the forefront of the dance music scene, straddling the genres of house, bounce, trap, pop, and everything in between.
Most recently, Deorro unveiled his highly-anticipated sophomore album titled ORRO, a play on words serving as the Spanish translation to "gold," as well as his last name Orro. The 19-track project hails all-star appearances from pop star Ally Brooke and Puerto Rican superstar Jon Z, while paying homage to his Mexican roots.
We spoke with Deorro at the Hollywood Palladium a few hours before showtime. Read below as we discuss what it means to be part of the BPM Supreme family, roots in Los Angeles, love for pandas, wanting to be a trauma surgeon, what it took to put out ORRO, working with Ally Brooke, his favorite collaboration, and more!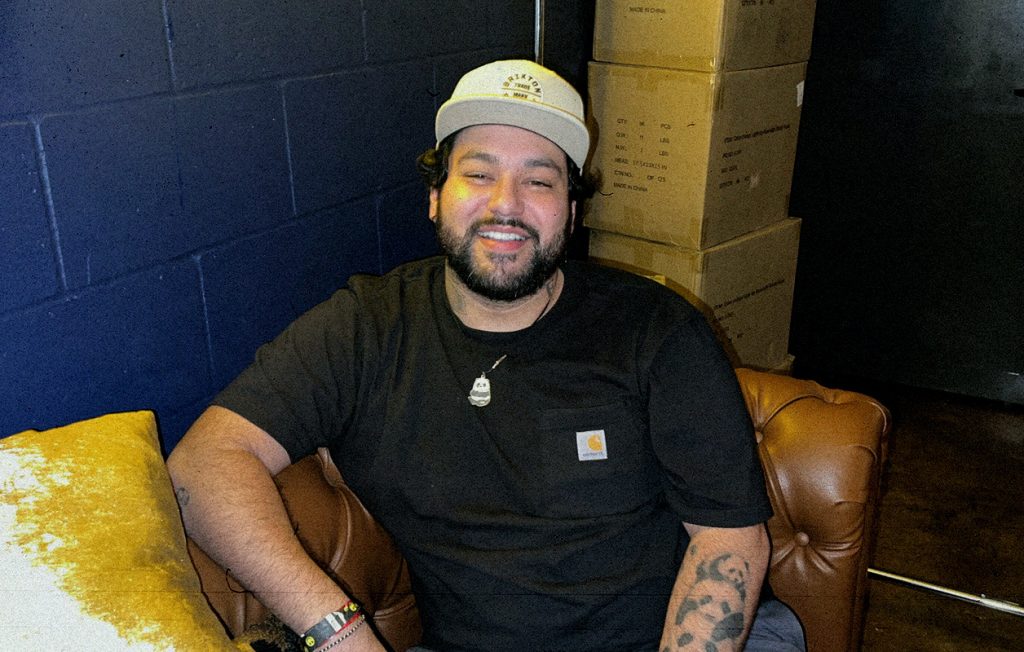 What does it mean to be a part of the BPM Supreme music advisory board?
BPM Supreme, they're involved in every show because I'm always on BPM Supreme. It's essential to what I do, my craft. It's pretty dope. They've opened a lot of doors. They've made so much available, so easy. I'm proud to say I'm part of the whole movement.
What attracted you to work with them?
I've known them from way back, and they've always shown me a lot of love. Whenever my manager would say "Oh, these guys from BPM Supreme are going to be here at this show or that show," I'm just like "Hell yeah!" They've always shown love, they've always shown support. Obviously for me, sometimes it's difficult to connect directly to the people. But the way they help with certain things, like the "Five Hours" video: you know how long I've wanted to tell people that story? Thanks to them, they helped me finally put that out. That is a big thing for me.
What part of LA are you from?
I was born in Duarte by Pasadena, then I grew up in West Covina. Now, I'm in San Dimas.
How does it feel to be performing two nights at Exchange, then back to back at the Hollywood Palladium? These are legendary venues.
For me, because it was at home, it had to be something special. We essentially had planned just one show at the Palladium, but the tickets went. They flew. We were like "Okay, let's think about a second night." I'm like "Oh my god, that's a lot." I was like "Okay cool, for sure this one we'll be able to sell a good amount of tickets," and then it sold out. [laughs]
Crazy, congratulations!
Thank you so much, I for sure had to make this even more special than ever. I'm really grateful to have such amazing support and love from all the people out there around the world. I'm glad that my dream is what I'm doing. Not only did it come true, to be able to connect with my people on a level where I not only do what I love, but I also do what other people love. I've seen that my music impacts people's lives, so to me it means so much. I can't even put it into words. It means everything because it's not music anymore, it's part of life now.
How did last night feel?
I for sure counted more than 5 times where I stopped like "Holy shit, this is real!"
Dude, it was packed!
I was like "this is real, this is real." I kept looking to the production team to my left, production team to the back, man, I'm so lucky to have these guys! They're the ones doing the lights and the lasers. Man, I look so cool right now thanks to them. They put on a show. I'm just up there just playing my music, I'm signing the checks, but they're the ones who really put on a great show. I'm just happy and grateful to have them.
How many comps do you get?
Ah man…especially in LA? You've got family, you got friends. You got supposed-to-be best friends that we were best friends in school. It's cool to see that a lot of people are excited and happy for me. It definitely is pretty stressful. [laughs]
What does the panda represent for you?
I've always loved pandas. This was before the music started picking up, but I didn't want my face as the face of my brand. I was like "let's do a panda, that's my logo." I've never really considered myself having more of an artist look. I said "let's just use a panda." At the time, I had adopted a panda.
A real panda?
Yeah, you can adopt. You send them money and stuff. I got a picture of her, I outlined her face so that's what the logo is. But I also added graffiti effects, because I wanted it to represent how I'm from that culture. The panda worked really well, it was something that a lot of people said "that's dope!" Because people love pandas. There were so many times where I'd be on the street wearing a Panda shirt and people asked "Where'd you get your shirt from? I love pandas" or "I love graffiti."
So it really connected with people on another level, but that was my intention with it. Obviously with my career and everything that happened, it made everything much more meaningful. Now when I look at the panda, it's represented me and I'm so happy. It's such an amazing animal too.
I feel like you're a real life panda.
Exactly. A lot of people always say that and I'm so happy, because they're cool as fuck.
You actually wanted to be a trauma surgeon. Where did that come from?
My desire apparently was to help people. Music was plan B, that's the crazy part. I saw this video, there was this TV show about trauma surgeons that live at the hospital for two weeks at a time. They're on call. There was this kid that came in from a car crash and died in the hallway, they opened his chest up and massaged his heart back to life. I thought, "I want to do that." [laughs]
I want to be able to do something like that. To make that decision like "Fuck it, we'll do it here!" I wanted to be able to be that confident about life decisions. Something that big, I want to make that much of a difference. I started going down that path. It was going to be a long path, but I was definitely ready to take it. Music I guess decided "No, you're coming with me." [laughs]
What would Deorro have been like if he finished med school?
I would've been probably a really cool surgeon. Music obviously was my hobby. It was my getaway, that was my getaway. I probably would be making music for some commercials here and there.
What was Deorro like passing out flyers in the late hours of the night?
You know what's funny, I was definitely in the wrong place, but I had good intentions. I wanted to help people. If I was a fan of an event, I'd want to hand out their flyers. For no reason, I wouldn't even ask for compensation. I look back now and I should've. But regardless of whether anyone took advantage of me or not, thanks to being out there, doing all that hard work and making no money, I'm here today. That was part of the path.
Whether it was essential or not, I met a lot of people out there. People would bring boxes and they'd be promoters, that's how I built relationships with them. That's how I got my first shows. To me, it was all worth it. I remember taking care of the entire Coachella parking lot. I don't know how many parking lots there are, it's endless cars in the heat. I'd do it for free because I wanted to be at Coachella one day.
New project ORRO out now, how are you feeling?
I cannot believe it. I was there every single day watching my management, they said "Alright, we're going to make this happen." We were at so many dead ends, so many redos, so many setbacks. But regardless of all that, it still came together and it was so worth it. This time, I paid attention. Because I knew the team that I have now, they're a powerhouse. They're very incredible.
My day-to-day, he's 20. Really? He's a kid, but he's a legend. My manager Andrew, he saved my life. Thanks to him, I'm happy again with music. I'm living my dream. Thanks to my team, the marketing and Ultra for helping me put this album out. This album is something that me, my people, my culture, it's something we needed. I can't believe it's out already. To see it on Spotify, we've listened to these songs on my music app. I loaded it to my phone, but now it's on Spotify! Wow.
ORRO means gold, right?
Well yeah. My last name is Orrosquieta. It ties in, it's a play on words.
The trailer for the album is so powerful. What's the message you were trying to convey?
If we can all agree on something, no matter how different we are, is that if there's a pinata, we're all going to get a hit at it. Everybody knows that a pinata is when everyone comes together, has fun and eats candy. It's a great time. For me, I wanted to portray different people, no matter what race. No matter what, whether you're a kid or you're a cop, doesn't matter. When you see a pinata, you know exactly what time it is.
That's what I want my album to be, I want my album to bring people together. It doesn't matter where you're from, so that's why the pinata says ORRO. My album was the pinata, the pinata's my album. Everybody came to it. Everybody was able to enjoy it one way or another, no matter how different you are. That was generally the message. It also made for a really cool "Oh my God, what's about to happen?" I wrote that entire thing. I was really involved with everything, because this album is my baby. There was something very special that anyone could really connect to and I wanted to make sure I poured everything I could into it.
How was it working with Ally Brooke?
She's amazing dude, she's amazing. I didn't even know she was doing Spanish. "Okay Ally Brooke, okay cool. I'm probably going to have to change the lyrics, do English." They're like "No, she'll do what you wrote." I'm like "She can do Spanish?" I looked her stuff up and she was doing Spanish. She crushed it. I didn't even need to engineer the vocals or anything.
She'd text me like "I love this song. I love it." I'm like "I'm glad you're just as obsessed with the song as I am," because that song was special to me. I was holding onto that song for a while and we did go through different singers. I was going to settle like "Okay, I guess this is fine." But then Ally Brooke came out of nowhere and she saved the day. She's incredible, a sweetheart. She's got an insane amount of talent.
What is your favorite project or collaboration to date?
Right now, the Los Tucanes De Tijuana song I just put out. "Yo Las Pongo," oh man. That one was really cool because Tucanes de Tijuana, they're legends. When I walked into the studio, they had a 20-foot wall covered with awards. These guys are heavyweights in their industry and in the whole entire Spanish industry. For me to be able to work with them, then also to see them, like we were doing the interviews on Zoom, it was so cool. I cannot believe I made a song with them! Not just that, people are loving it. I'm seeing videos, oh my God I'm so happy. I'm so lucky.
Do you still get LA street dogs?
Hell yeah I still do! I got some last night. Hell yeah, I'm never going to stop getting those. Those are always going to be a part of… I definitely know there was a time when I survived off of those. At the clubs, I'd be right next to the ladies. Handing out the flyers, get super cool with them. Sometimes, they'd keep me down with a few hot dogs. Every time I have a bite of one of those hotdogs, it takes me back to that.
Your birthday's coming up on August 30th, any plans?
Oh yeah, I'll be on the road. [laughs] Obviously I like when my people get together, so that's all that matters to me, I don't care what they do. Whether we hang out or we party or not, I just like when we all get together.
Obviously, you're Latino. I interviewed Walshy Fire who actually doesn't like the term, and thinks it'll phase out eventually. What are your thoughts?
Maybe the whole trend, from that aspect? But we have a lot to offer. We haven't even begun with the development… Right now, thanks to your Bad Bunny's and your J Balvin's, they put us on the map. That's still the fruit of the industry right now, that is what's poppin'. [claps] Next, is what comes from that, what that evolves into.
That hasn't happened yet so I feel like we'll be here for a while. Now, people are starting to realize "Holy shit, Latinos can actually get on top." That's going to help a lot because that's one of the things that us Latinos were lacking. We were lacking inspiration, we didn't have the confidence. But now, I see it. There's a wave coming. We have a lot of talent and my people are very passionate. They have a lot of love and a lot to offer.
Anything else you want to let the people know?
Thank you for everything. Honestly, this has been some of the best moments of my life.
About the Writer
Shirley Ju is a Los Angeles-based journalist and on-camera host with her own show called Shirley's Temple (with a focus on mental health). She lives, breathes, and sleeps music, and if there's a show in LA, you can find her there. Born in the Bay Area, the Hyphy movement is in her blood. Shirley contributes to several publications and also does interviews for VLAD TV. Follow her at @shirju on both Instagram and Twitter.