If you're a fan of Big Gigantic, you're a fan of good music. Hailing from Boulder, Colorado, the DJ/producer duo is composed of Dominic Lalli and Jeremy Salken. Their main goal is to create heartfelt, hard-hitting music to not only uplift the masses, but offer them hope and positivity that there is a light at the end of the tunnel.
In describing themselves, Dominic states "We're a live quasi, semi live EDM act. Probably one of the first acts to start incorporating live instruments into the electronic music and DJ world. We perform, we play instruments. We play mostly our own stuff. We mix in some other music. We put on a pretty crazy live show and again, incorporate our live instruments to everything and give the whole live show a different feel."
And if you've had the golden opportunity of catching one of their live shows, you already know this isn't just a concert. It's an interactive set where music lovers can let loose, turn up, and escape from reality.
To this day, it's hard to label Big Gigantic into any one genre. While EDM may be the overarching umbrella, the guys straddle the genres electronic to hip hop and jazz to dubstep and everything in between. Most recently, they unveiled their highly-anticipated new album titled Brighter Future 2, with standout appearances from Vic Mensa, Mick Jenkins, Kota The Friend, Aloe Blacc, and more.
We spoke with Big Gigantic virtually to discuss their sound, collaborating with Waka Flocka, their new project, their setup, favorite show this year, and more!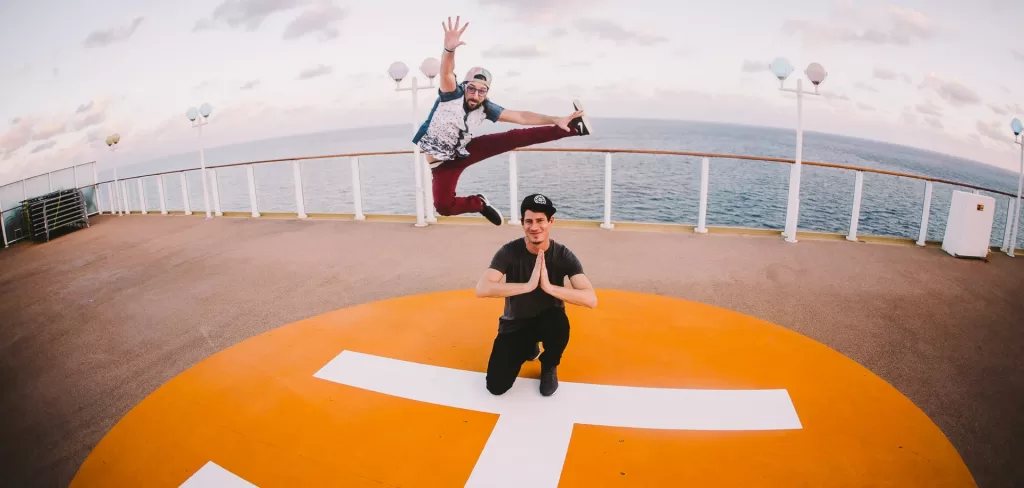 If you could, how would you describe your sound? Because I know it's ever-changing and there are so many facets to EDM now.
Dominic: Yeah, I'd say we're on the bass music side of things. Although we play all different tempos and genres, especially within our live set. There was a dubstep song we had with Griz on our last album. We had a feel-good house song with Aloe Blacc. Almost an electronic pop thing with Nevve. We do it all. We have a song with the rapper Logic, so we do some hip hop stuff. We have a song with Kota the Friend. Did a song on this last album with Vic Mensa, Mick Jenkins. We just try to do everything. We don't do one thing, that's for sure. [laughs]
How was working with Waka Flocka on "Highly Possible?"
Dominic: Dude, Waka's great. It's cool how that whole situation came up, it's a cool story in general. We met Waka Flocka through doing all the Mad Decent Block Parties that used to happen with Diplo and Major Lazer. At that time, there was one summer in particular where Flosstradamus were good good homies. Curt was doing the shows with Waka, so Waka would come out to all their sets. We got to know him through that. He was always a really cool guy. 
I remember at one point, I heard some straight up hip hop thing Waka did in the midst of all his trap stuff. I thought, man, he's really dope. Interestingly enough how that whole song came about, Mac Miller was actually going to be on that song. 
Rest in peace Mac.
Rest in peace Mac. Him and Mac would come out to our New York gig, he was going to get on the song and all this stuff. Just the way things happen in the industry, it didn't end up happening, which is totally cool obviously. The first person that came to my mind post that: Waka was the perfect guy because he's a trap god at this point. I knew he could spit, sent that to his management and he was all about it. Came and brought the fire to that. It was really cool. He came out and did a couple shows with us too here and there. He did a Lollapalooza with us one year. He's a great guy and really talented guy, super great working with him always.
I love to get artists out of their element. Really talented people not necessarily doing the thing that they're known for doing, but showcasing their talent at the same time. 
Dominic and Jeremy, can you talk about the bond you guys share and how important that is to you?
Jeremy: We're bonded brothers.
Dominic: We were roommates before Big Gigantic. We used to live together in Boulder, Colorado.
Jeremy: We lived together for a year or two, the bonding formed there as roommates. Seeing each other everyday, living in each other's space and all that. That set us up for a successful career, late relationship as bandmates. Because we knew how each other lived and stuff like that.
When you're on the road, you're living together so really sets that up. But we got to know each other as people. Because of the timing of that and it happening when we were in our later 20s, we were a little bit more mature than if we were straight out of college or straight out of high school doing the same thing. It was great, Dom's my boy.
Dominic: Yeah!
Definitely want to touch on Brighter Future 2. I know it's the follow-up to the 2016 album. What was Big Gigantic like then compared to now?
Dominic: Oh you know, just a little older. A little bit wiser. [laughs] Nah, we're the same. We haven't changed much. We try to keep trying to get better and improve our craft. Get better at what we're doing and keep upping the ante, in terms of our live show and the music we're putting out. Just a couple of guys out here trying to make some music and bring the party to your town.
Is there something you want fans to take away from the project?
Jeremy:  When we did Brighter Future in 2016, that whole movement is really about trying to put your best foot forward. I think that still holds true today: trying to help people and trying to bring a brighter future to your world and the world around you. The people around you and the people not even around you, how you can make a positive effect in the world and we're trying to do that through music. At the end of the day, it comes down to how you live your life and what you do everyday. Just trying to bring that energy to the world because we feel like it could use it.
When you guys do perform, what is your setup?
Dominic: For me, I have samples on one pad. I have keyboards and a computer that runs all my stuff. And my sax, I might put two saxes and an effects pedal for my sax.
Jeremy: I have drums, and microphones on the drums. Playing the drums. Pretty straight forward.
Any pre-show rituals?
Dominic: We usually drink some tequila really quick. Do some jumping…
Jeremy: Jumping jacks. 
Dominic: We jump on each other, fun punch each other. You ready? [boxing sound effects] Then we go out and crush. 
Jeremy: We don't have a ritual, an exact routine. We should develop one, but usually it's a tequila, pineapple type of drink. Then some punches. Some jumping jacks.
Nowadays, do you guys ever get nervous?
Jeremy: Red Rocks, kind of. The excitement.
Dominic: It's an excited nervous.
Jeremy: But it's like alright, we've done it a lot of times. But Red Rocks, obviously there's the excitement. Festivals, we're super pumped. There's more jumping up and down. The Electric Forest this year was massive. The whole festival was there so gotta get loose, gotta get loose. But we'll have to develop one coming up for this tour.
Dominic: Yeah, this next tour we'll do it.
What are you most excited for the Brighter Future Tour Volume 2?
Jeremy: We're hitting it! Be back in Cali a little bit. A little San Diego.
Dominic: Yeah, just hitting all the spots we didn't get to really hit on round one. We were initially planning on doing it in the fall. Touring has been a little bit tough to try to get gear and buses and everything, the whole nine. That's why we did it this summer. Usually, we tour in the fall and February. Anyways, we delayed it a little bit, but excited to get to it. Back to it, finish this up. 
Do you have a favorite song you'd like to drop in a set?
Dominic: I've been liking "Keep on Rising" for sure. That's been a good, nice spot in the set. Brings the uplifting vibe to the whole party, which I dig. That's a good one. "Second Time" has been really fun. "Open your Mind" is fun because it's down and dirty. 
Jeremy: Yup. Every song is fun. We like to have fun.
Wildest show this year and why?
Jeremy: I'd say Electric Forest. I don't know if you saw any pictures from that, but man. We had that whole festival there. We were the last act to play, it was bonkers. Honestly, that was definitely the craziest. ACL we just played, and that was crazy in its own way because those Texas kids are wild. [laughs]
Dominic: There's a lot of people there, the stage was packed out. There were people going every direction off into the distance, it was cool. We hadn't played in Austin for a few years so it was really nice to go back and get that kind of reception. Play for the Texas people, eat some barbecue, do the whole thing.
You guys stand for positivity and community. What did you learn about yourself during the pandemic?
Jeremy: Still learning. Right?
Dominic: That was a tricky one. We spent such a good amount of time doing Big Gigantic, just working on that and working on it consistently. It was good. It was good to have some time off, to take a step back for a lot of reasons. To realize how grateful and how lucky we were to be doing everything we were doing, to take some time to reflect on all that. At the same time, it was a long enough time where you're like, wait, are we a band? Are bands still a thing? Is this really still happening?
This year was great. I remember this time last year, January or February, thinking okay, what is this year even gonna look like? This was one of our busiest years in recent memories, that we've had in general. So that was great to come out of that whole thing and know okay wow, people still fuck with us. We still have an amazing fanbase, and things are still cooking over here.
It was nice to be able to take some time to really work on some tunes and not have other stuff going on. Spending some more time with family. I have an almost four-year-old boy now, so I get to spend a bunch of time with my little dude. That was incredible because I would've been on the road a lot otherwise. It's been good.
BPM Supreme's mission is helping out DJs small or big. How can fans support DJs and music industry peeps?
Dominic: Go see live music, it's one of our favorite pastimes. To not be able to do that because people can't tour or for whatever reason or aren't making music is, is terrible. We're all about supporting the scene in any way that we can. For me as a kid, I always wanted to play music. But going to see music and see different bands and see DJs, that's what inspired me to really follow the career path. I still go to shows and get deeply inspired by that. 
The COVID thing knocked the industry on its butt and it's still coming back to life, but it's super important that people can go and play and perform. Fans witness that and be there for that and that energy that's exchanged throughout that. It's one of the greatest things we got as a civilization. You gotta keep it somehow, anyway we can.
Anything else you guys want people to know? What are you most excited for?
Jeremy: If you haven't checked out our new album, check out our new album. So much great different music to listen to on that album, just a lot of our music in general is really diverse. Come see us on tour in February. We'll be down in Florida, we'll be down in the South a little bit. We'll be over in San Diego, Arizona, all good stuff like that. Come out and see us if you haven't seen our live show. Our live show is a whole different… 
Dominic: It's bananas!
Jeremy: Come see us on tour and check out our tunes. It was really nice chatting with you.
See Big Gigantic's tour dates and more here.
About the Writer
Shirley Ju is a Los Angeles-based journalist and on-camera host with her own show called Shirley's Temple (with a focus on mental health). She lives, breathes, and sleeps music, and if there's a show in LA, you can find her there. Born in the Bay Area, the Hyphy movement is in her blood. Shirley contributes to several publications and also does interviews for VLAD TV. Follow her at @shirju on both Instagram and Twitter.