Alison Wonderland might be one of the hardest-working artists in electronic music, and she loves every second of it. Hailing from Sydney, Australia, the DJ, producer, and singer is a true music lover, even playing multiple instruments such as the cello and bass guitar.
Stepping into this interview, we had to clarify I was speaking with Whyte Fang, not Alison Wonderland. Although both are synonymous, there are big differences between the two, with the latter being an alias that came to fruition in 2009.
Alison Wonderland explains, "Whyte Fang is definitely a different side of my creativity. I've always made music like this, it's always overshadowed by more of the singing songs I make. Whyte Fang is an audio visual experience. That's what I'm building at the moment, the whole thing, I'm not even talking during the show. The show is in front, I'm behind everything. The screens are in front of me. The only time you see me is when I'm lit up with blacklight. My whole outfit is blacklight reactive, so you don't even see me at all, until I'm lit up with blacklight in between the visuals."
In fact, Whyte Fang performed at Coachella this year while eight months pregnant (!), reeling in the biggest crowd that tent had seen all weekend. A Whyte Fang set requires a lot of preparation, lighting, state-of-the-art visuals, and months of hard work. But Alison wouldn't have it any other way.
BPM Supreme spoke with the talented artist via Zoom to discuss the essence of Whyte Fang, how she ended up DJing, her epic Coachella set while pregnant, advice for up-and-coming artists, and more!
Why is now the right time to bring Whyte Fang back?
I just had a really strong creative vision for Whyte Fang. I didn't really have the tools to execute it correctly when I was starting out. It's hard to put on a show like this. You need funds and you need to know the right people to help you do it. Tyler who does my visuals is an example, and Dave Fairless who does my lighting is an example. They were able to execute my exact vision for this. Because it's less lyrically personal, and more a darker experience-based project, I need to go all out on every aspect of it properly.
What would you say is the difference? Besides the crazy visuals.
Again, I'm not speaking. The whole thing is not really about me. It's about the experience. With Alison, a lot of it's based off experiences in my life and it's very personal. I'm singing all the songs and they're my lyrics. In the case of Whyte Fang, I'm also taking a lot of my heavier beats that are more minimal and darker, and I'm giving them a home. Because I was feeling like nothing was getting noticed in that area of the type of music I created, when I'm doing my other stuff. So there's that. Also, I have a lot of great different vocalists on all the tracks. It's a lot more minimal, a little bit more back to my roots in terms of production.
What was the moment you knew you wanted to DJ?
I don't think there was really a moment, I just heard electronic music. I didn't really connect electronic music with DJing when I started doing both, which is really weird. I thought DJing was a completely different thing and they were not connected in terms of being a performer. Back then, that was more the case. If you're really going to DJ, you'd have as much attention as someone who produced the music. For me, DJing felt like a really creative instrument where I could take different songs and mix them together. Create a story and lay them on top of each other. I loved watching people's reactions when I was doing that.
I don't really know what made me do it, I was around a lot of that while I was playing in a band. One day, I decided to try it. As soon as I tried it, I became very obsessed with it. The same thing happened with electronic music. Because I was never playing just electronic music, I was always playing different genres. We'd call it 99% genre-free. I heard a song called "Silent Shout" by The Knife while I was working in these clubs and around all this music, that's when I fell in love with electronic music.
The only other thing that I was really drawn to before The Knife was when I was a lot younger and listening to The Prodigy. That was really my only other deep experience versus electronic music. When I heard The Knife and I heard this song, I felt very emotionally connected to it. I thought okay, I want to make this. How do I make this? I sat down and originally tried to copy everything they did, that's how I learned how to produce and write. I wasn't really interested in anything else, that's all I did. I became obsessed with it, and it translated outwardly. People started following me. Now, my whole life is making music and I get to live off it. I'm very grateful.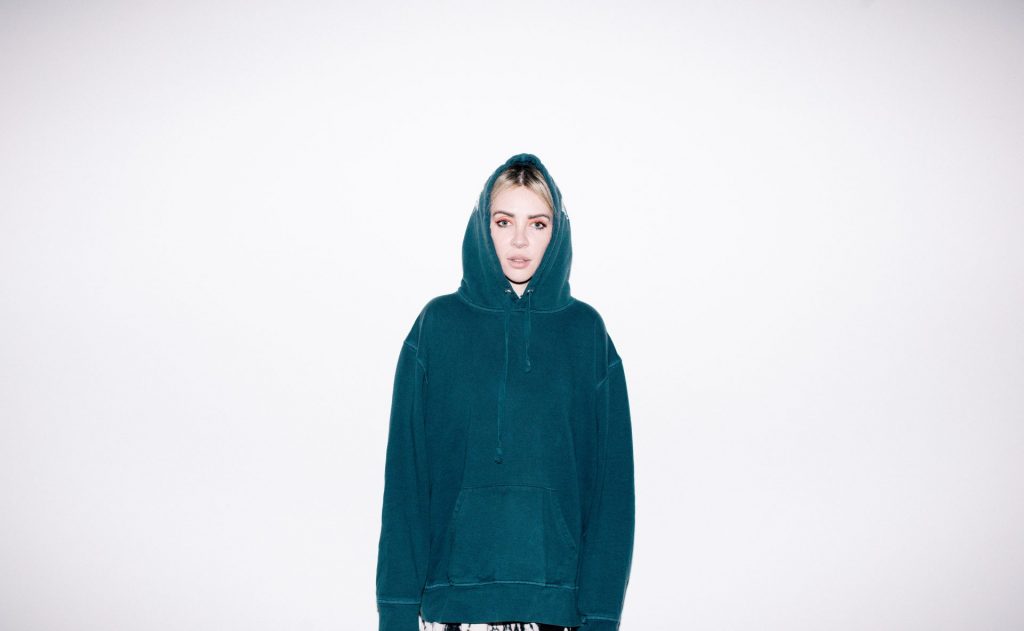 What was your first big gig?
The bar keeps raising, so it's hard for me to say that. But the first time I felt I had a big gig was when I was playing some side room of a festival in Australia. It was sponsored by Jagermeister. It was a small tent to the side, it was my first festival experience. I always remember thinking, "oh well a festival's a big deal." To me, that was a big deal. I don't think there were many people there, but it was awesome. To me in my head, that was my first big gig.
What is your setup?
CDJs and a mixer. When I'm doing Whyte Fang, it's different from my other project. But when I'm doing Whyte Fang, it's CDJs and at the mixer. I'm still on 2000s. I don't trust 3000s, so I'm still in 2000s. [laughs]
Why don't you trust 3000s?
They're a little finicky. A lot of my friends have had problems with the CDJ-3000. I get really scared of technology fucking up mid-show. These 2000s have been trustworthy. They have their problems, everything has times when they don't work. But I'm always finicky.
How do you prepare for a big festival like Coachella?
Month and months of going insane. It was a lot. It was months of preparation for Coachella. It's the same if I do any big show where it's very much showcasing every part of my production, it's months of preparation.
Do you get nervous?
Mmhmm, yeah. I got quite nervous at Coachella. I just put out the album that day for Whyte Fang, it's called Genesis. I was nervous, no one knew the project. It was the first time I played a a multi-genre festival, it was incredible. The tent was overflowing. It was the biggest crowd they'd had there for that tent on that day. It happened both weekends, I was blown away. People were sitting on the ground, the whole crowd waiting for me for 20 minutes before I even came on. I'm like "oh my god, okay here we go." Not only that, I was also eight months pregnant.
I was going to ask, how that was?!
It was awesome! He was in my belly the whole time I made the album, so I think he was really familiar with the songs. Especially on the first weekend of Coachella, that whole time I was playing set, I was freaking out because he was moving so much. I've never felt him move like that, I thought there was something wrong. He was kicking the whole set like crazy. My stomach was moving, and I could visually see it happening, that was really crazy. But it was special. Not many people get to say that they did that. Hopefully Max will one day think that I'm cool, slightly. [laughs]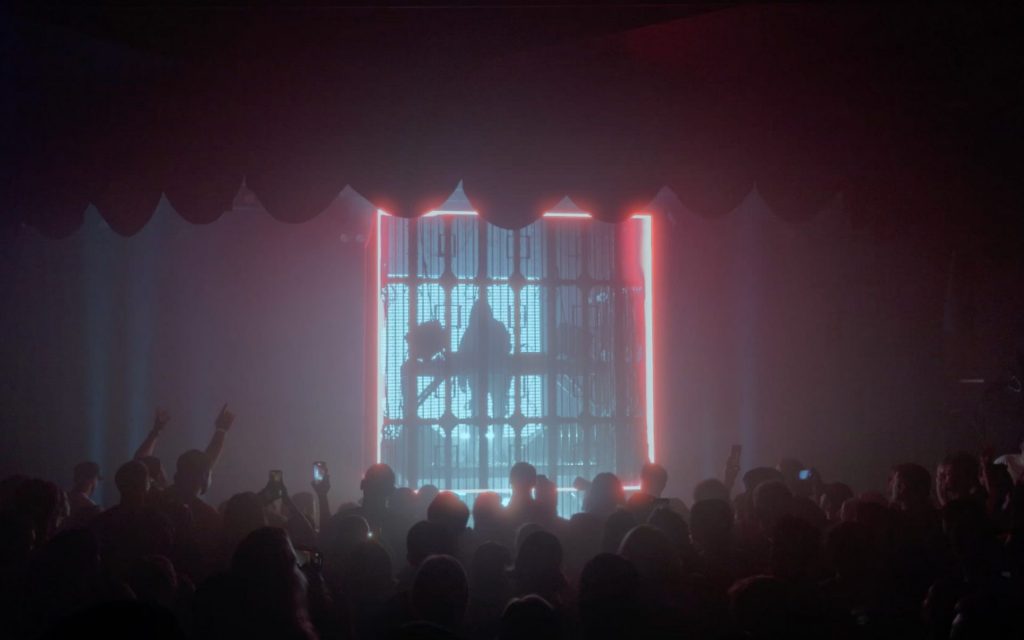 Was he moving on beat?
It was weird, because there's a couple of songs on my album that when I was even making them, he was really moving in my belly, when I was sitting in the studio. When I was playing them at the show, those would be the songs that he would be moving to a lot still, so I wonder. It was super weird. I was grateful to be there. There was so many things that I had never thought I'd get to do, which number one was get to do my full vision of Whyte Fang and translate it properly. I never thought I'd be able to do that, let alone at Coachella at night. The night I released a full album of that project.
I was never sure if I was going to be able to get successfully pregnant, so there were two things that were really special to me that night. I'm not half-assing this shit. I never do, but it was really magical. It's one of those projects where everything in my mind came together perfectly. Everything that I saw in my head years and years and years ago, it looked exactly what I saw in my head. It materialized. It's a rare feeling to have when you have such a strong vision in your mind, and you execute it out into the real world as we know it. That was trippy, to look back at videos and see what people have seen. I'd worked for months and months and months on the lighting, on the visuals. We have a lot of crazy visual effects. Everything told the story and it was exactly what I wanted. It was the perfect show. It really was, I don't know how else to explain it.
Even my agent was shocked. He's like "oh my God, that's the best show I've ever seen." He's never excited about anything. A lot of people who don't follow my other projects, or who don't necessarily listen to electronic music, they started following me and DM'ed me saying how much that show blew them away. I felt so purely happy after that. I can't wait to do more shows for Whyte Fang, and it's happening. I'm booking festivals. The night before Red Rocks, I'm playing a huge warehouse party that I'm throwing with the full production of White Fang. It's exactly what I saw in my head.
How is motherhood?
So good. He's awesome, super chill. Yesterday he sat in the studio with me and just chilled out. It was surprising. He's great, everything's cool.
Favorite song to drop in a set?
I've only really played three shows for Whyte Fang. Honestly, the intro of my show gets me really hyped. It's a song on the album called "Atlantis." Seeing the reaction and hearing from the crowd, because I can't see that well. There's a screen in front of me when I play. [laughs] So hearing people and seeing shadows moving to it is really, really cool.
Any advice for up-and-coming DJs, producers, and artists who want to follow in your footsteps?
100%. Take your time to really learn who you are and what resonates with you, as a producer and an artist. Be super honest with yourself. Don't do what you think is cool, do what you really feel speaks to you, because that's going to translate louder than anything else. You have the time, no one's expecting your next song or your next album, or what your next move is right now. Really take that time.
Remember that it's not going to be easy. You're going to hear a lot of people telling you no before you hear a yes, and that could take years. It took me years. When you do get there, you're going to feel very grateful. Just experiment. Don't be afraid to experiment and push yourself and fail. Failing is the best thing you can do. By making mistakes and fucking up, it's the best way to evolve and learn. Don't be afraid to do that. If you're struggling to feel motivated or you're not feeling creative, as long as you're sitting down every day you're doing something, something will happen and you'll start flowing again. I promise. Also, remember to not be a dickhead. [laughs]
Anything else you want to let us know?
Come see my show in Denver on October 12th, it's going to be crazy. It's the whole Coachella setup, I'm doing the same thing. The whole album and everything, so come. I'm planning to do a lot more shows under that. For anyone reading this who's been a fan of my Alison for ages, thank you for being open-minded and accepting the fact that I have this other project, and supporting it and letting me do this. Because I really don't think I'd be able to put on a show like I have been for this project if it weren't for people supporting me, and that starts with anyone listening to my music.
Alison Wonderland's latest track, "Fight or Flight," releases tomorrow September 8, and taps NYC-based dance duo MEMBA for an eclectic, future bass-influenced cut. Find more of her music on BPM Supreme.
About the Writer
Shirley Ju is a Los Angeles-based journalist and on-camera host with her own show called Shirley's Temple (with a focus on mental health). She lives, breathes, and sleeps music, and if there's a show in LA, you can find her there. Born in the Bay Area, the Hyphy movement is in her blood. Shirley contributes to several publications and also does interviews for VLAD TV. Follow her at @shirju on both Instagram and Twitter.