Nowadays, A&R reps aren't just looking for artists, but for artists with established fanbases. While not every producer dreams of getting signed or working with major label artists, there's no denying that having a strong social media presence can open doors that otherwise might not exist. 
However, social media platforms like TikTok encourage constant, regular posting, which can be understandably difficult to maintain when you're juggling content creation with making your music. Thankfully, we'll share 17 different ways you can authentically share your craft on TikTok so you can get back to building beats. Let's jump into it!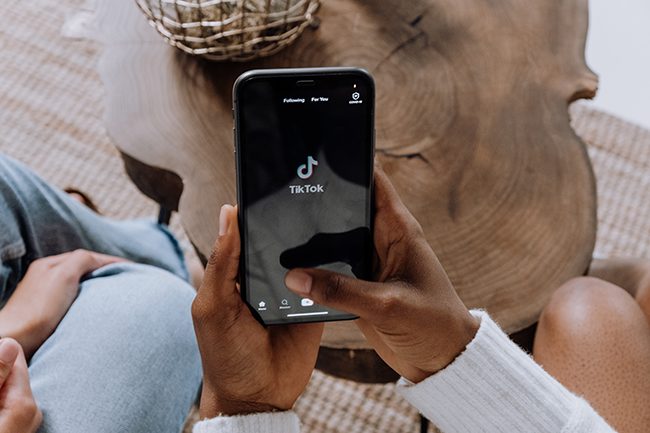 17 TikTok Ideas For Musicians
Without further ado, here are some posting ideas for musicians and producers on TikTok. Be sure to try out different ideas to see what resonates most with your audience. 
1. Share A Snippet of Your Song
One of the more obvious TikTok ideas for musicians is to share a snippet of your song. However, keep in mind that your track doesn't necessarily have to be new to be highlighted on your page. Your discography is entirely new to your TikTok audience, so feel free to reference some of your older beats.
You could do this by sharing the meaning behind the track, showcasing your favorite lyric, or even just dancing around to your beat. Make sure you hold off from sharing new material until you have a pre-save link you can redirect your fans to.
2. Create A Duet 
Plenty of producers have built a career on TikTok simply by creating "duets". Other users can essentially collaborate with your original video, adding something new to what you've already created. Naturally, duets have a huge potential of going viral, since any user that duets your video will lead directly back to your TikTok.
You might even find the next vocalist, rapper, or instrumentalist to feature on your next song. Simply make a beat, leave room for a verse or a solo and turn on "duets" before posting. 
3. Share Some Resources
They say that the best way to gain an audience is to educate or entertain. If you don't have any music to share on a given day, why not share some helpful artist resources that have helped you in the past?
Sharing your knowledge can put you in front of other producers and artists. Plus, it might even lead you to find more insider tips or start up a community discussion. 
4. Make a Beat Out of Everyday Objects
This is a fun one: find a unique sounding object or setting and build an entire song around it. Plenty of smaller creators and larger artists alike have built successful beats using this tactic. Just look at Charlie Puth's "Light Switch"!
5. Use A Trending Sound
One of TikTok's unique features is that the main For You Page (FYP) hosts a lot of trending videos. While you don't want to make an account exclusively of trending sounds, these videos can serve as power-ups to help your other content get noticed. Try to take a trending sound and apply it to your experience as an artist.
6. Produce a Cover
Artists have been building fanbases using unique cover songs for decades, and TikTok makes that a lot easier, but why? Since TikTok is built upon short-form video, you can create just the most exciting section of a cover song rather than producing a full cover. This can be a great way to showcase your production style and target the fanbase of artists and producers you admire. 
7. Break Down A Song
Who doesn't love a behind-the-scenes video? One of the best ways to market your music while still providing value for other musicians is to break down how you created a chorus or section of a piece. 
8. Remix a Meme
When in doubt, take a popular meme and turn it into a remix. You might not end up releasing these snippets on DSPs, but it can bring your account a lot of exposure for not too much effort. Just look at this remix of the trending "Bing Bong" sound. 
9. Tell Your Story
Tai Verdes certainly got listeners' attention when he confessed to living in a converted living room in Los Angeles. When it comes to growing your fanbase, it isn't just about your beats – it's the story behind your beats, too. Use TikTok as a platform to showcase your journey as an artist.
10. Ask a Question
TikTok isn't just a place to connect with your fans. It's also an excellent place to learn more about your craft! The next time you have a production question, ask your followers what they think. Make sure you have the "stitch" and "duet" features toggled to on while posting.
These posts are inherently valuable because they can help you learn, but they also provide a lot of engagement that can help bring new ears to your music. 
11. Give Your Take On The Industry
The music industry is rapidly evolving in the age of Web3. Whenever you're out of ideas, try giving your take on the latest industry development. This is a great way to connect with other artists within your niche. 
12. Showcase Your Studio
You can't go wrong with an aesthetic studio tour! Showcase your studio set up with great lighting and a trending background sound. You can also caption your equipment so that your followers can easily source your setup. 
13. Make A Tutorial
Did you just learn a new technique? Do you have a processing chain that is too good not to share? Make a quick tutorial for the production community. 
14. Duet Another Artist
This is a great way to get your foot in the door with another artist you admire without being too forward. Come up with a verse or solo and duet another artist's work – you'd be surprised what might come out of it. 
15. Showcase Your Cover Art
As an indie artist, you're a jack of all trades. Don't forget that you can also share other aspects of your career as a musician, like creating the cover art, planning a photoshoot, or building merch. Any behind-the-scenes content is fair game for TikTok! 
16. Share Performance Clips
When in doubt, showcase yourself in action. Performance clips during the age of COVID may be sparse, but you can also recycle clips from music videos or Spotify canvases to use on TikTok. 
17. Reveal the Demo Vs The Final Product 
Before vs. After videos tend to do well in just about any niche, and music is no exception to the rule. As painful as it can be to look at old demos, dig them up to showcase how far you've come! You can also take the opportunity to explain how you got from point A to point B.
Additional TikTok Tips
Now that you have a couple of post ideas, it's time to start creating! Here are even more tips to help you organically grow your account.
Use Hashtags. TikTok is built upon niche communities, and hashtags can be extremely effective for helping you find these spaces. Try integrating hashtags like #producer or #indieartist to start building your fanbase. You can also search by hashtag to see what other creators in your community are up to. 
Interact with your community. One of the best ways to receive engagement is to engage with other creators. This won't just bring new eyeballs to your content, but could also connect you to other artists and potential collaborators. 
Consistency is key. Social media is often a numbers game. If you keep posting quality content, something is bound to stick at some point. Plus, you're bound to get better at content creation and build a stronger fanbase along the way. Try not to get discouraged by your first set of posts and keep going! 
TikTok doesn't come naturally to many artists. However, if you take the time to master the platform, it could be extremely fruitful for your career. Just look at the success it has brought to artists like Lil Nas X and producers like Kato.
Once you get the hang of it, this social platform can only help elevate your path as a musician. Have fun making content based on your creations!
About the Writer
Kate Brunotts is an audio engineer and music producer from New York City. When she's not writing about music, producing music, or singing and songwriting, Kate helps others realize their unique sound, whether through a fresh mix, new instrumental approach, or total rework of a particular sound.